How Society6's Removable Wallpaper Made My Guest Room Pop
We may earn compensation through affiliate links in this story. Learn more about our affiliate and product review process
here
.
Y'all know I love me a good gallery wall, especially as a former printmaker. But as anyone redecorating knows, this can quickly become a pricey habit.
So that's how I first fell for Society6, a site that works with a ton of artists to offer their prints at super-affordable prices. The company has been continuing to expand their product line as of late, so you can now choose art you want on towels, rugs, tapestries, pillows, and — most recently — removable wallpaper. As soon as they told me about their latest addition, I couldn't have been more psyched to give it a test drive.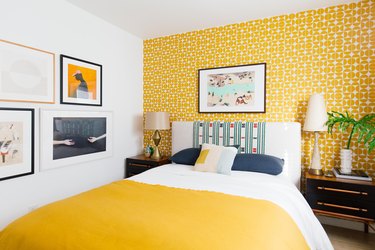 The guest room is a spot I've been trying to give a little extra love. I immediately knew this room would be the perfect place to try out the new wallpaper. So, to start, I searched by color to find the ideal pattern. The guest room has rich yellow bedding and accents so I honed in on similar shades to achieve an overall sunny vibe. Once I found this midcentury geometric print, it was game over.
The wallpaper is available in three different panel sizes (2-foot by 4-foot, 2-foot by 8-foot, and 2-foot by 10-foot), so it can accommodate for different rooms and eliminate a bit of the extra cutting. When the wallpaper arrived, I was immediately impressed with how it felt. Contrary to the vision you might have hearing the words "removable wallpaper," it's not at all like a sticker! The panels are woven polyester printed with water-based, non-toxic ink. The wallpaper has a matte finish and I was thrilled to see how bright and bold the color was in real life.
To be honest, I wasn't sure what to expect when it came to installing — I've never actually installed any kind of wallpaper myself — but this was surprisingly easy. Pre-measuring carefully helped, so things went fairly smoothly, but any time I had to slightly readjust, I was pleased to see there was absolutely no residue left behind, nor did it peel any paint off the wall, and re-sticking didn't compromise how well it adhered.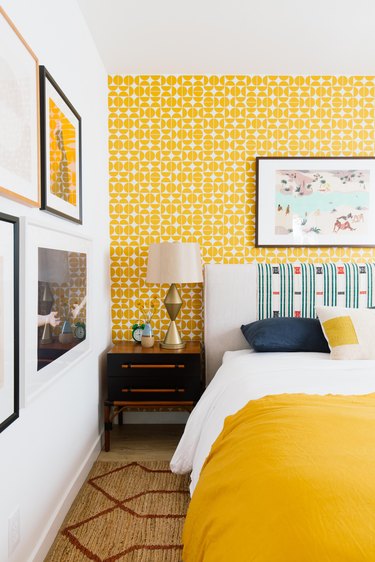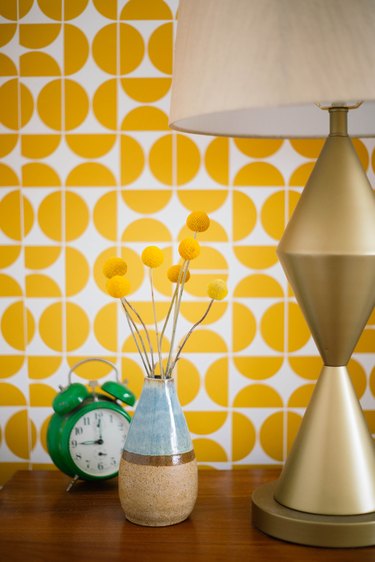 I was thrilled to see how bright and bold the color was in real life.
Applying wallpaper to just one wall (in this case, behind the bed) adds the right amount of interest and impact to the room without making it look busy. Immediately it took the space from cute to super special. Hello, wouldn't you want to stay here?! I finally feel like the guest room is truly complete, and not just a hodgepodge space that's the last spot in our home to feel totally put together. That said, if you know me, you know I can't ever stop moving things around and playing with new ideas, which means the fact that anytime I want to remove this wallpaper to give the room a whole new look and feel, I can do so easily, with no damage to the walls. It's perfect for a design junkie like me!
To shop all the wallpaper and artwork you see here, plus an expanded collection of products curated just for Hunker, check out the exclusive look book on Society6 — and enter code S6XHUNKER25 for 25% off!