There's no need for your kitchen to be a plain box filled with appliances. Like most people, we love seeing a fresh pop of contrast amongst a sea of white and wood, and if you're looking for something a little different yet oh-so-on-trend, green is the way to go. After all, it does represent a sense of hope, health, adventure, and renewal; not to mention, it's the perfect reminder of the great outdoors. If you're looking for a way to add a touch of the verdant hue to your own abode, why not try starting with your backsplash? Here are eight ways to show off your green kitchen backsplash, but be forewarned, because it might just turn your dinner guests into green-eyed monsters.
1. Mix and Match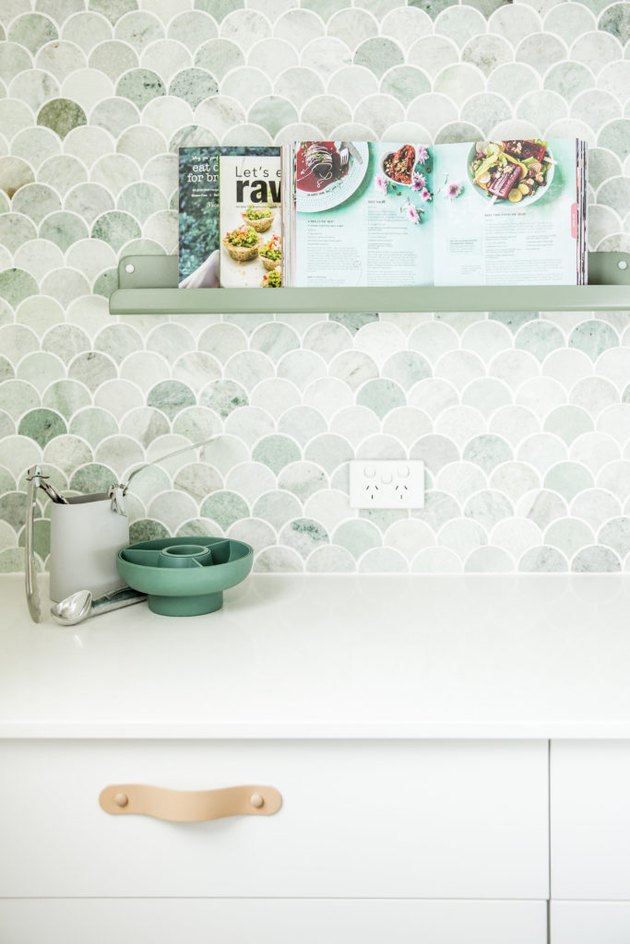 2. Make Your Backsplash the Center of Attention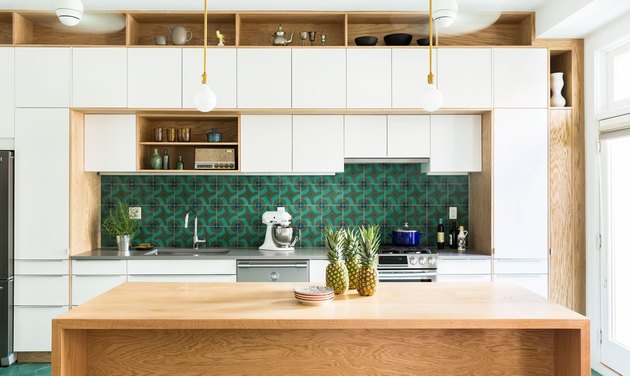 A patterned backsplash is the perfect way of making a statement in your kitchen and works particularly well when the rest of the design is kept simple. For example, BAOO Studio contrasted the white oak and white lacquer cabinets in this bright cook space with a green hexagonal concrete floor tile and a green patterned concrete backsplash tile. Swoon!
3. Be at One With Nature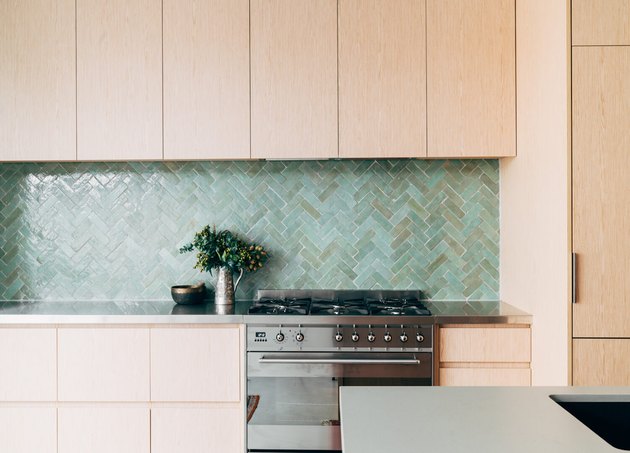 If you're looking to create an earthy ambience, a green kitchen backsplash works well with natural textures. The green herringbone mosaic tile in this subtle kitchen by Studio Ezra reinforces the natural hues of the outdoors and perfectly complements the blonde wood cabinetry.
4. Opt for a Glazed Tile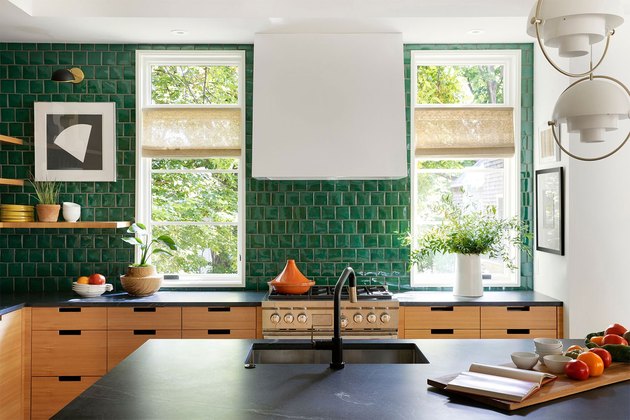 Lucy Interior Design created a striking kitchen with a nod to midcentury and Moroccan styles thanks to the large square-shaped tile and warm wood cabinetry. By selecting a glazed tile with a slight sheen, this cook space looks vibrant and fresh regardless of the weather.
5. Don't Finish It!
Did you know that an unfinished backsplash is one of the trends that you need to look out for this year? And luckily, hexagonal tile makes for a wonderfully imperfect kitchen backsplash that stops midway up the wall. The forest green honeycomb-shaped tile in this culinary design by Studio 125 are perfectly paired with white countertops, white cabinets, and a farmhouse sink.
6. Or, Go All the Way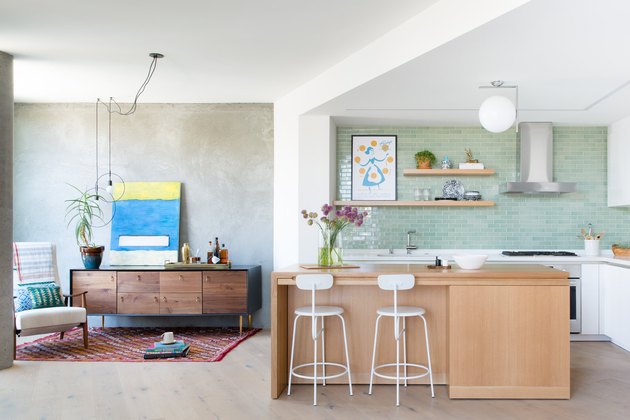 Create an eye-catching feature wall in your kitchen by extending the backsplash all the way to the ceiling. Regan Baker Design created an accent wall with sage colored subway tile, finishing the look with open shelving and a hint of greenery. Who needs paint when you have a full-height green kitchen backsplash?
7. Pair With Wood for a Boho Feel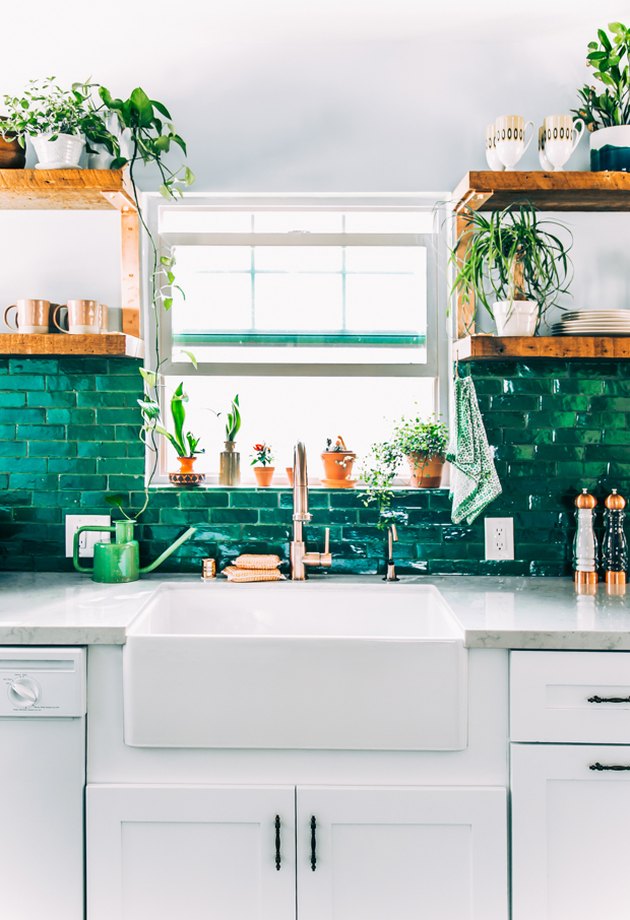 8. Add a Pop of Color to White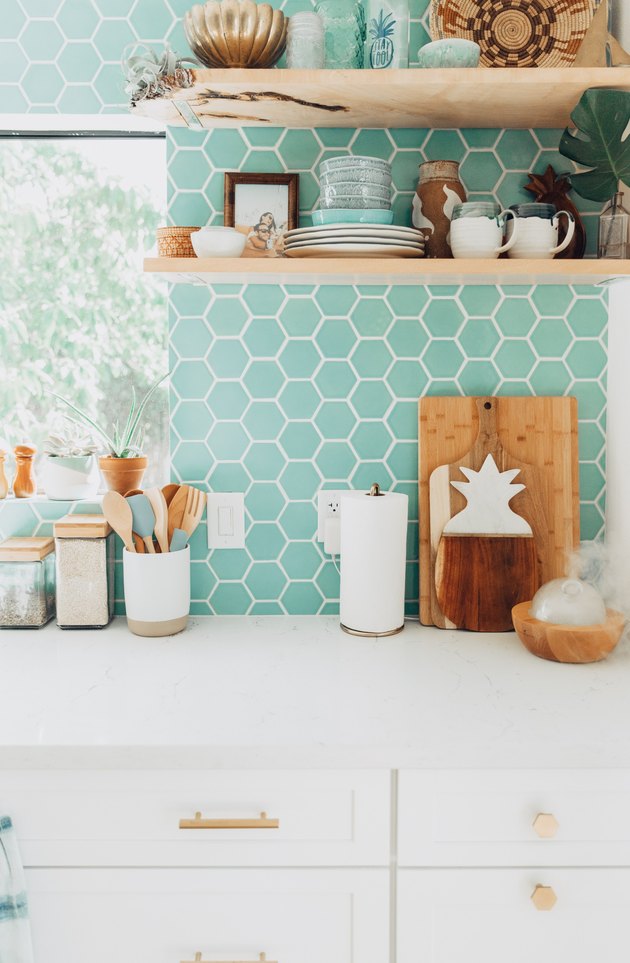 White kitchens are timeless classics, but they can leave you begging for a splash of bold color. Blogger Elana was inspired by the ocean for her fresh culinary space and opted for the Aqua Hexagon tile from Fireclay Tile to create this dreamy blue-green kitchen backsplash. We love how the hexagonal shape pops against the white grout, countertops, and cabinetry.
Get the look:
Want to create your own green kitchen backsplash? Shop these stores for the perfect green tile.
Clé started out in 2009 when artist and designer Deborah Osburn began her blog Tile Envy before opening an online store selling tiles. Today, you can find everything from classic Moroccan zellige to glazed raku-fired tile from Vietnam to rustic Italian terra cotta. Plus, there's loads of gorgeous green options.
Home decor giant Wayfair has a handy search filter on their website that allows you to search by color. Last time we checked there were over 4,000 green tile options, so you're in for a treat!
Inspired by the world around them, the Roca USA design team are continually developing a curated selection of tile, championing both current trends as well as timeless looks. We love the extensive range of styles and materials that they offer, specifically the Joy collection, which comes in a wide range of colors.
---
Emma Jane Palin is a multi-award-winning blogger and freelance writer with a penchant for design and interiors.
View Work