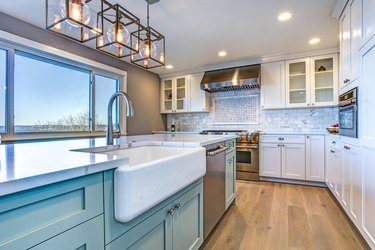 The classic spot for a kitchen tile backsplash is just behind the stove or sink, hence the name. Cooking oils, spaghetti sauce splatter and grease can be easily wiped up from tike, which makes a tile backsplash is ideal for quick clean-up. The large range of tile patterns, styles and colors, though, allow you to incorporate your own design flair to a relatively utilitarian space. And there are multiple design ideas for a tile backsplash in the kitchen, ranging from classic stone, traditional tiles and contemporary subway tiles to whimsical patterns and iridescent glass tiles.
Backsplash Just Behind Stove: Make it Eye-Catching
Depending on the layout of your kitchen and appliances, a tile backsplash just behind the stove can serve as either a design focal point or cover the entire space between the countertop and upper cabinets. Open shelving is on-trend, which means your tile backsplash could run all the way to the ceiling.
For a focal point, bold, bright colors and intricate patterns can draw the eye to the space. This space gives you room to play: incorporating mosaic tiles, glass tiles or contrasting colors and styles different from the rest of the kitchen opens up the possibilities for something extraordinary.
Start with choosing your kitchen color palette. The backsplash can either be a complementary color for the room, a neutral color that allows your cabinetry and open shelves to be the star of the room, or the starting point for the rest of your design.
Kitchen Backsplash With Border: Separate Space
Speaking of contrasting tile styles, a kitchen backsplash with a border can help to separate the working space – like the counter and oven – from the decorative wall space. A well-placed border can add a dimension of length with long, vertical tiles, break up different work stations or serve as a décor statement piece.
A cost-conscious option is to use a more expensive tile for the border as an accent to budget-friendly tiles that cover large spaces. A neutral tine tone paired with a sparkling glass tile border allows for a hint of shimmer without overwhelming the space.
Tile borders are also a great option for those who want to add some flair to an existing kitchen space without redoing the whole room. Peel-and-stick tiles borders make for a weekend do-it-yourself project. Since your border will be eye-catching, make sure it complements the rest of your design. A modern kitchen with stainless steel appliances needs a border with sleek, clean lines. For a traditional or farmhouse kitchen, try a stone or marble tile.
Backsplash Border Ideas: Play with Tile Shape
Take tile shape and placement into consideration when playing with backsplash border ideas. Placing a subway tile or a traditional stone tile vertically, horizontally or in a herringbone pattern creates a unique space with a classic kitchen tile. New rounded tile patterns that look like fish or "mermaid" scales or a hexagon-shaped tile pattern adds instant whimsy and interest, while diamond-shaped tiles provide a subtle elegance. These are excellent options for a border paired with traditionally placed tiles. Bold bohemian and artistic patterns can be mixed and matched to create an exceptional look.
Kitchens with minimal colors benefit from a colorful tile backsplash, whereas kitchens with a range of colors look nice with tile of a single shade. There's a large variety of tiles and styles available on the market that go beyond the basic beige look. Keeping the tile style consistent with the rest of your kitchen is the main rule; the rest is up to your imagination.