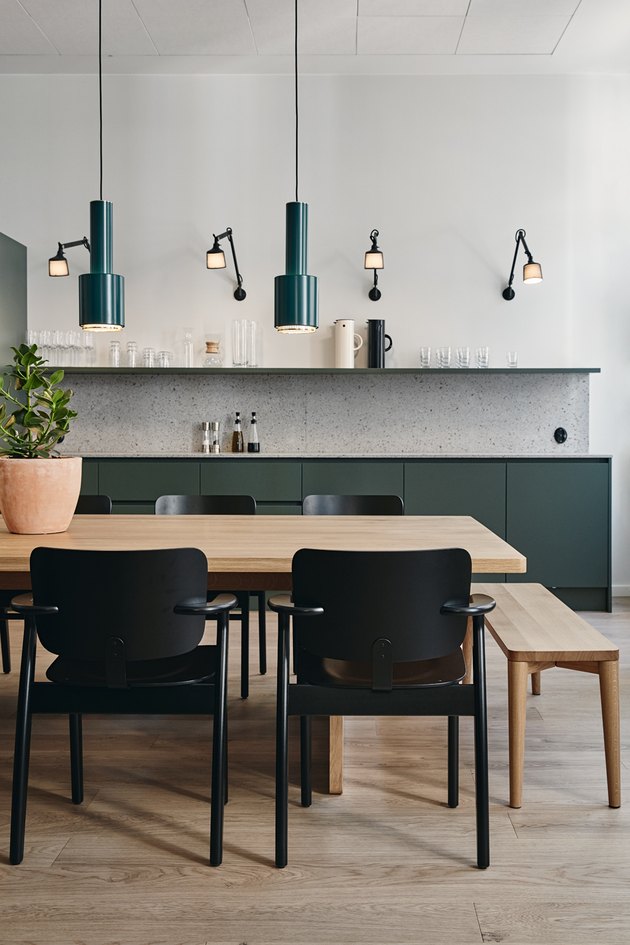 When renovating a kitchen, there are tons of features and fixtures you'll need to choose. There's the countertop, sink, cabinets, flooring, backsplash, hardware, and last but not least, the lighting. Long gone are the days when kitchen illumination was reduced to recessed can lights, track lighting, and traditional chandeliers. Today, there seems to be as many kitchen lighting options as stars in the sky, which is amazing … and overwhelming at the same time. But with the right tips and tricks, you can simplify the decision process and select the best fixtures for your home in no time.
Design a Kitchen Lighting Plan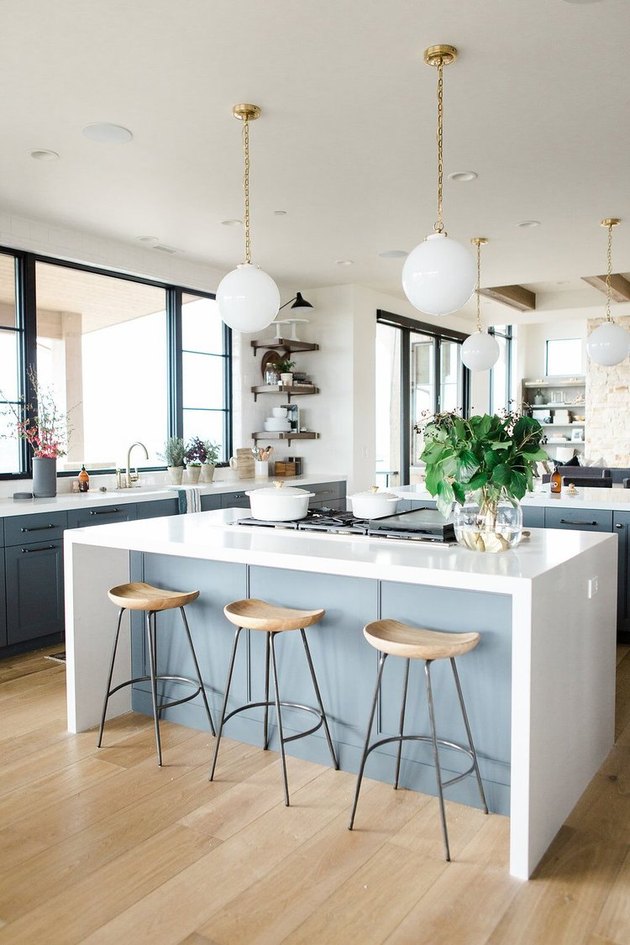 First things first, you should take a look at your kitchen's layout. Give pause to key spots that require extra illumination. Could the island use a bit more downlight? Do you require task lighting above the sink, along with other workspaces? Perhaps your breakfast nook should have a showstopping fixture?
Your kitchen layout (and your lighting needs) will help you determine where to place certain fixtures. Shea of Studio McGee carefully considered the situation in this midcentury-meets-farmhouse cook space relying on both recessed lighting and globe-style pendants for an even glow.
It might come as a surprise, but there are many fixtures that you can install yourself — however, there are also those that require the help of an electrician. For example, if you're living in an older home, an electrician will need to check the wiring to make sure it's compatible with your modern light fixtures. A professional can also be helpful if you've chosen vintage lighting.
If you're on a budget, keep in mind that kitchen lighting can get fairly expensive — especially if you want fixtures that are made using quality materials like brass, alabaster, or crystals. The price tag can also get steep if you purchase antique fixtures or lighting from prominent design houses and high-end brands. Save some money by keeping your eyes peeled for online sales, always track down coupon codes, and shop big-box retailers ... you might be surprised by what you find (who knew that Walmart had such chic lighting?).
Armed with these tips, your next step will be to contemplate the style of your kitchen and how your lighting fits in.
Pick a Kitchen Lighting Style to Match Your Aesthetic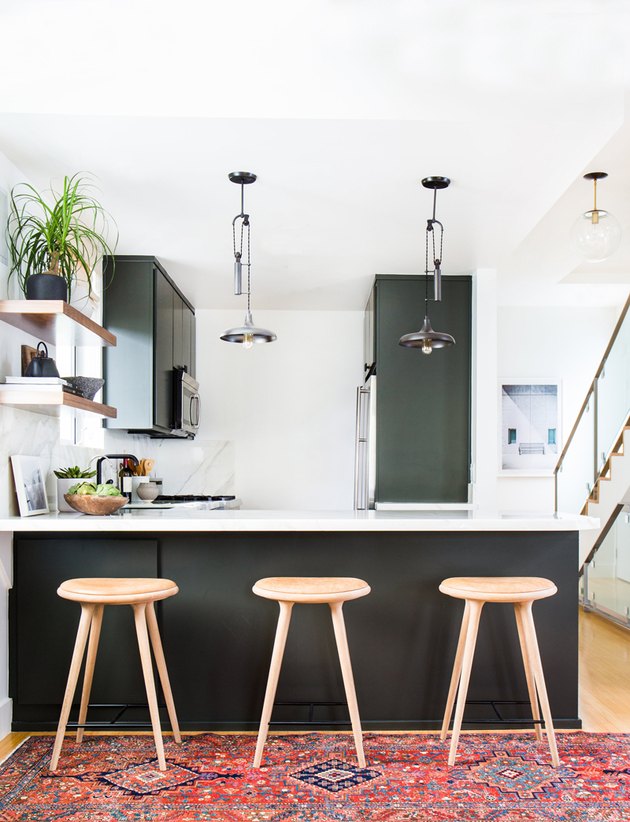 When it comes to the design approach of your kitchen, you can go in two directions with the lighting. You can either choose fixtures that are the opposite of your kitchen's style — we're all for modern wall sconces in a rustic cook space or a woven pendants in a boho kitchen — or you can stay true to your aesthetic.
In this case, search for fixtures that can be woven seamlessly into the design. For a farmhouse kitchen look to lighting rendered in well-loved materials like distressed wood or patinated finishes. Hammered brass and antiqued metals also look spot on in a free-spirited space, as witnessed in the above space designed by Amber Lewis of Amber Interiors.
The moral of the story? We guarantee there's a plethora of options for every kitchen style that exists.
Explore the Different Types of Lighting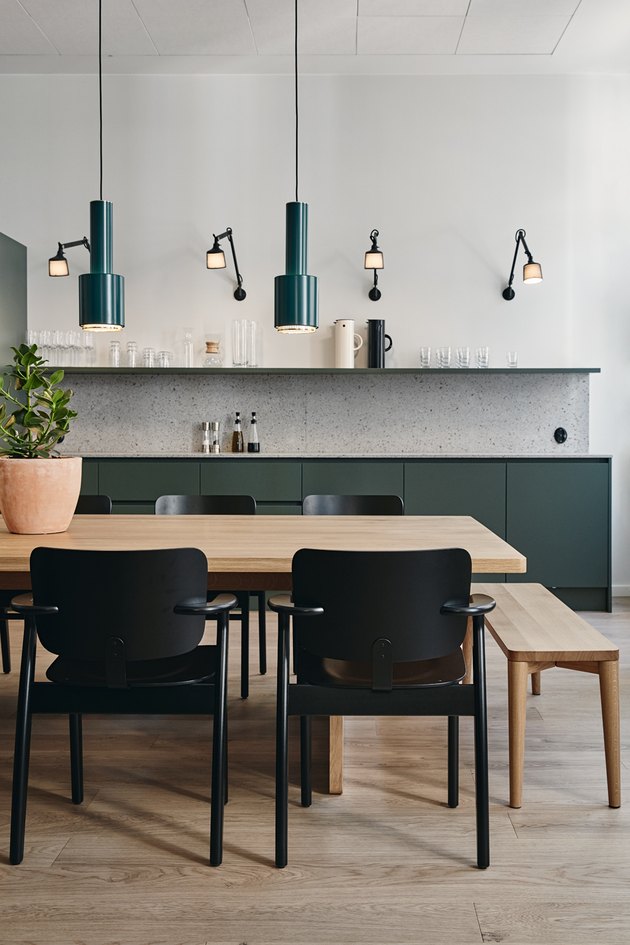 Lastly, there are myriad lighting variations that can be brought into a kitchen. Many of these options can be mixed together in one space, as beautifully demonstrated in this cook space designed by the team over at Studio Joanna Laajisto.
Pendants might be the most popular type of kitchen lighting, which you've probably noticed just looking at your Instagram and Pinterest feeds. A pendant light is a single fixture that hangs from the ceiling by a cord or chain and provides a great source of downlight — which is perfect for kitchen islands, bars, or sinks.
A flush mount is a light fixture affixed tight to the ceiling and provides a touch of practicality and simplicity in a kitchen. They're the opposite of chandeliers in that they stay out of the way and are especially handy in small kitchens with low ceilings. You can also choose a semi-flush mount, which is the flush mount's more decorative cousin and tends to hang a bit lower.
Wall sconces are ideal for lighting open shelving and walls that could use a bit more illumination. Often sleek, they're straightforward and quite useful in a culinary space.
Apart from the standard lighting options, you can also pick an off-the-wall or alternative light fixture for your kitchen. Don't be afraid to think outside the box and display a table lamp on a countertop, incorporate lighting below your upper cabinets, or even go a bit retro with track lighting (we hear it's making a comeback).
Last, but certainly not least, we can't forget to mention recessed lighting. This utilitarian fixture is far from sexy but it's the easiest and most common way to provide general overhead lighting throughout the entire kitchen.
Do your homework, take along these tips, and choose kitchen lighting that not only speaks to your sense of design but also makes the most functional sense based on your needs.