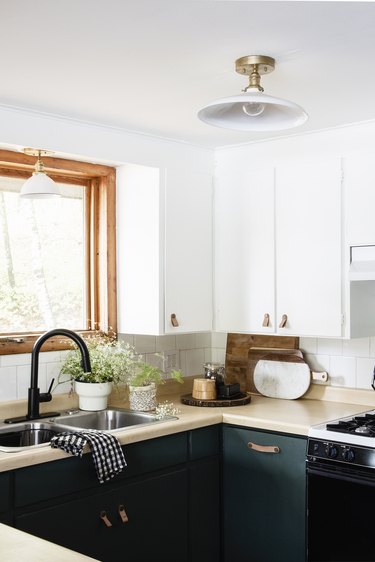 A small kitchen can be really wonderful, if you think about it. You don't need to move around quite as much when you're making dinner, which can actually save you time. Your cabinets will be dedicated to only your essentials. And you can keep your decor tight and streamlined. On the downside, it can pose some challenges in the lighting department. When it comes to small kitchens, large chandeliers can be a bit too much, along with ornate designs, or multiple fixtures.
Space comes at a premium in your diminutive cook space, and that means you'll need to be extra-choosy with your fixtures. When perusing small kitchen lighting, remember that good things come in small packages. Less is more. And a little simplicity can go a long way. This goes for all different styles, including pendants, wall sconces, and flush mounts. Scroll on for eight lighting ideas for your small kitchen, as well as our three of our favorite brands to score petite finds.
1. Stay within your color palette.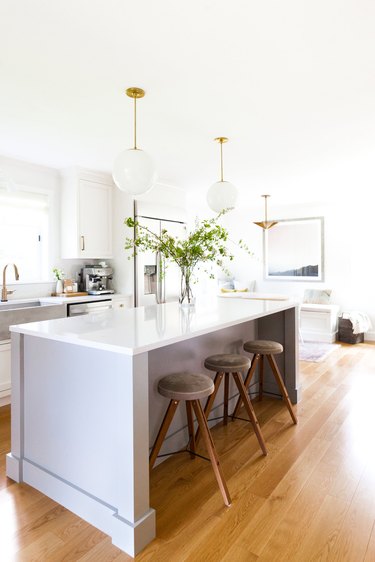 Although it's fun to choose kitchen lighting that's colorful and bold, a small space calls for something more subdued. To avoid overwhelming your kitchen, choose lighting that fits perfectly within your color palette and fades into the background. Cassandra of Coco Kelley did this in her own home — the white globe style pendants are quietly juxtaposed against white walls.
2. Make a small statement.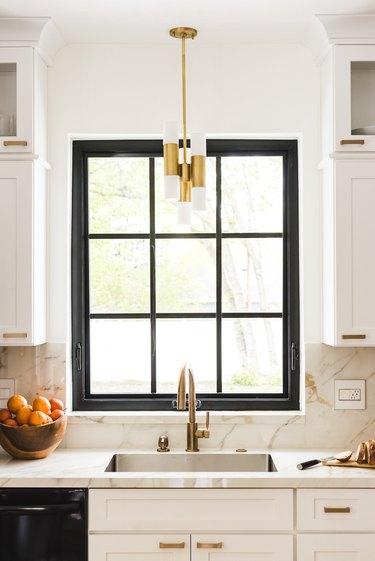 You don't need a huge, elaborate chandelier to create a standout culinary space. For your small kitchen lighting, tiny statement lights will pack a bigger punch than you think, as proven by this kitchen belonging to Brittany of The House That Lars Built. The midcentury-inspired pendant is certainly eye-catching, but with its concise design, it doesn't overtake the space above the sink.
3. Keep it simple.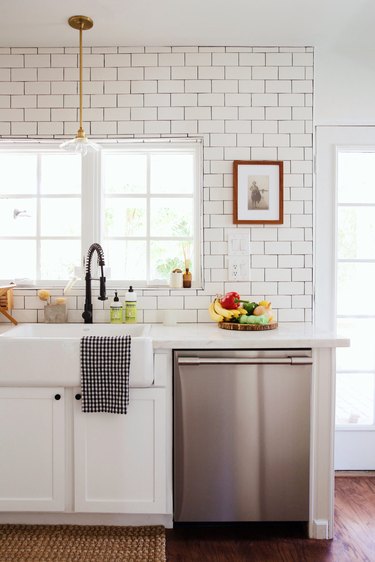 Simplicity is oh-so-important for small kitchen lighting. Oversize, ornamental fixtures can be too much in tight quarters. Instead, display unfussy, toned-down lighting in your kitchen, which is exactly what Robert and Christina of New Darlings did in their culinary space.
4. Install multiple wall sconces.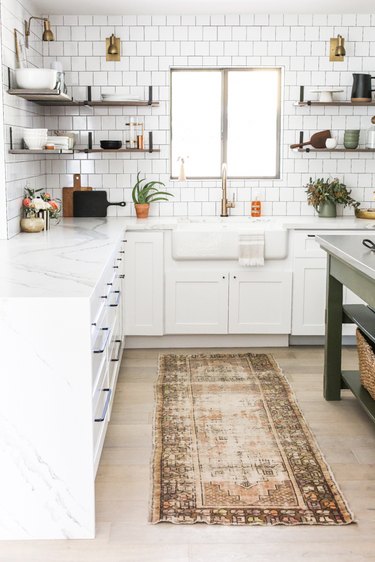 Instead of heading to the ceiling, look to the walls for small kitchen lighting opportunities. Wall sconces can illuminate your space evenly, and they don't require tons of space. Jenny of Juniper Home can see everything on her open shelving thanks to these tiny brass fixtures.
5. Choose sleek, linear lighting.
6. Hang a single pendant light.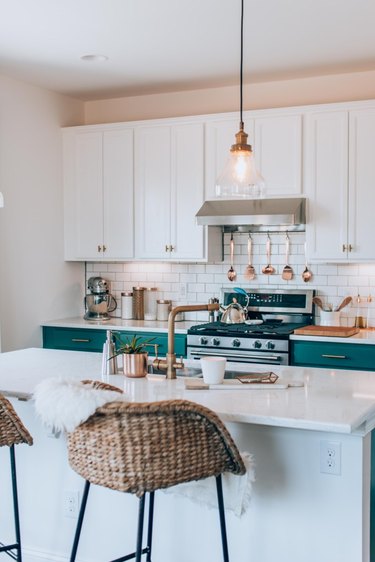 Sure, everyone seems to be hanging multiple pendant lights above their kitchen islands these days. But for your teeny space, a single pendant light will more than suffice. This way you can indulge in the lighting trend without overpowering your cook space. And we love the pretty, uncomplicated fixture that Ashley of Ashton used in her kitchen.
7. Only illuminate essential areas.
Your kitchen doesn't require a dozen lights for it to be well-lit. A few carefully-chosen fixtures will do the job, and you can place them over areas where you could use a little extra illumination. For example, in this culinary space crafted by Ashley of Under the Sycamore, a modern wall sconce highlights her her open shelving like artwork.
8. Opt for flush and semi-flush mount lights.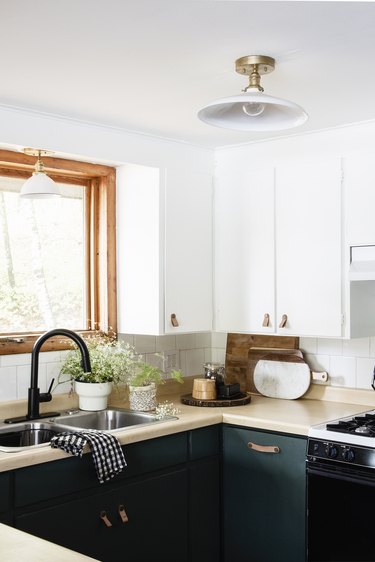 Flush and semi-flush mounts are your BFF's in a small kitchen. They won't hang too low, which is nice when you're lacking ceiling height (no more bumping your head on a chandelier!), and they won't interfere with the aesthetics in the rest of your space. Alison of Deuce Cities Farmhouse, used these vintage-esque fixtures in her small space, and the result is simply radiant.
Where to buy small kitchen lighting:
Finding the perfect light fixtures for your small kitchen isn't a tiny task, but we're here to help with our go-to brands.
Hudson Valley Lighting This company is a cult favorite among designers and in-the-know homeowners. All of their lighting is gorgeous, but the pieces that will work particularly well in your small cook space are the on-trend wall sconces and flush mounts.
Schoolhouse For sleek, minimal, and so very, very cool, shop Schoolhouse. Uncomplicated lighting is ideal for a tiny kitchen, and they excel at simple lines and subtly-curved shapes.
Lucent Lightshop To inject a little bit of whimsy into your small kitchen lighting, peruse Lucent Lightshop. Here, you'll find midcentury-inspired sconces, fanciful flush mounts, and even old-school ceiling medallions.
---
Shelby Deering is a lifestyle writer who contributes to national magazines and websites, including Country Living, Good Housekeeping, Well+Good, and more. When she's not writing, you'll find her shopping flea markets, hiking, and going for walks with her corgi.
View Work