Midcentury modern kitchens combine timeless style with contemporary convenience. Imagine a space plucked straight from an Eichler masterpiece — but with enough hints of 2019 to ensure you're not living in the past.
When you imagine a midcentury modern kitchen, you might picture a plethora of wood. And you're not wrong: wood is a common component of these stunning spaces — especially darker woods, like walnut. But you can't forget color: from bright teal backsplashes to bold yellow cabinetry, these kitchens aren't afraid to stun you with vivid shades.
Other things you might find in a midcentury modern kitchen include shiny square tiles in cheerful colors, lofted ceilings covered in wood planks, windows galore, and retro appliances. Some homeowners elect high-gloss cabinetry in bright colors and others keep it simple with funky backsplashes. As for furnishings, you might see replicas of classic midcentury designs, or pieces inspired by them — think shell chairs, tables with angled, tapered legs, and sculptural light fixtures. Add hints of metal and glass for that final retro touch.
Here are some examples of to-die-for midcentury modern kitchens — some use midcentury-inspired touches, while others fully embrace retro vibes.
1. Get depth and drama — without going retro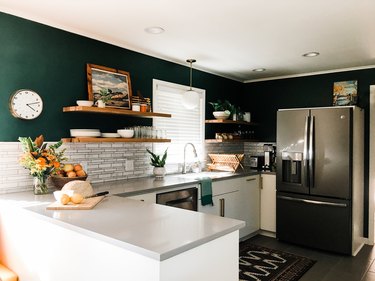 This Tulsa kitchen started out super retro, with white laminate countertops, dark wood cabinetry, and mint accents — a '50s homemaker's dream. The update keeps the midcentury vibes without sacrificing the "modern" element. The key here is contrast: Dark hunter-green walls add depth and drama while gray countertops and white cabinets keep the space airy.
2. Choose the right accessories
Sometimes, just a hint of midcentury modern can be enough, like in this kitchen redo from The Effortless Chic. Muted teal cabinetry adds the perfect dose of color to this inspired space, but it's the bar chairs and shelf accessories that give the room style. The leather fabric and curvaceous silhouette hint at Eames, and dark wood accents on exposed wood shelving give the room some serious midcentury class.
3. Add beauty with blonde wood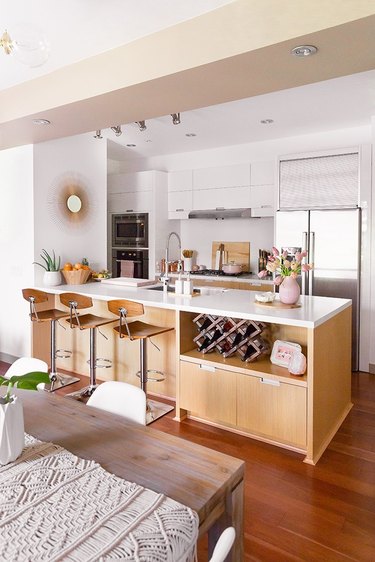 Wood doesn't have to be dark brown to evoke that midcentury feeling. In this lovely makeover from JustineCelina, on-trend blonde wood adds contemporary style to this retro space. Again, the midcentury devil is in the details, like the glitzy sunburst clock and fun, angular chairs. A gentle dose of millennial pink makes this subdued kitchen timeless.
4. Go full cigar lounge glamour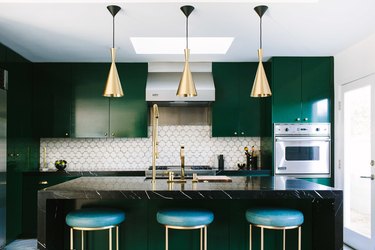 Midcentury modern kitchens give you license to play with color — so feel free to take advantage. This dramatic bungalow by Caitlin Murray covers the cabinetry in shiny emerald green. Brass hardware and geometric lighting complete the midcentury cigar lounge effect; the clean lines and black countertops keep the space from feeling over-the-top.
5. Embrace the retro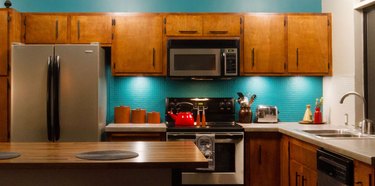 This playful midcentury modern kitchen just borders on dated — but the design choices keep it decidedly 21st century. It makes sense that blogger Mid-Century Maurer would want to keep this retro space intact: Robert sanded down the white-painted cabinetry to reveal the glorious wood beneath. An open floor plan and generous island help the style flow throughout the home.
6. Go bold with your backsplash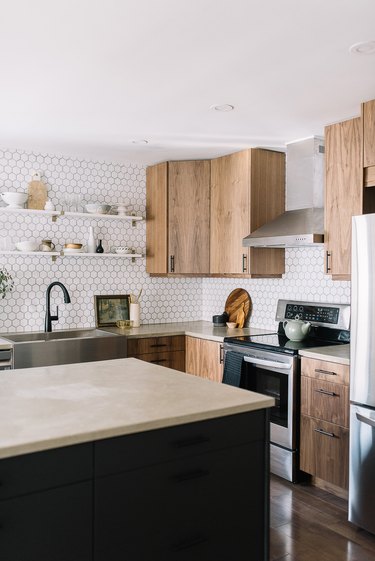 Ready to dive into midcentury modern style? Start with the backsplash, like in this white-and-wood kitchen from blogger Kristina Lynne. Hexagonal tile creeps toward the ceiling, making a bold statement. Natural wood cabinetry completes the midcentury look.
7. Don't forget the simple touches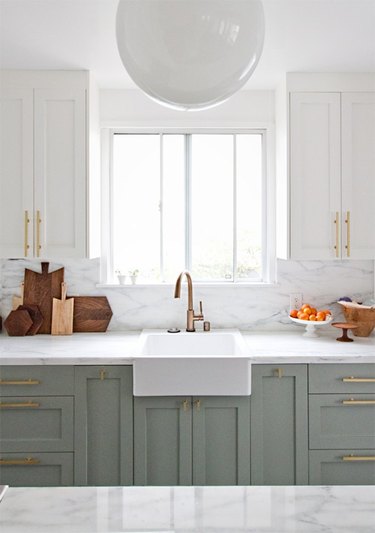 You don't need a complete renovation to add midcentury-cool to your kitchen. Becki Owens used a few simple touches to complete her white-and-mint kitchen — just enough to recall the '60s. Brass hardware, an oversize globe light, dark-toned wood cutting boards, and streamlined dining chairs nod to midcentury style.
8. Pick playful patterns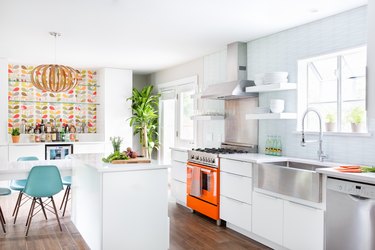 After peeking at this kitchen makeover from interior designer Becca Stephens, we understand if you have serious wallpaper envy. The colorful, vintage pattern she chose for the bar area perfectly complements the room: the orange-red is reflected in the va-va-voom stove and the robin's-egg blue extends into the backsplash and dining chairs.
9. Add pops of color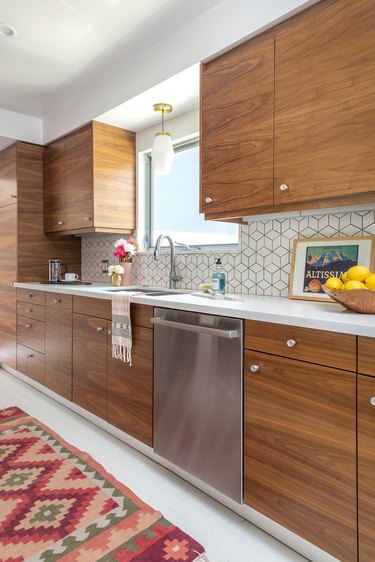 If you're looking for a midcentury modern kitchen that perfectly blends with here and now, check out this impressive redo from A Vintage Splendor. It's hard to tell what makes this kitchen so superior: Is it the dark-toned wood, or the retro-inspired geometric backsplash? Or perhaps the key to success is a dash of color — just enough to keep the room interesting.