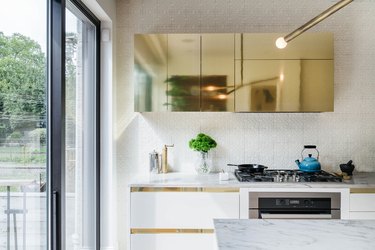 Unless you've been living under a rock you've definitely come across a cabinet or two with brass hardware. From knobs to pulls to handles, these functional metallic-finished beauties have made their way into just about every room of the house. But now we're starting to notice that the brass trend is no longer relegated to just hardware. Instead designers are thinking outside the box and applying the dazzling finish to cabinet detailing, too.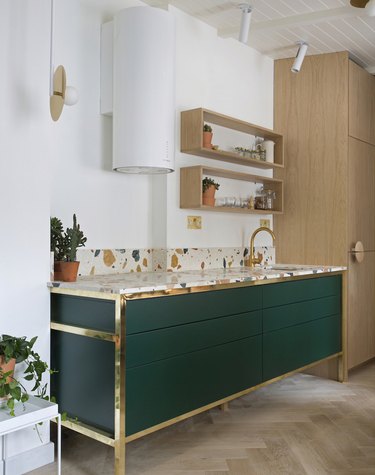 For example, take the kitchen in this one-bedroom Notting Hill apartment, the team over at Play Associates decided to forgo the look of traditional cabinetry and encased emerald green cabinets in a brass frame instead. Raised off the floor and topped with terrazzo, this block of drawers feels more like a luxe piece of furniture than kitchen cabinets. Notice the lack of hardware.
Similarly, in this modern cook space, brass was used as a decorative detail as well. The cabinet manufacturer, Alex Hall Furniture, complemented gray kitchen cabinets and hardware with elegant brass reveals, tying in the sleek pendant lights and plumbing fixtures. And can we talk about that island with a marble waterfall countertop? Obsessed.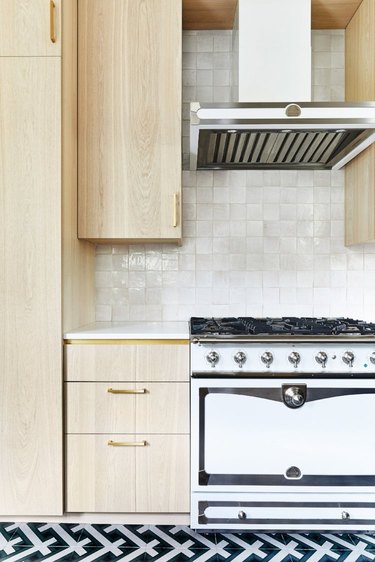 But if you're not quite ready to say goodbye to your uber-chic brass hardware, don't worry. Follow the lead of Redmond Aldrich Design and blend your swanky pulls with a simple brass reveal right below your countertop. It's a simple yet sophisticated design choice that's guaranteed to take your space to the next level.
Brass detailing is even making its way outside of the kitchen onto furniture, too. Popular brands such as West Elm and PBteen have already jumped on the trendy brass bandwagon.
But we really love how DIY bloggers like Kristi Murphy have reinterpreted the idea. For instance, Murphy designed this gorg midcentury-inspired sideboard using a clever IKEA hack. Budget-friendly and stunning? That's what we call a winning combination.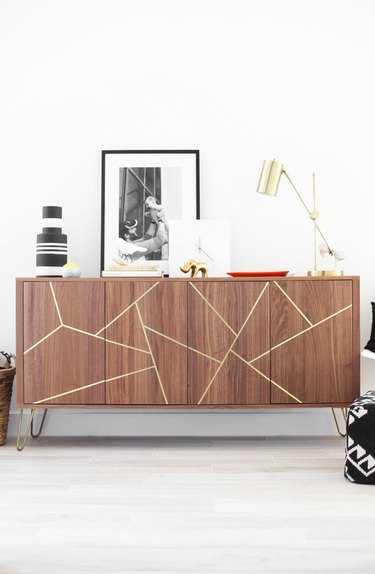 So what do you think? Love it or hate it? We're not sure if this look is here to stay but we're definitely going to enjoy it while it lasts.