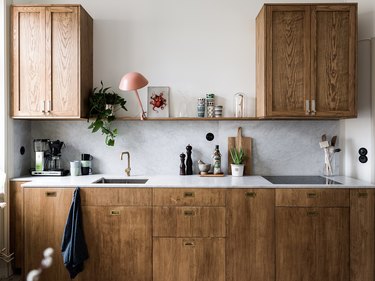 There are a few things that can make or break a kitchen. Do you have durable countertops that will resist all manner of stains, spills, and scratches? What about trend-proof cabinets that you'll love for years to come? And super-efficient appliances that look stylish in your space? If you answered yes to all of these, no doubt you have a gorgeous kitchen that's incredibly functional, too.
Not so fast. Did you remember to install chic-yet-practical lighting? When whipping up those gourmet feasts, you'll no doubt need to shed some light on your creations so you can see what you're doing. Plus, you'll need to illuminate those game nights spent huddled over your kitchen island and study sessions with your favorite cookbooks.
There are so many kitchen lighting ideas nowadays, many of which are aesthetically pleasing, creative, and practical. So if you're searching for ways to brighten up your culinary headquarters, here are eight solutions to get you started.
1. Slick Sconces
Your open shelving could use some extra light, that way you can get a good view of your picture-perfect kitchen essentials and decor. Wall sconces, especially ones with a long arm and swan-like arch, similar to the brass beauties in this kitchen styled by Jenny Komenda of Juniper Home, are an ideal option for lighting up your shelves.
2. Fashionable Flush Mounts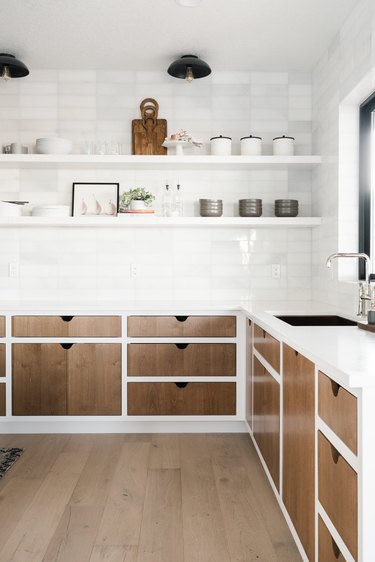 Another kitchen lighting idea that works well with open shelving: flush mount fixtures. In this kitchen designed by Erin and Kirsten of House of Jade Interiors, the flush mounts take a trendy turn in sleek black, sporting vintage-style lightbulbs.
3. Stylish Semi-Flush Mount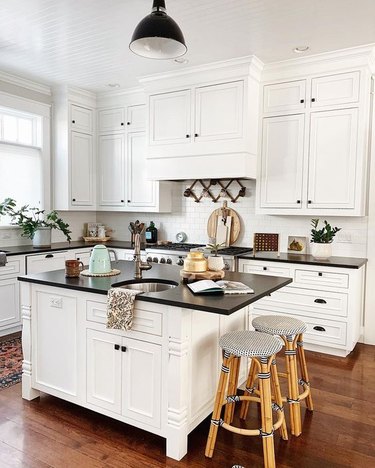 A semi-flush mount kitchen lighting idea is the best of both worlds. It stays tight to the ceiling, which is nice when height is an issue, but drops down just enough to add visual interest. We particularly love the industrial-inspired fixture in this kitchen that belongs to Jennifer from Darling I Love It. The light pairs quite nicely with the black countertops and hardware throughout.
4. Radiant Recessed Lighting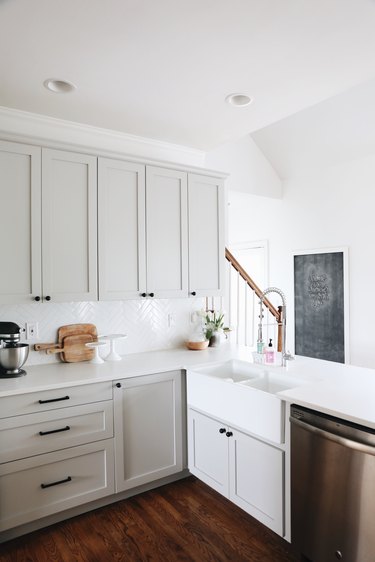 Recessed lighting has been around since the 1940's but had its heyday in the '80s and seemed to appear in every single American kitchen. And while eye-catching fixtures are certainly having their moment, many homeowners prefer the simplicity and unfussiness of recessed lighting. In this kitchen belonging to Jessica of Garvin and Co., the down lights quietly fade into the white ceiling and don't compete with the rest of the decor.
5. Sink Spotlight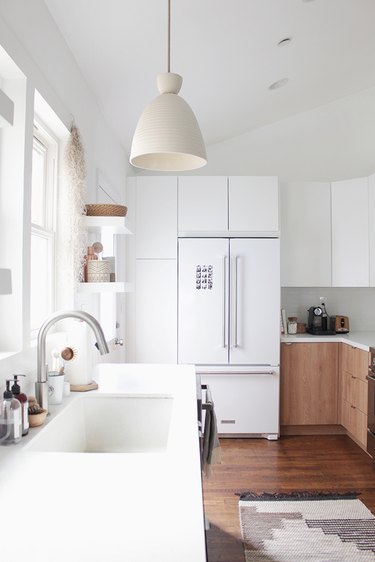 If you'd like to cast a warm glow over your sink (a spot where you probably spend a lot of time!), look no further than a modern pendant light hung overhead. When Molly of Almost Makes Perfect spruced up her kitchen, she included this beautiful white pendant light to brighten up her dishwashing station considerably.
6. Trendy Track Lighting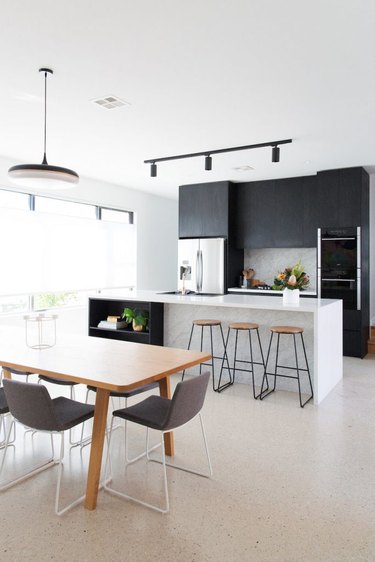 Track lighting can be somewhat of a hit-or-miss design detail — at times, it can look overly industrial or too old school — but we're here to tell you that there are several sophisticated and current options available for your kitchen. To boost the lighting output in your space, consider options with a modern feel, like the sleek black track lighting showcased in this kitchen belonging to Gina of Style Curator.
7. Creative Clip-On Lamp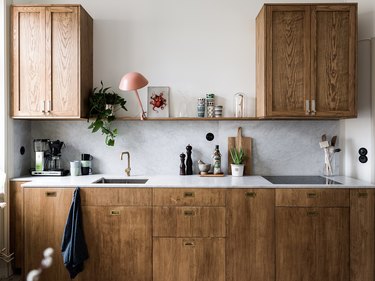 So, maybe you're not exactly in the mood to give your kitchen a lighting overhaul. That's totally fine — instead, you could simply attach a clip-on lamp to one of your floating shelves, which actually looks pretty cool. Sarah from Coco Lapine Design used a pink clip-on lamp to illuminate the counter and provide a punch of color.
8. Pretty Pendant Lights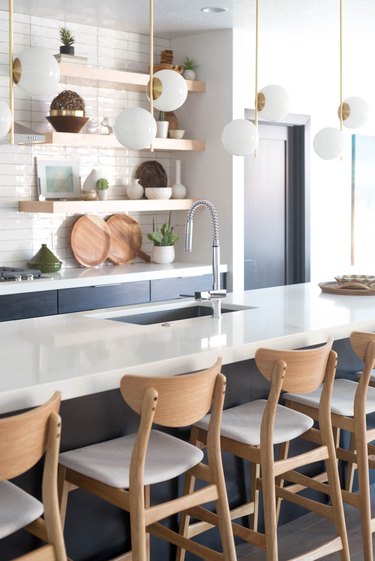 A kitchen bar tends to typically feature two pendant lights hanging above, but what if you pushed the kitchen lighting idea envelope a bit and hung four instead? That's what Mandi of Vintage Revivals did in this fresh cook space. Those midcentury-esque globe lights inject plenty of style, plus they're bound to offer lots of light for the island and sink.