Hands down, one of our favorite rooms in the entire house is the kitchen. And not just because of the delicious food: We know that where there are tasty morsels, beautiful dinnerware is usually not too far behind. So when it came time to deck out the elegantly designed galley kitchen in the Hunker House, San Francisco-based ceramics company Year & Day's California-inspired dishes were an obvious match. Their clean and sophisticated semi-matte finishes, understated palettes, and streamlined silhouettes look oh-so-dreamy in our IRL abode.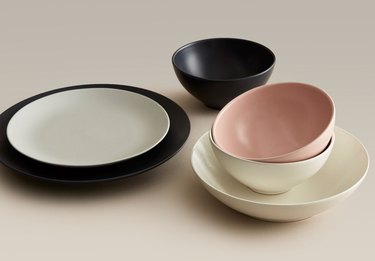 Now there's more to Year & Day than meets the eye. Indeed, they've nailed lust-worthy tableware, but this is a ceramics brand with a twist. Gone are the days of the classic stuffy dinnerware sets for your registry; instead the team over at Year & Day analyzes your lifestyle with a quick online quiz and tells you exactly what you'll need. Eliminating guesswork (at least when it comes to selecting dinnerware) the company works around your needs, all at an affordable price. Whether you're riding solo, dining out more than in, or needing to feed a family of six, there's a Year & Day set for everyone. Gravy boats not included.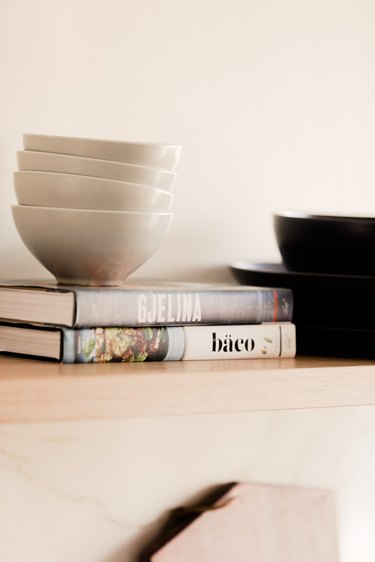 So, what's included in a complete set? From dip dishes to small plates to big bowls, there's something for every entertaining situation, provided you like to host of course. Each piece is made in Portugal, only fired once to reduce emissions, and glazed in Year & Day's signature oceanic palette of "Daybreak," "Fog," "Moon," and "Midnight."
Check out a selection of their gorgeous dishes below before deciding to invest in your own picture-perfect set.
An ideal introduction to the brand, this set of four low-edged dip dishes is completely transitional. Use them as salt and pepper cellars, pinch pots for oil, nuts, and olives, or simply (as the name suggests) for dip. And this is a great opportunity to check out all the colors in their coastal-inspired palette before committing to larger pieces.
Need an everyday piece of tableware that will work for breakfast, lunch, dinner, and everything in between? Look no further than this minimalist coupe-shaped plate. The rimless design ensures a sleek, uninterrupted look.
When you're eating soup, a small dish simply won't do. Luckily, this bowl is a nice size for the more peckish among us and will keep your pho, pasta, and ramen safe and sound so you can savor each and every bite.
---
Emma Jane Palin is a multi-award-winning blogger and freelance writer with a penchant for design and interiors.
View Work