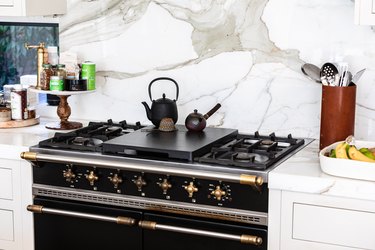 Hunker may earn compensation through affiliate links in this story. Learn more about our affiliate and product review process
here
.
Want some trendy kitchen backsplash ideas? Well, you've come to the right place. Whether you're looking for a material that will blend into your aesthetic or one that is guaranteed to make a statement, it's good to be armed with as much info as possible so you can make the best decision for your home. This handy guide covers your style and material options. And don't miss our gallery for some visual inspo to help you decide between traditional white tiles or colorful, glass mosaics.
The guide below is meant to help provide style ideas and inspiration via our original photography. If you're looking for a more comprehensive guide to backsplash options and materials, as well as installation help, check out our Homeowner's Guide to Backsplashes:
What Is a Kitchen Backsplash?
There are no silly questions here. The kitchen backsplash was originally designed with function in mind: to protect the kitchen walls from food stains, water splashes, and to make post-dinner clean up an easy operation. As culinary interiors have evolved, the backsplash has become an important design feature, occasionally even serving as one of your kitchen's visual focal points. It's a chance to add a dash of personality to your space while incorporating new materials and trendy colors. Whether you're looking for a budget-friendly makeover or you're looking to splurge, we've got plenty of advice and guidance to help you out.
What Style of Kitchen Backsplash Should I Go For?
Since the backsplash could become one of the key features in your cook space, you should always opt for design ideas that are true to your interior design spirit animal. Here are a few popular styles to help get you started.
Modern design can be interpreted in many different ways, but if you feel drawn toward clean, minimal, and functional aesthetics, this is likely the way to go. Sleek and chic is a surefire way to keep your kitchen looking neat and tidy (a perk of this backsplash style is how easy it is to maintain). White subway tiles with dark grout is a classic option here that pairs well with dark cabinetry. If you want to give it a twist, consider some chevron tiling. A modern, streamlined design leaves room to experiment with color and materials, as the fun kitchen above by Play Associates demonstrates.
Want more modern backsplash ideas? Check out the stories below:
A farmhouse kitchen traditionally consists of natural materials such as distressed wood, stone, and ceramic or cement tile with subtle patterns, rustic details, and vintage iron accents. Neutral shades like white and gray are the most popular choices for country style tile backsplashes as they create an overall airy quality to the overall kitchen design and pair well with beadboard paneling. If you do go neutral, consider subtle patterns for your wall tiles. Pops of bolder tiling can work as well, especially if you're tiling a smaller or enclosed space. Alternatively, you can try a brick backsplash and pair it with wood countertops to create a warm feel.
See below for even more country backsplash ideas: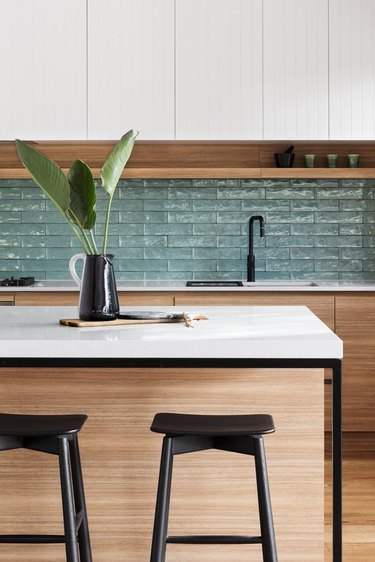 There's nothing quite as laid-back as boho style. Typical features for this style include lots of texture, natural materials, pattern, and lush tones that bring the outside in. Don't be afraid to opt for bright, colorful backsplash tiles with intricate patterns (Moroccan tiles, for example). These work particularly well when paired with neutral colored cabinetry. Explore different texture options as well here. Traditional ceramic tile can create a completely different look when it's textured as opposed to flat.
Check out below for more boho backsplash ideas: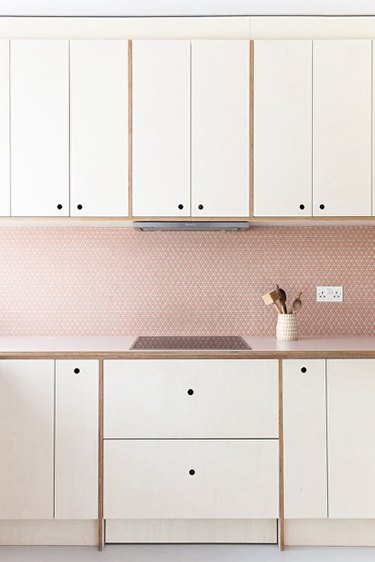 A mosaic kitchen backsplash like the pink penny tile in this space by Nimtim Architects can be a really easy way to create a striking effect on your walls. From backsplash designs showcasing a single color to intricately thought-out patterns, mosaic tile is an ideal way to add unique visual interest. Typically sold in sheets, the install isn't as complicated as you would think.
Get some more inspo at the story below: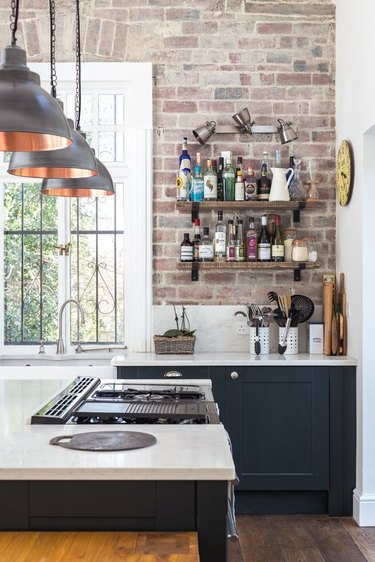 Industrial style isn't just for those in converted lofts in the city; you can easily take the look to a suburban home, too, as demonstrated by Nest Kitchens above. Just make sure you incorporate features that celebrate the time period; pair with raw or reclaimed materials; or leave brick walls and HVAC exposed. The aesthetic makes the most of utilitarian materials such as wood, metal, brick, and concrete — which means natural stone or marble tile are good options here. Keep your color scheme simple when selecting your tiles.
What Are Some Popular Backsplash Materials?
The only rule when it comes to kitchen backsplash materials is that they MUST be functional. That means that you need to be able to easily clean it without it absorbing moisture or stains. Aside from that, you've got lots of options to choose from. Scroll on for a few of our favorite materials below.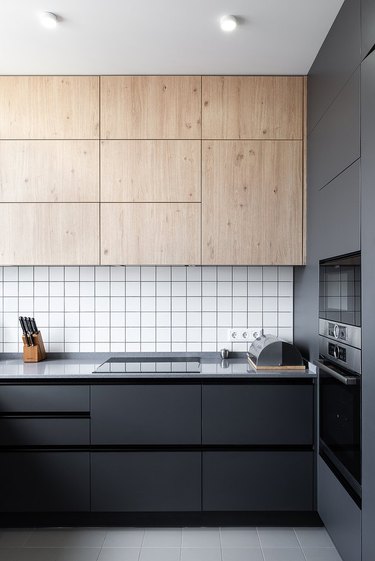 Ceramic and porcelain tile are extremely versatile, so it's no wonder that they're the most commonly used materials for a kitchen backsplash. From subway tile to square and hex to herringbone, there's a look that suits everyone. Because they are available in a range of different price points and every color under the sun, the tile ideas are limitless with these materials. We love the look of this square grid above by MalyKrasota Design, paired with both black and wood cabinets.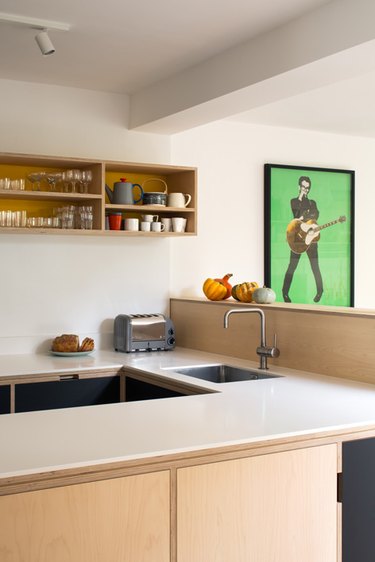 Although far less common, a wood backsplash can be quite incredible! The low height plywood backsplash in this kitchen by Uncommon Projects looks simply gorgeous. Just make sure that you treat the wood to protect against water and other liquids, or consider using another material for areas behind the sink or stove.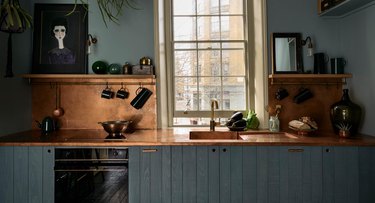 Oh, how we love a metal kitchen backsplash, especially when it is copper like this one designed by deVOL Kitchens. Nothing says professional chef like stainless steel, while copper or brass can easily add a touch of glam to the space. Metal instantly adds a sleek and dreamy industrial vibe, but be prepared for a little extra cleaning as this option is definitely a tad high maintenance.
A mirrored kitchen backsplash, like the one in this bright cook space by Humphrey Munson, can work with a variety of different design styles while also creating a massive statement that oozes "wow factor." Besides, who doesn't love looking at themselves in the mirror while cooking? Plus, mirrors add dimension and reflect natural light, making this the perfect option for an open and airy space.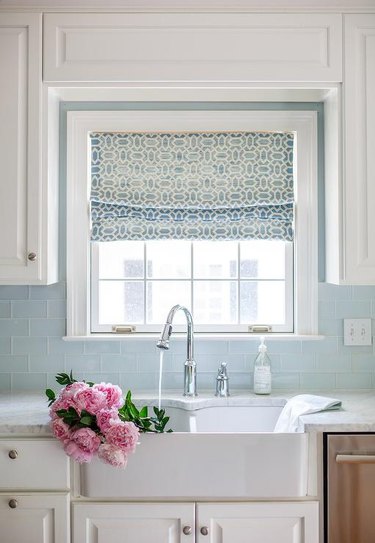 If you like the shimmering quality of mirror but don't actually want to see any reflections, go with a glass tile backsplash. Glass tiles offer a unique way to incorporate your personality into the mix: Place your fave wallpaper pattern behind them for a fresh take, or simply use back-painted glass showcasing pretty much any color your heart desires. Designer Kristen Biagini went with this pretty sky blue glass backsplash that pairs beautifully with the white cabinets. Bonus: Light will bounce off this material brightening up your space even more.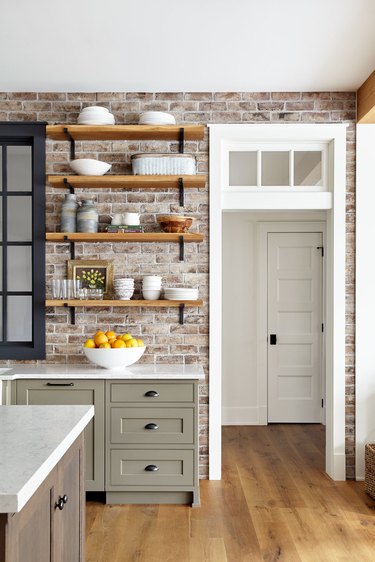 Exposed brick can make for a very handsome kitchen backsplash if it's in good condition. Just follow the lead of designer Lisa Furey and take the material from the floor to the ceiling for a dreamy, rustic feature that infuses oodles of character and texture. This is great option if you're looking to create an old-world feel in your cook space.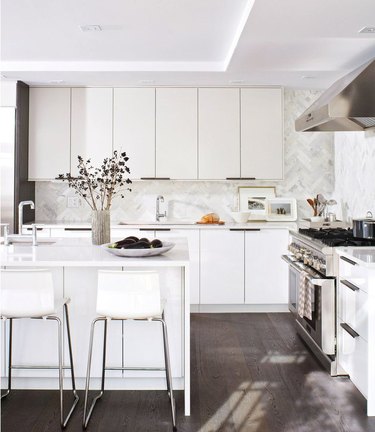 From small tiles to huge slabs, stone backsplashes will always make a powerful statement. Travertine has become a popular material in recent years. If you want to take it a step further, you can use a similar material for your countertops, too. In this white kitchen, Croma Design paired herringbone marble mosaic tile on the walls with white countertops and white cabinetry creating a sophisticated cook space that you never want to leave.
How Should I Install My Kitchen Backsplash?
Depending on the design of your kitchen backsplash, it could be a DIY project that you complete over the weekend. However, if you don't really know what you're doing you run the risk of the finished product looking a bit amateur, so proceed with caution. It's also entirely dependent on the material you've selected. We recommend hiring a professional if you have any doubts. Materials don't always come cheap, so it's worth spending some extra cash to get the job done right.
For more help, check out these stories below: