There's something about a freshly revamped cook space. In fact, we can't get enough of gorgeous kitchens, with their seemingly perfect pendant lights, stunning islands, and gleaming cabinet door hardware. But guess what? We're here to tell you that aesthetic value is pointless if you don't have enough storage options, functionality, and accessibility.
Take it from us. That clutter on the kitchen counter and those overflowing cabinets will minimize all the striking design details. Plus, if you feel stressed out because you have nowhere to stash your stuff, you'll never want to venture into the kitchen.
There's a fix for this, though. When you're remodeling on a budget or simply giving your space a refresh, we wholeheartedly believe that kitchen storage should be top of mind. From hanging a shelf or two to restructuring the cabinets with matching food storage containers and adding kitchen drawer organizers, there are so many ways to make your food prep area practical.
Kitchen Cabinet Storage and Design
Modern kitchens tend to be chock-full of stuff. And with the number of gadgets and tools out there (and those frequent trips to Trader Joe's), it's not hard to see how our cook spaces become so stuffed. That's why efficient storage is so necessary.
Kitchen cabinets usually do most of the heavy lifting. And you can even tweak the design to make them match your aesthetic. Want a more traditional vibe, for example? Go with a Shaker style. Or look into flat front cupboards if you prefer a contemporary feel. But before you start stashing your essentials, decide if you want both upper and lower cabinets (or perhaps one or the other). Consider a mix of cabinets and open shelves as well. Or, do you want cabinets in your island?
Keep in mind that for deep cupboards, you can always purchase handy pull-out cabinet organizers so you don't have to break a sweat digging around in the deep underbelly of your built-ins. With proper planning, even unsightly trash cans will fit inside. Simply apply shelf liners for extra surface protection. To further up your usable space, add cabinet organizers and risers for your baking items and cookware. Then use racks to neatly prop cutting boards, as well as all those pans and pot lids.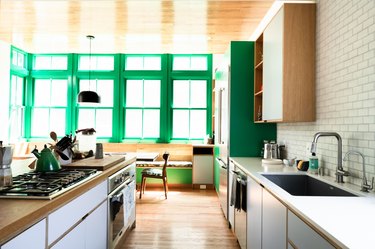 Kitchen islands can be surprisingly versatile. They tend to be the focal point of your cook space, so it makes sense to stash frequently used utensils there. Grab a lazy Susan to corral everything neatly. And add your paper towel holder or dispenser right on top. Install a combination of drawers and cabinets, incorporate cubbies throughout, and hide your vintage bottles of wine in a convenient, built-in rack.
Let's not forget about storage that looks decorative as well. We for one can't get enough of open shelving, and clearly we're not alone because the popular kitchen organizational solution has been all over our Pinterest feeds. Mounting a few is an easy way to bring additional decor into your prep area. Plus, they break up the cabinet monotony while also preventing essentials from taking up valuable kitchen counter space. Use your shelving for bowls, plates, and vases.
Kitchen Storage Ideas for Small Spaces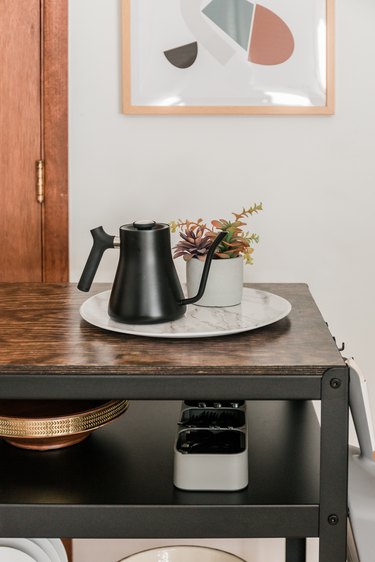 Having a small pad doesn't mean you'll lose out on kitchen storage. It just means you need to inject your space with an extra boost of out-of-the-box thinking. In a small kitchen, include vertical storage with over-the-door organizers, wall-mounted pot racks, and floating shelves. Consider purchasing a small island or doing an easy DIY by adding casters to a petite table that you can move around. Both options will provide a little extra space for stashing culinary must-haves and cutlery. Pro tip: Always search retailers for ingenious products like lazy Susans, drawer pegs, and spice racks that can be placed within your cabinets to make life and organization easier.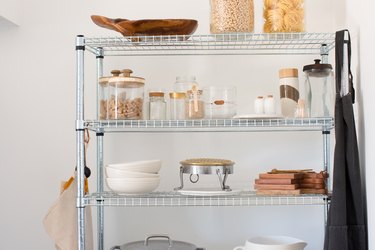 Most of us are totally guilty of shoving everything in our pantry, closing the door, and forgetting about those ancient crackers lurking in the back. So in order to avoid this tragic situation, organize your extra dry goods, cleaning supplies, and stainless steel mixing bowls ​before​ putting them away..
Don't smoosh those open cereal boxes and loose oatmeal packets onto your pantry shelves either. Instead, come up with an organizational system that incorporates reusable baskets, bins, risers, and lazy Susans. If you really want a gold star, be sure to label your storage containers, too. You can also include built-in drawers and cubbies if you have the budget.
To save even more room, pour spices, grains, cereal, rice, and oatmeal into glass jars and canisters, just like they did in the old days. This pantry trend is oh-so-popular and for good reason. Outfitted with labels and secured with air-tight lids, these jars can save precious real estate when it comes to pantry organization. And they'll look pleasing to the eye, too.
Where to Shop for Kitchen Storage Items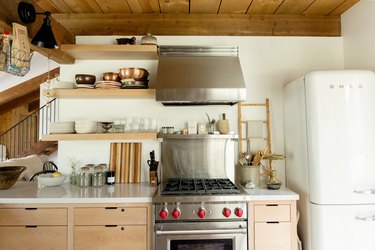 Now that you know the main tenets for your culinary storage, it's time to get browsing. These are the best places to shop for kitchen cabinet organizers, shelf dividers, dish drying racks, and more.