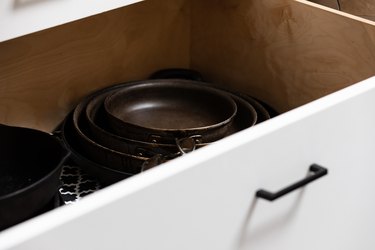 If you're like us, your kitchen has a dirty secret: Behind those cabinets is an unruly dumpster fire of pots, pans, and bakeware. Of course, your organization dilemma only thickens if you are short on square footage, counter space, or cabinets. To help, we're sharing six bonafide brilliant kitchen storage ideas. With any luck, the tips below will help you actually enjoy spending time in your cook space.
1. Use Countertop Ends to Store Pots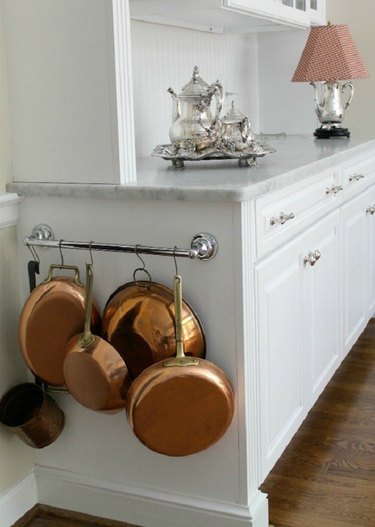 Believe it or not, your kitchen storage solution may already be lurking in your home. The mother-daughter duo at 2 Seasons displayed a medley of gorgeous pots and pans on (what else?) a refurbished towel rack. If you want to dip your toes into an easy DIY project, this is the kitchen storage idea for you.
2. Keep Lids Separate With a Lid Rack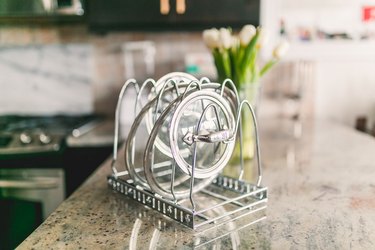 Not only can this compact organizer fit in virtually any cabinet, but you also won't have to dismantle your entire kitchen just to find that one lid. The Container Store is a great place to find lid racks.
3. Customize Your Own Pegboard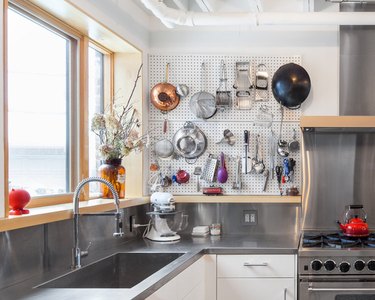 Looking for a kitchen storage idea that can double as a design statement? Architect Wanda Ely struck a balance by installing a pegboard in this small kitchen. Instead of digging through your pantry, you can simply grab your favorite pan off its peg and get cookin'.
4. Think Up: Create a Hanging Space Above the Stove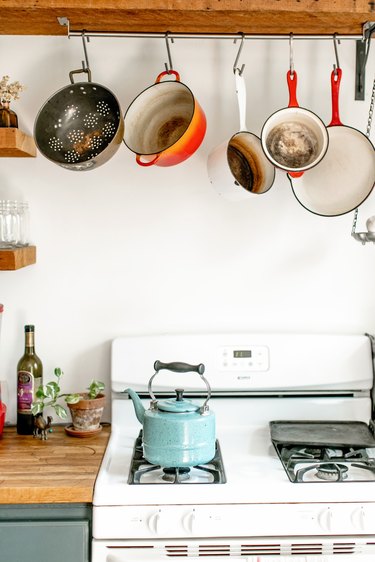 Here's a tip to keep your cabinets clutter-free: Take out the pieces you use most often and hang them from hooks above your stove. Easy to grab, plus easy to clean up.
5. Stack Pans in a Drawer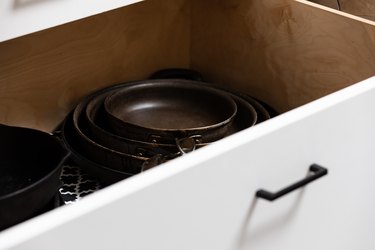 This is probably the most basic way to store pots and pans (if you have drawers wide and deep enough). The trick is to not cram too many extras in there; otherwise taking them out/putting them back in becomes trickier.
6. Divide Drawers to Store Pots/Pans on Their Sides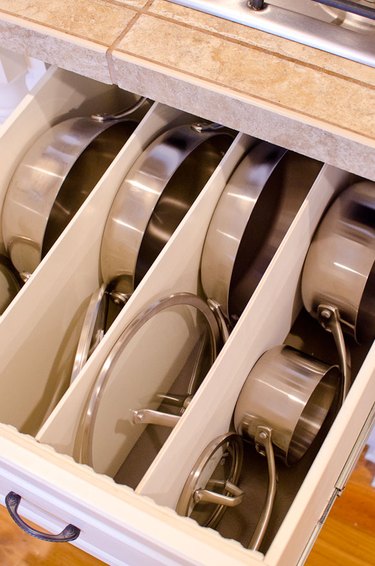 If one drawer doesn't cut it, add some dividers to break up your space a la Seeded at the Table. Placing pots and pans on their sides is a great option if stacking them big-to-small always ends up in a disorganized pile.