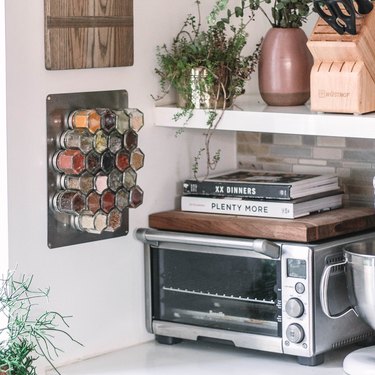 Picture this: You're whipping up your mom's famous Chicken Noodle Soup when you get to the part of the recipe that calls for a bay leaf. You know you have a bottle of them stored somewhere, but your spice rack isn't exactly in Marie Kondo-shape yet. (Ain't nobody got thyme for that.) Not only is your soup left boiling without said bay leaf, but you've sufficiently messed up your dedicated spice drawer even more. Take a cue from one of these top-notch organization hacks and get your spice stash in tip-top shape.
1. Test Tubes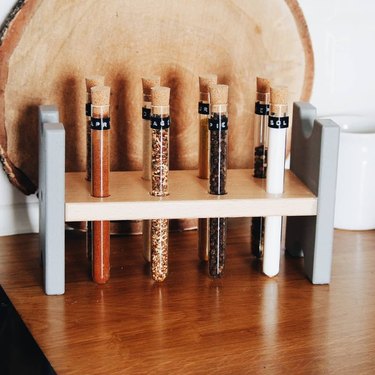 For those who liken their culinary skills to those in a test lab. These little tubes are available on Amazon — wooden holding rack sold separately — so all you need to do is steady your hand and pour. Pop these on your countertop for a guaranteed conversation starter.
2. Typewriter Labels
If you have extra drawer space, enter a matching jar set. The uniformed size and shape, combined with clear, organized labels, mean no more blindly searching for the oregano on pizza night.
3. Wall Mount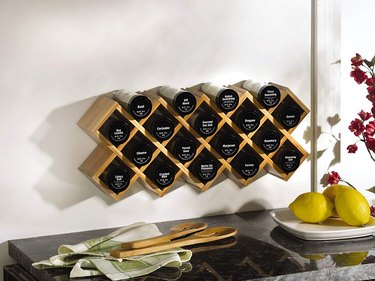 When cabinet space is not an option, this nifty all-in-one set includes everything you'll need for supreme spice storage. But, the very best part of this kit is that it comes with five years of spice refills for each container. (The gift that keeps on giving.)
4. Wire Rack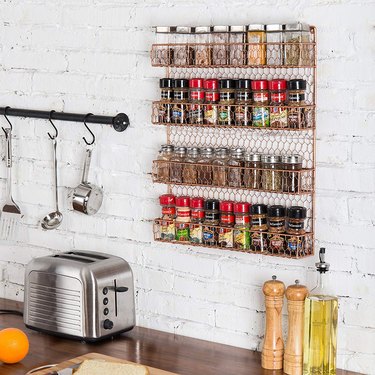 If you have to put them on display, why not do it in rose gold?
5. Magnets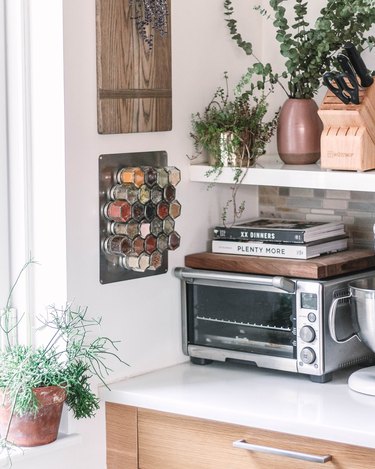 Welcome to our new very favorite method of organization. These tiny little jars include lids that will stick to any magnetic surface. So pop them on your fridge, behind your stove, or buy a magnetic board to hang on your wall. Parsley and cumin will never look the same again.
6. Rotary Rack
A classic that even Ina would approve of.
7.  Pull-Down Shelves
Compact on your shelf, these extend into a pop-out style rack that allows you to see everything in one place.
8. Macrame
Your dream bohemian kitchen is only a spice rack away.
9. Porcelain
If your breadth of spice-use is limited, consider featuring your all-stars in this adorable, handmade spice rack from Etsy. It will serve as both a seasoning sidekick and pretty piece of wall art.
---
Katie is the Commerce Editor at Hunker. She has previously been on staff at Shape Magazine, Well+Good, and PureWow, and has spent her life perfecting the art of online shopping.
View Work