The exterior of your refrigerator is teeming with storage potential — it just takes the right magnetic organizer. From magnetized spice jars and knife holders to dish towel hangers and more, here are nine magnetic marvels for under $25 that can turn the outside of your refrigerator into ample kitchen storage opportunities.
Why waste valuable kitchen cabinet space on an assortment of spice jars when you can store them on your fridge door? These sleek magnetic spice containers feature clever see-through lids with openings for pouring and shaking.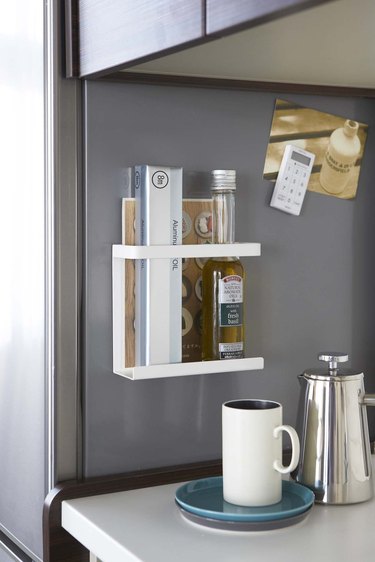 If you're crowding up your kitchen cabinets and drawers with plastic wraps and aluminum foils, then this is the magnetic organizer for you. This minimalistic wrap holder sticks to any metal surface in your kitchen and keeps everything from recipe books to parchment paper in an easy-to-access upright position.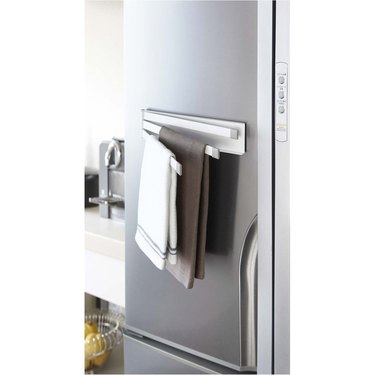 Keep dish and tea towels close at hand by hanging them on the outside of your fridge. This steel magnetic towel hanger holds up to three towels at once and fans out to ensure they're easy to reach.
A simple magnetic strip can turn the outside of your fridge into a proper kitchen utensil holder in seconds. This stainless steel knife holder is designed to corral knives and other metal kitchenware — such as whisks, tongs, graters, and measuring spoons — on the sides or doors of your refrigerator.
If you're wasting valuable kitchen cabinet or countertop space on a bulky paper towel holder, you're doing it wrong. This chic, magnetic paper towel rack is composed of rust-proof stainless steel and attaches to any steel surface in your kitchen.
A cute magnetic hook rack can provide storage space for a variety of kitchen gadgets. Designed with three solid wood hooks, this magnetized steel organizer can hold anything from tea towels to coffee mugs — no mounting hardware necessary.
A sleek yet sturdy magnetic strip can corral all sorts of random kitchen knick knacks in one easy-to-access place. Whether you stick it on the outside of your fridge or mount it to a kitchen wall, this handy strip can hold everything from receipts to spatulas without taking up an inch of drawer space.
Consider this two-tiered organizer the Rolls Royce of magnetic kitchen organizers. Along with two shelves of storage space, this super sturdy magnetic rack features a built-in paper towel holder (where you can also hang dish towels), as well as movable hooks for hanging lightweight items like bottle openers and oven mitts.