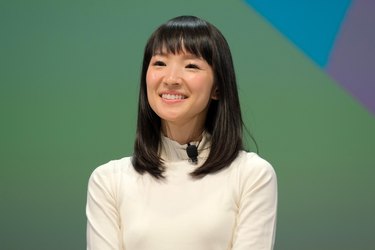 We all have that one drawer that is so overloaded and cluttered with things that it looks like an art installation. Each attempt to find a spare battery or pair of scissors is a 20-minute expedition. Luckily, Marie Kondo, the queen of tidying up, is here with tips on how to make your drawers spark joy (rather than rage) every time you open them thanks to a Better Homes & Gardens video.
Here are some of her tips for keeping your drawer in pristine order:
1. Reuse Gift and Product Boxes to Create Compartments
First, Kondo recommends arranging your accessories to look more like a showcase, similar to how you would see them arranged at a boutique store. To help achieve this, she suggests using small empty boxes, along with their lids, as drawer dividers. Especially helpful if you use the boxes that the accessories themselves came in, alongside other repurposed boxes — everything from those Apple boxes you won't throw away to fancy chocolate boxes you got as gifts.
2. Repurpose Small Dishes to Hold Jewelry
Kondo also recommends using things like small dishes to highlight certain items, like jewelry. You could even use a vintage ashtray. One of her most important tips is to make sure you can see everything upon opening the drawer. Not having to move five things around to find something else is definitely a joy.
3. Include Personal Mementos to Spark Joy
Another idea is to place personal items, such as postcards or photographs, alongside your new display to bring out happy memories whenever you go for something in the drawer. Kondo also likes to place a small sachet filled with lavender nearby to give the space its own unique smell, though you could experiment with other botanicals.
Weekend organization project, anyone?