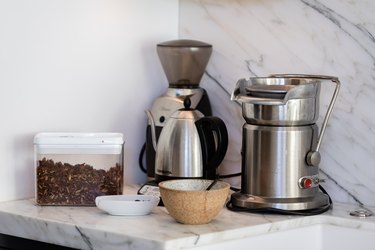 Fed up of cords and countertop appliances — we're talking air fryers, stand mixers, and electric kettles — taking over your counters and kitchen cabinets? Want to create a streamlined, clutter-free look in your cook space? Enter the new best friend of every minimalist — the appliance garage.
What is an appliance garage, you ask? Don't worry, it's not a traditional garage for cars and miscellaneous tools. Think of it as a mini kitchen organization area in the heart of your home — a custom cabinet that has room for your microwave, blender, coffee maker, and other small appliances. It keeps unattractive items out of sight and allows you more space for cooking and food prep. You can even have it electrically wired to make using those gadgets super easy. Yes, you might like toast in the morning, but that doesn't mean you want to see your toaster oven 24/7.
Not convinced? Here are 15 appliance garage design ideas for homeowners that want to clear counter clutter in a flash.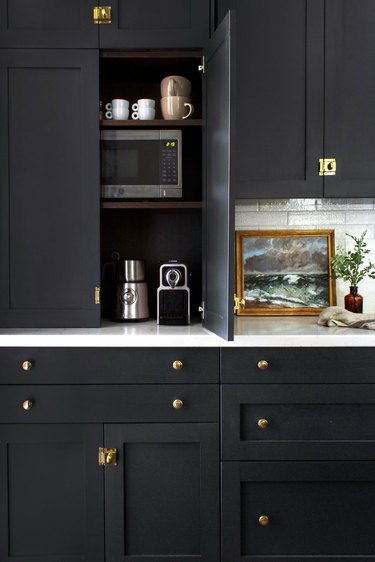 The primary function of an appliance garage is to keep all of your kitchen gadgets in one place. You don't need to overthink it, but you do need to plan ahead with your design. Husband-and-wife interior designers Catherine and Bryan Williamson asked a trusted electrician to add an outlet to their cabinet for cord management, and they were able to add select dishware, too. The process only required a few simple changes to a standard cupboard, but now they now have room for an espresso machine, milk frother, toaster, small microwave, and blender.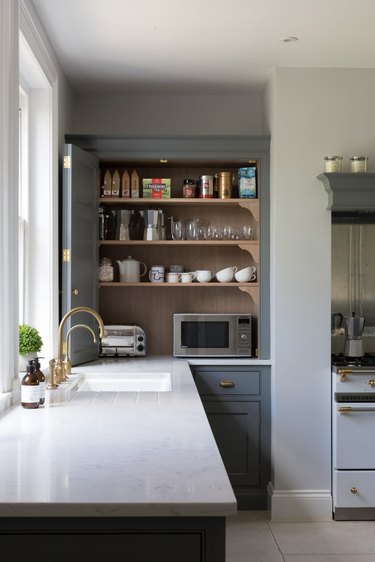 Kitchen alcoves can be tricky to style. This can be especially true if you're not a fan of visual clutter, and open shelving is a no-no. Enter this appliance garage covered with a bifold cabinet door. Designed by Humphrey Munson, the bifold doesn't obstruct anything and allows the countertop's prime real estate to remain usable. The large shelves above provide plenty of room for cups and glasses, or, just more appliances!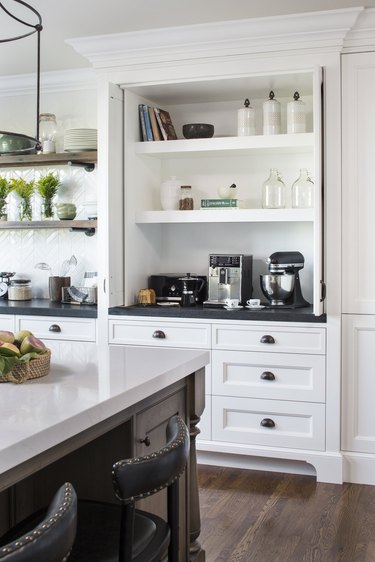 Don't skip this part. When deciding on kitchen storage ideas for your dream home, think about all the electronics you might want to hide, and plan to have more than enough outlets. For example, this double-width appliance garage designed by Steven Cooper features a coffee machine, toaster, and kitchen mixer. It's also important to think of the other items you might need during dinner prep to make for a practical setup. Easy access is key here.
4. Create a coffee corner.
If you're anything like us, you need your morning brew to get you in the mood. And the idea of a coffee station is one very exciting prospect. Plus, it's something you can easily create without needing an entire kitchen remodel. Emily Henderson designed hers with pull-out doors so that she can keep it open during the morning then shut everything away when she's done with the caffeine. Note the spotlight in the cabinet for when she's still feeling bleary-eyed. Underneath the coffee bar is more small appliance storage and a microwave.
5. Slide away your clutter.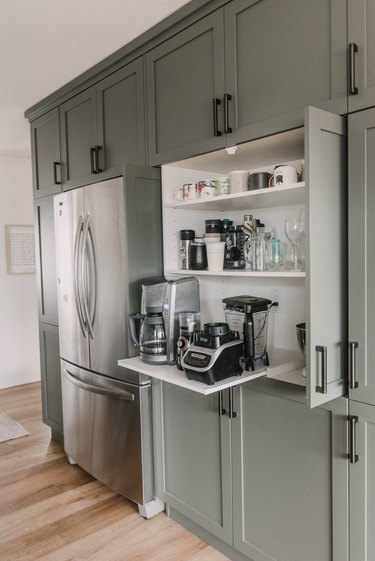 One problem with kitchen appliance garages? You can potentially damage your cabinets with steam if things haven't been set up correctly. Colleen of Lemon Thistle came up with a solution for this by creating a DIY pull-out shelf. This hack lets her use the coffee maker without setting it up on the counter ​or​ damaging the cupboards. You could try this in your existing kitchen before taking the plunge for something more bespoke.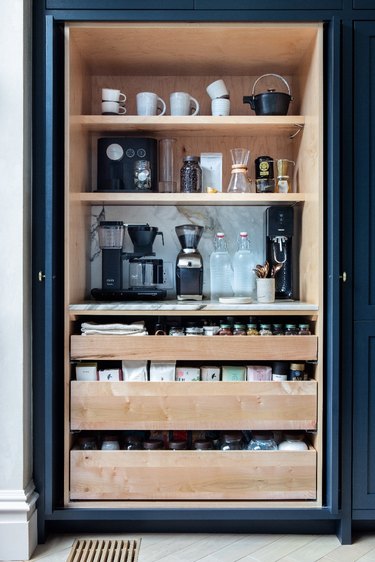 Here's a look we especially love. Athena Calderone's contemporary kitchen takes the appliance garage to a new level with a huge coffee pantry featuring open shelving and drawers. Everything one could ever need for a quick caffeine fix is housed here, and the retractable doors mean Calderone can hide any mess. Yes, you'll need to be an extreme coffee lover with a large kitchen to achieve this look, but we think it's worth it.
7. Customize IKEA cabinets.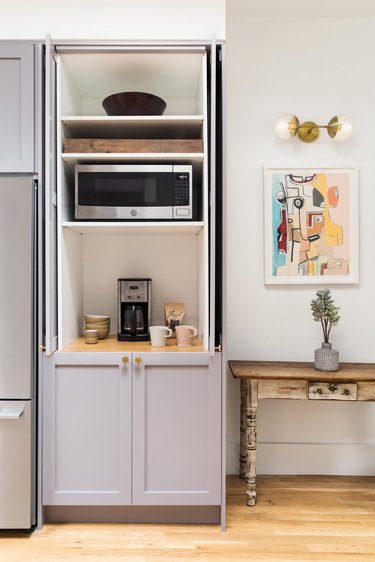 If you're on a budget, customizing IKEA cabinetry is a great way to complete your new kitchen. And it may just help you get some bespoke additions, too. Anne-Marie Singer used IKEA kitchen bases with fronts by Semihandmade for this pastel cook space, incorporating an appliance garage with retractable doors for her dream coffee station. Singer's top tip? She started by designing her space as if she was creating a custom zone before applying the big box store's system and amending anything that didn't quite work.
8. Think of classic food storage.
Have you ever dreamed of having your very own larder or pantry á la ​Downton Abbey​ but don't have the space? Well, an appliance garage meets pantry-style cupboard might just be the next best thing. This classic kitchen by Griggs and Mackay features an area for the sink, toaster, coffee machine, and microwave. But it also makes use of the doors as a spice and condiment rack. Clever, right?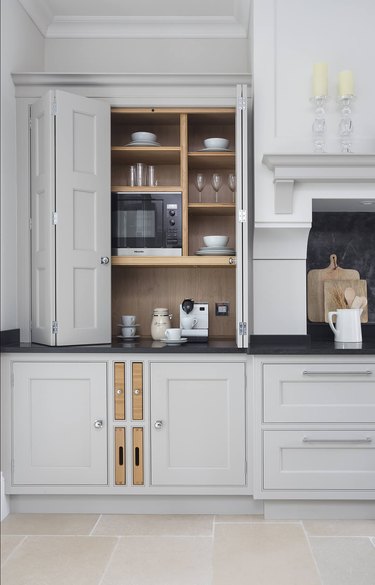 On that note, getting clever with the layout of your appliance garage will help you make the most of your space. For instance, this design by Lewis Alderson incorporates cubbies for different items. Putting your microwave inside an appliance garage will clear up the counters and could even make heating something up a little bit easier if you're on the taller side. If you go this route, be sure to allow the microwave room to vent properly when planning.
10. Incorporate a countertop.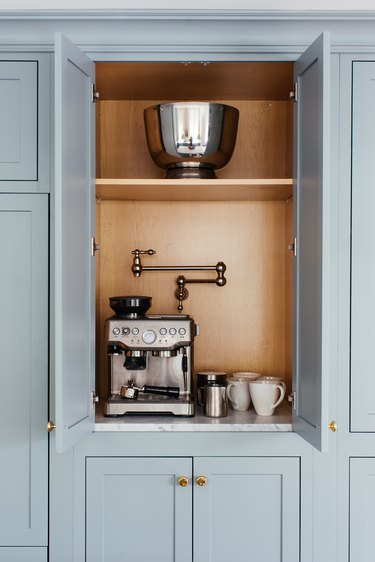 Adding a countertop to your appliance garage will help it feel more bespoke and customized, while also making cleaning up food spills and crumbs a breeze. But don't think you have to stop there with extras. In this kitchen, Erin Kestenbaum also incorporated a classic pot filler which allows her to refill the stainless steel espresso machine with ease.
11. Take it under the stairs.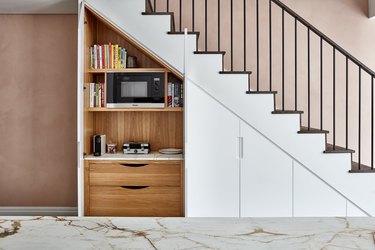 Why not help with traffic flow in the kitchen by taking some of your smaller appliances out of the busy areas? This clever storage solution carries part of the open plan kitchen under the stairs. It's especially ideal if you're working with a smaller space.
12. Make it easy with a tambour cupboard.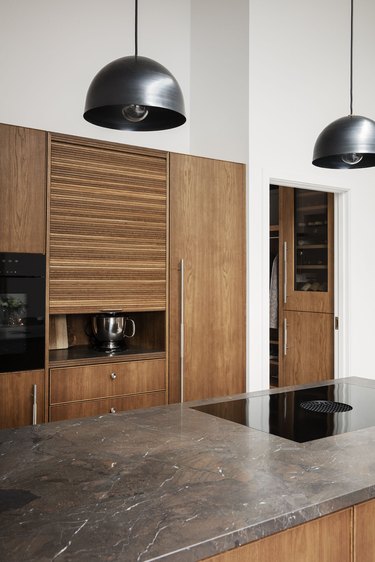 Roll-up doors, also known as tambour doors, are a space-saving storage solution that will allow for a seamless look in your kitchen. They take up zero counter space when open. The doors are made of narrow slats that roll back into the upper area of the cabinet and create a wonderful visual effect, too. No backsplash necessary. Just look at the added texture in this contemporary oak design by Københavns Møbelsnedkeri.
13. Stand out with a freestanding number.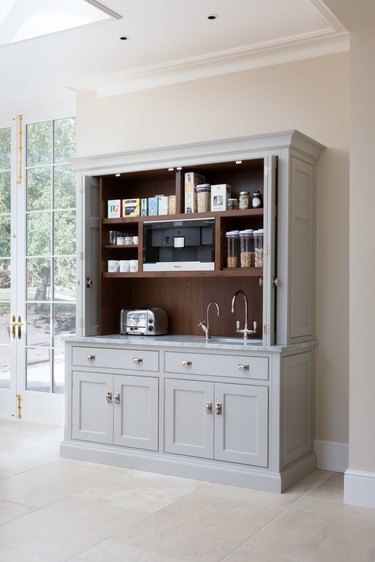 Let's face it, breakfast is a big deal in most households. And this breakfast cabinet-meets-appliance-garage has loads of storage space for cereal, coffee, tea, and more. The bifold doors open up to reveal a countertop, toaster, Perrin & Rowe Phoenician tap, Quooker hot tap, and an integrated Miele coffee machine. Making breakfast never looked so good!
14. Get creative in a small space.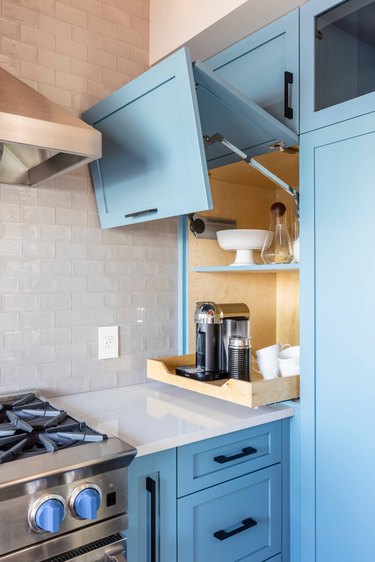 There were a few things that needed to be addressed in this kitchen before it got a makeover. Limited counter space and a lack of storage were the prime concerns, so the Interiors by Popov team had to get creative. It wasn't possible to use traditional swinging bifold doors in this smaller space. But the appliance garage is still perfectly functional thanks to a hinged door that rises up and a drawer that pulls out to make good use of the space.
15. Take it to another level.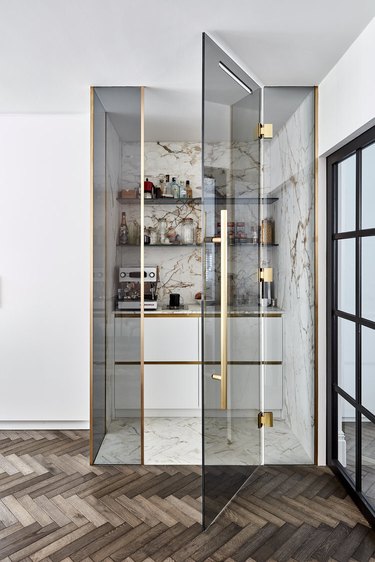 Okay, we'll admit that this design makes the appliance garage look more like a pantry. But we should aim high when it comes to housing our appliances, right? Created by Blakes London, the marble area is enclosed by glass and brass doors and features open shelving for the ultimate breakfast station. To get a similar effect without blowing your budget, simply incorporate marble accents and high-quality brass hardware.