Hunker may earn compensation through affiliate links in this story. Learn more about our affiliate and product review process
here
.
What if we told you there might be overlooked square footage in your home that's begging to be transformed into something useful? Whether you live in a tiny house, or a sprawling ranch, wasting precious real estate feels so, well, wasteful. Of course, this is particularly true if you live in a home where space is at a premium, maximizing every inch takes on even more importance.
So, what's this often neglected area? The space under the stairs. With a bit of planning and out-of-the-box thinking, there's no shortage of ways to make use of this awkward locale. Check out these seven clever under the stairs ideas for a little inspo.
1. House all of your happy hour essentials.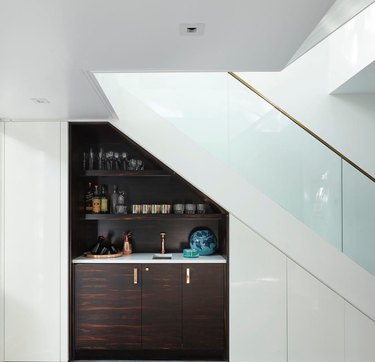 We love a bar cart as much as the next person, but when we grow up we'd really love something a little more permanent for all of our mixology must-haves. Mona Ross Berman made the most of the oft-overlooked space under the stairs with a handsome built-in wet bar, replete with marble countertop, cabinets, open shelving, and a sink, of course.
2. Carve out a reading nook.
An under the stairs idea that's equal parts chic and practical? Let us introduce you to this beach-inspired reading nook with Scandi undertones that makes the most of hidden drawers, artfully arranged wall hooks, and v-groove wall paneling. The folks at The Stables paired this cozy corner with light wood plank floors for an end result with timeless appeal and warmth.
3. Add kitchen storage.
4. Create a powder room.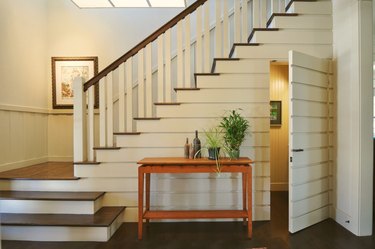 Lean into a powder room's inherently small and often awkwardly configured layout for the ultimate under the stairs idea. Alchemy Interiors enclosed this WC with a door that disappears into a wall clad with substantial tongue and groove paneling for added dimension and character.
5. Install a bank of drawers.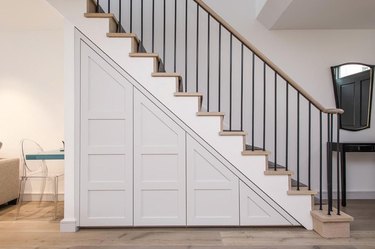 Increase your home's hidden storage capacity with a clever under the stairs idea that features a bank of push/release drawers. UK-based Crouch Design even dressed them up with Shaker-style molding and a coat of pale gray paint, and then they took functionality to the next level with a floating desk anchored to the far wall to create a small at-home workspace.
6. Consider a home office.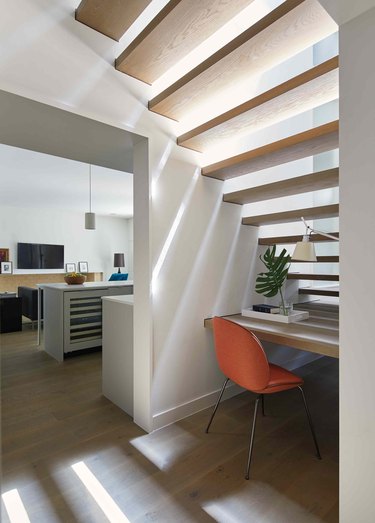 A pared-down home office is a utilitarian under the stairs idea. In an open floor plan like this one by Cuppett Architects, keep the look streamlined and cohesive with an integrated desk that matches the floors and then add a chair in an eye-catching hue for a welcome pop of color. A common feature in modern architecture are floating staircases — this one casts an abundance of natural light and dancing shadows.
7. Designate a place for Fido.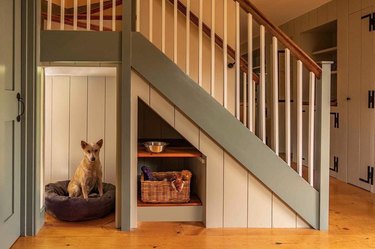 If you have furry friends, a pint-sized space just for them complete with storage for basic necessities, is a charming under the stairs idea. Cummings Architects gave this one farmhouse vibes with shiplap, knotty pine floors, and contrasting sage green trim.