Shaker cabinets are one of the most popular styles you'll find in modern kitchens, but their origins go back hundreds of years — to the 1770s, in fact.
The style originated in the U.S., stemming from the United Society of Believers in Christ's Second Appearing, more commonly known as the Shakers, a Protestant Christian sect that left England for the colonies. The Shakers were skilled craftsmen, likening the creation of making quality goods to an act of prayer. They were known for their simple utilitarian furniture that was very durable, but lacked any flourishes or bold designs.
Shaker cabinets comprise five pieces of wood: the flat cabinet door and four pieces placed on top to create a recessed panel. Given their simplicity, they actually lend themselves well to multiple design aesthetics — they can be painted or stained in any color to fit a range of styles.
1. White is a very popular color for shaker cabinets.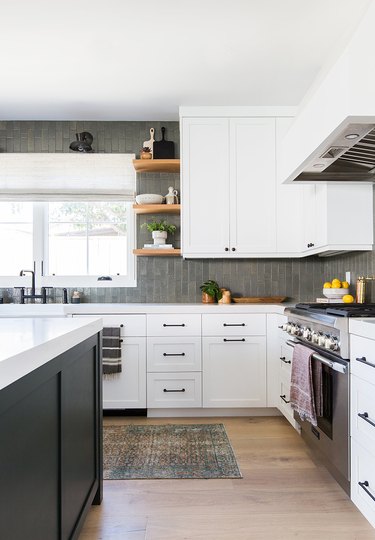 Regardless of style, white is a go-to color for kitchen cabinets, creating a lighter and brighter space. But white Shaker cabinets in particular are incredibly popular. The Shaker form prevents a white kitchen cabinet from looking too contemporary, the way a slab cabinet would look, but it also doesn't look too traditional or outdated. It's a timeless style, as evidenced by this modern kitchen by Amber Interior Design.
2. But don't be afraid to go bold with color.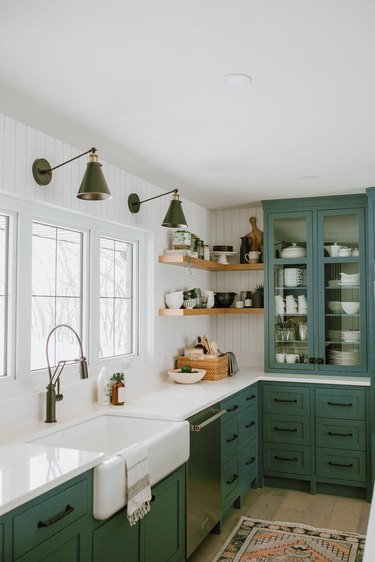 Since Shaker cabinets are so simple, they're ideal for taking on bold colors. In this farmhouse kitchen by Jaclyn Peters Design, the cabinets are painted a jade green, contrasting with the white shiplap walls and white countertops.
3. Leaving shaker cabinets au naturel works perfectly well, too.
Shaker design is meant to be a bit austere, favoring function over form — so why not leave your cabinets in their natural state? A maple look like this one would do best in a more country chic home, or perhaps even a contemporary cabin. Go with cherry wood or mahogany for a more refined look.
4. They're really great for farmhouse style kitchens.
Farmhouse style kitchens are all the rage, and the simplicity and handcrafted nature of Shaker cabinets fit the aesthetic well. This kitchen uses all-white and navy blue Shaker cabinets — we love how the navy cabinets on the island contrast with the white farmhouse sink.
5. But you can even incorporate them into retro-style kitchens.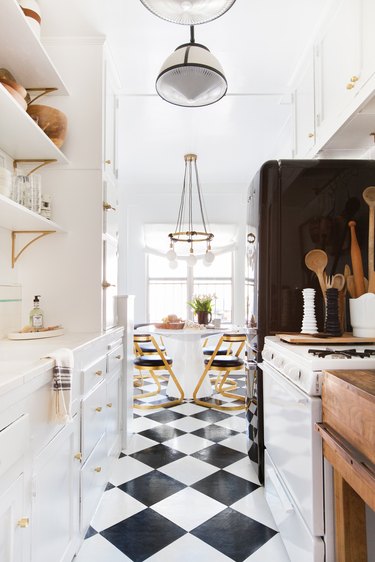 For his own kitchen, designer Brady Tolbert paired his Shaker cabinets with retro elements like a black-and-white checkered floor and a Smeg refrigerator, proving the Shaker style's versatility.
6. They're pretty flexible — they'll even skew more modern.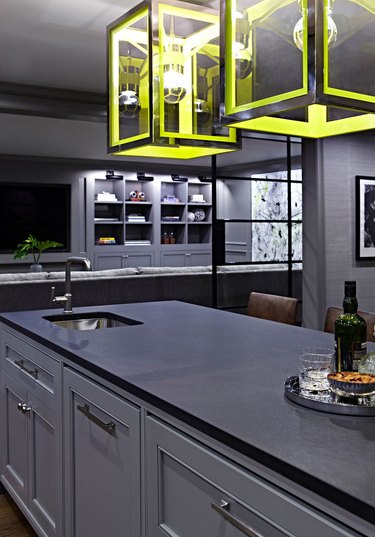 A Shaker cabinet alone won't necessarily be the determining factor in the style of your kitchen — the devil is in the details. When paired with purple gray paint, gray countertops, and lime green pendant lights, Shaker cabinets are all of a sudden strikingly modern.
7. You can mix and match shaker cabinets with slab drawers.
Just as you can mix and match the colors of upper and lower cabinets, you can actually pair Shaker cabinets with slab doors and drawers, too. It keeps a kitchen a little more modern, but not too sleek.