A farmhouse sink sounds like something old-fashioned, but nothing could be farther from the truth. The name may evoke images of rural America, but contemporary farmhouse sinks are elegant and stylish, and they found primarily in upscale kitchens and bathrooms.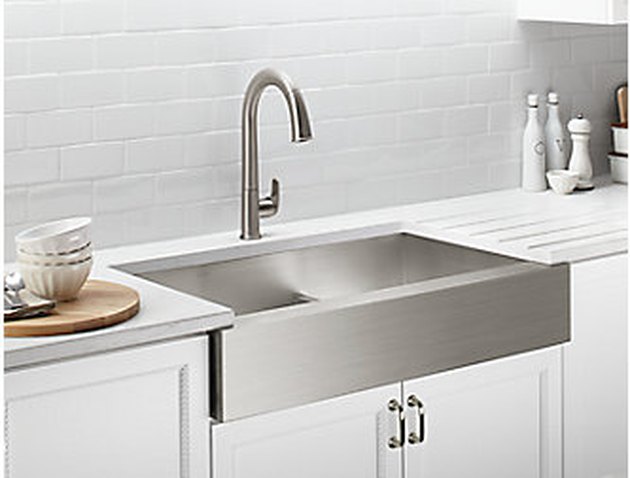 A farmhouse sink features an apron that juts out beyond the front of the sink cabinet and extends to the full depth of the sink. Because of this feature, farmhouse sinks are also known as d_rop apron sinks_ or simply apron sinks. Reminiscent of a washstand basin from days of yore, an apron sink is easier to use than a conventional sink and holds more water, but it's also heavier and more expensive. If you're considering installing a farmhouse sink, you should know a few things about this type. It may be a great addition to your kitchen or bathroom, but there's also a chance it won't work for you at all.
Four Types of Sinks
Before piped plumbing was common, households had washstands with basins either resting on the counter or set into an alcove. That changed when running water and drains became widely available, and wash basins gave way to sinks. Today, four types are available, not including integrated sinks, which are formed into some countertops.
The drop-in sink fits into a hole and rests on a rim that overlaps the countertop. This was the original sink, and it's still the most common. The undermount sink is a touch of Euro-fashion that was developed in the mid 1900s to take advantage of the beauty of quality countertop materials. It is supported by posts mounted to the underside of the countertop, so the rim isn't visible and there is more space on the countertop.The vessel sink is a more contemporary amenity that hearkens directly back to the days of the traditional washstand. It rests on the countertop and is permanently affixed to it. The only hole you need to cut in the countertop is the one for the drain.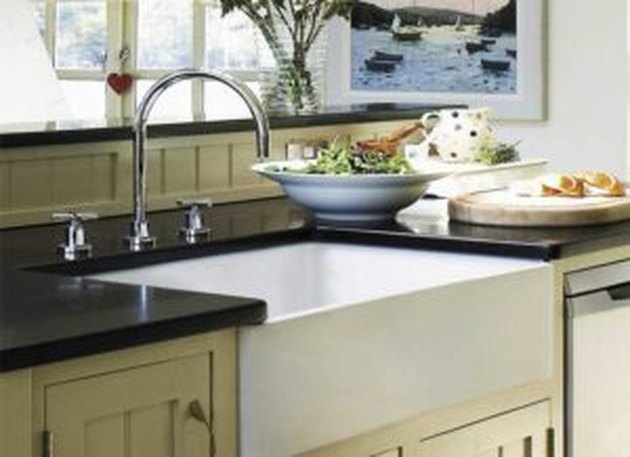 The farmhouse sink is another recently developed amenity that evokes the days of washstands, but it's bigger and more utilitarian than a vessel sink. Not only that, but of all four sink types, the farmhouse sink makes the strongest design statement. Unlike a vessel sink, it isn't meant to adorn small bathrooms and wet bars. The best place for a farmhouse sink is the kitchen.
4 Reasons Why You Might Want a Farmhouse Sink
Far from being an anachronism, a farmhouse sink is a design touch that brings your kitchen into the 21st century. Whether you prefer versatile stainless steel, easy-to-clean porcelain or enameled cast iron, or old-school copper, there's a sink for every taste and décor scheme. Here are some of the benefits of farmhouse sinks:
It has plenty of space: Farmhouse sinks are deeper and wider than conventional ones, and the fact that they extend past the front of the cabinet gives you that much more room for your pots, pans and dirty dishes.
It offers good ergonomics: The front apron is thinner than the bit of countertop that separates you from a drop-in or undermount sink, so you don't have to reach as far. That's good news for your lower back when you're doing the dishes.
You can choose a single or double bowl: The traditional farmhouse sinks consists of a single deep basin. However, if you like to let dishes pile up, you can opt for a double-bowl model with twice the working space.
It's a visual focal point: A farmhouse sink is more than just a plumbing fixture; it'sa also a design statement.
4 Reasons Why You Might Not Want a Farmhouse Sink
A farmhouse sinks brings good things into your kitchen, but it also has just as many drawbacks, and they can easily outweigh the benefits.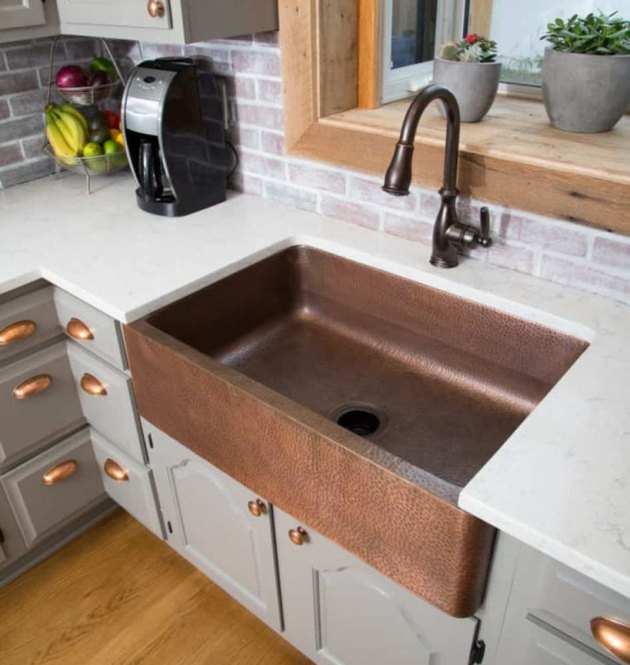 It's expensive: Bargains from second-hand outlets and low-quality retailers aside, a typical farmhouse sink costs between $1,000 and $2,000, which is approximately double the cost of a conventional sink. Installation costs are also higher because of the amount of extra work involved with getting the cabinet ready.
You lose storage space: All that extra working space in the sink doesn't come for free. You'll have less room in the sink cabinet and as possibly in the cabinets to the left and right of the sink, as well.
It needs extra support: Unlike a conventional sink, a farmhouse sink needs to be supported from underneath. The supports may have to be built into the cabinet, and they will also cost you storage space.
It can dent or chip: The exposed front apron is vulnerable to damage, and if damage does occur, it is difficult to hide.
One of the biggest issues with farmhouse sinks—and one that might convince you to make a different choice—is that they require cabinet modifications. You need to cut a hole in the countertop as well as remove of the top front of the cabinet to create a notch. The cabinet must be sturdy and roomy enough to accommodate the sink and the structure that supports it.
Because the notch has to be accurately cut and the supports strong enough to hold the sink without wasting cabinet space, it's often best to build the cabinet around the sink. If you're considering a farmhouse sink in your existing cabinet, be sure to ask a contractor whether it's feasible before you buy the sink.
The Bottom Line

If you want to install a farmhouse sink in your existing cabinet, the bottom line is usually cost. The project can be more or less difficult, depending on the sink and the cabinet, but it's seldom impossible. However, if the cabinet needs a lot of work, or if it needs a new countertop, you might end up paying far more than you would with a different type of sink. Whether or not the design benefits offset the higher price tag depends is for you to decide.
The best time to install a farmhouse sink is when you're undertaking a remodel that includes a new kitchen cabinet. That way, you can build the cabinet around the sink or purchase a sink and cabinet matched to each other, giving you all the design benefits with few of the expensive installation headaches.
---
Chris Deziel is a contractor, builder and general fix-it pro who has been active in the construction trades for 40 years. He has degrees in science and humanities and years of teaching experience. An avid craftsman and musician, Deziel began writing on home improvement topics in 2010. He worked as an expert consultant with eHow Now and Pro Referral -- a Home Depot site. A DIYer by nature, Deziel regularly shares tips and tricks for a better home and garden at Hunker.com.
View Work