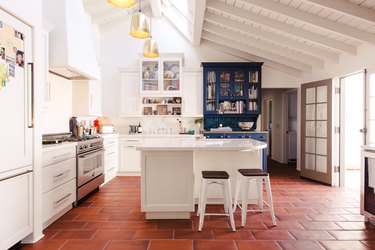 What is it about blue? It can be timeless or trendy. It doubles as a color and a neutral. And depending on the tone, the hue can be moody, tranquil, or cheery. Blue's versatility is what makes the shade work well in so many different spaces, even the heart of your home. Scroll on for 11 cook spaces that show us how to rock blue cabinets in the kitchen.
1. Top them with butcher block.
2. Play up wood details.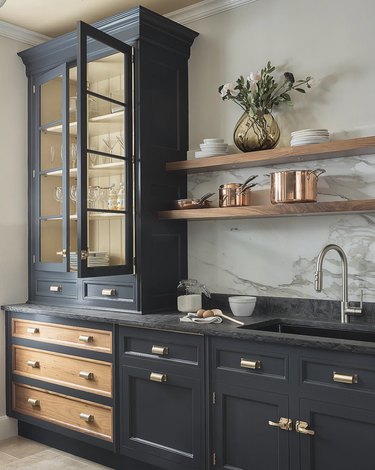 Rather than completely coating this cupboard in paint, a few of the drawers of these Christopher Peacock custom cabinets were left au natural. When paired with organic wood, the moody blue-black cabinetry is warmed up, evoking a chic, pastoral vibe.
3. Pair with bright white.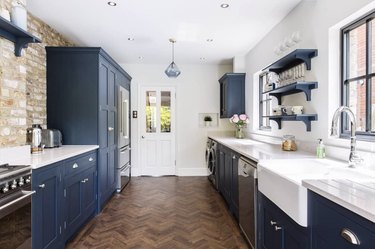 With a bright white backdrop, these indigo Shaker-style cabinets are the star of the show. To further flaunt the blueness of these cabinets, the United Kingdom-based design team over at Burlanes Interiors kept all other decor neutral, from the light brick accent wall to the white countertops and farm sink.
4. Be subtle with gray-blue.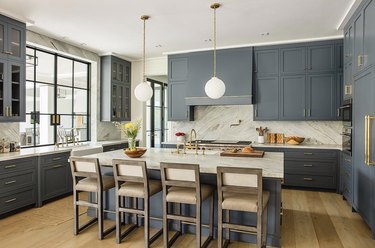 If true blue is too flashy for you, go with a more neutral tone. These gray-blue cabinets in a kitchen by Gina Holz Designs are an understated and timeless representation of the hue.
5. Embrace the waterfall edge.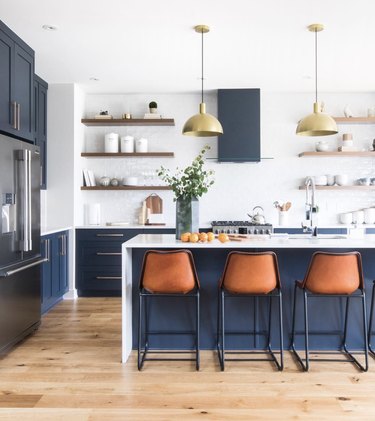 6. Be bold with two tones.
7. Opt for baby blue.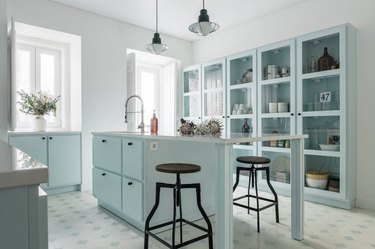 Baby blue sets the tone for a calming and cheerful space in Casa C'alma, a chic boutique guest house for rent in Lisbon, Portugal. White walls, cabinets with glass doors, and an open island add to the already bright and airy feel of the kitchen.
8. Don't be afraid of monochrome.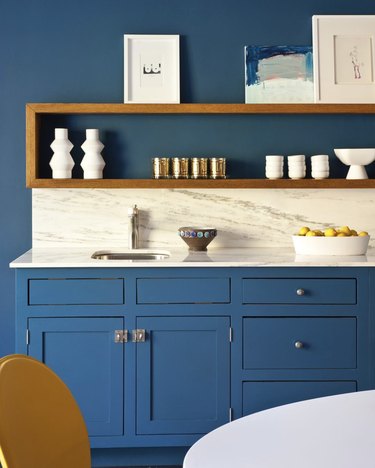 9. Make a modern statement.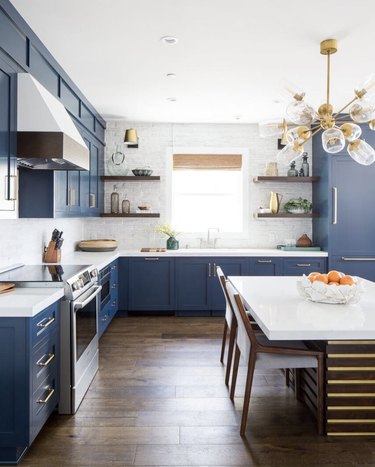 10. Highlight the island.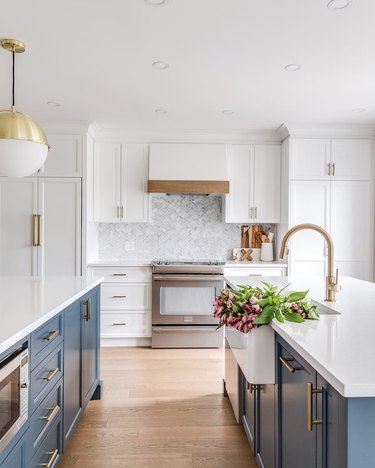 11. Give color blocking a try.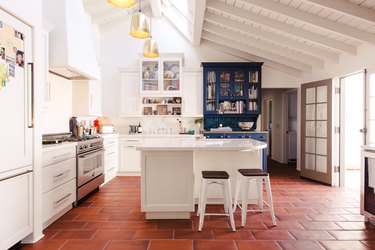 It's no surprise that the 1920s home of Perri Perry, a prop stylist and stager, is bursting with unique and eclectic elements — and the kitchen is no exception. A dark blue accent cabinet, seamlessly built-in, is the star of the show in this all-white space. And we love how it complements the rectangular terra-cotta floor tile.
---
As a lifestyle writer working from home, Marissa has a deep appreciation for the time and effort people put into personalizing their spaces. Her stories have been featured in Apartment Therapy, Cosmopolitan, Domino, Dwell, Houzz, Lonny, Parents, Southern Living, The Knot and Zillow.
View Work