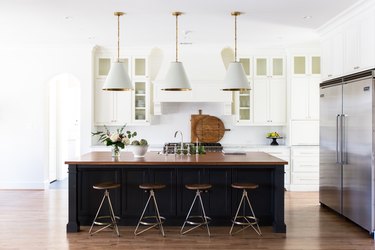 Most of the gorgeous kitchen spaces we swoon over have one feature in common: everything has its place. But just because you want a tidy and inviting kitchen space doesn't mean you need to hide all your dishes away. Let's talk about an alternative: glass kitchen cabinet doors.
They serve two purposes, really — you can easily find what you're looking for and you can proudly display your favorite dinnerware items. Here, we're taking a look at some kitchen cabinet ideas to inspire you, and what you should know before you start shopping.
Installation and Costs
When it comes to installation, there are a few things to keep in mind. If you decide to tackle the project alone, you'll need a range of tools like an electric drill, handsaw, clamps, stud finder, and laser level. You'll have to carefully measure your wall space and settle on the order in which you'll arrange the cabinets. It's also important to make sure that you level the cabinets to the high point of your kitchen floor.
Costs vary, but you can find what you need at retailers like Home Depot, Amazon, and IKEA. Prices range from around $143-$600 depending on size and material.
As Home Depot states in its kitchen cabinet installation guide, some installations "may be far more complex ... and require a professional installer." The price for this service ranges depending on the kitchen size and complexity of the job. Colin Wellman of Wellman & Company says that a standard installation, without knowing exact dimensions, could cost between $3,000 to $5,000.
Pros of Glass Kitchen Cabinet Doors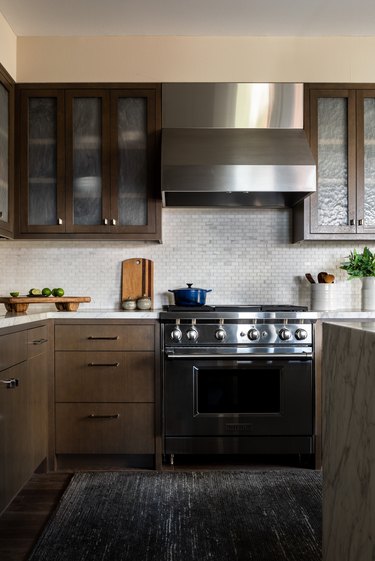 Glass kitchen cabinet doors can give you a lot of room to experiment, as opposed to other options. This might be a con for some people (read: if you just want to hide away clutter), but a pro to others.
"Since you can see into glass door cabinets, there are many questions to consider when designing them," LeeAnn Baker of Seattle-based LeeAnn Baker Interiors, tells Hunker. These include: What will the interior of the cabinet look like? Do the shelves align? What will be stored there? How will they be lit?
These cabinet doors can become a part of your kitchen's decor style in a seamless way.
"It helps to break up the monotony of rows of flat front cabinets," Lance Thomas, designer and half of the duo behind Louisiana-based interior design company and home store Room Service, tells Hunker. Glass kitchen cabinet doors can add depth and dimension to your kitchen space, Thomas explains.
Cons of Glass Kitchen Cabinet Doors
When it comes to maintenance, there are a few things to keep in mind. Kemper Cabinets's guide to cabinets recommends using an ammonia-free glass cleaner and spraying it onto a cloth or paper towel. Avoid spraying right on the glass as the liquid might negatively affect the window dividers.
"Upkeep can sometimes pose problems with glass front," Thomas says. "Not only do smears from fingers tend to occur, but dust shows up very frequently."
That means you'll need to keep a close eye on them in case any of these issues come up. Thomas also explains that if you're striving for "minimal clean front look," glass kitchen cabinet doors might not be your best option visually.
If you're looking for ideas, we rounded up some glass kitchen cabinet door inspiration.
1. Combine glass cabinet doors with a pared-down color palette and minimalist decor.
Kitchen glass cabinets can help give an airy, modern look to your kitchen space. This setup combines glass door cabinets with an all-white color palette and sparse decor for a minimal feel. The look comes together with gold hardware fixtures.
2. Consider glass just for the top of your cabinets.
If you don't want to deal with large areas of glass, consider using it just at the top of your cabinets. We love the way this kitchen uses cabinets for both practicality and decor — you can see chic jugs, storage jars, and more.
3. Alternate between glass and non-glass cabinet doors for visual interest.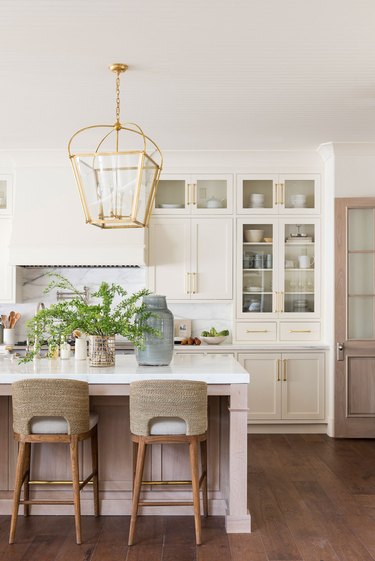 You don't necessarily need to outfit all your cabinets with glass doors. This sleek and stylish kitchen space uses both glass doors and traditional doors in a way that feels balanced while adding a little bit of personality.
4. Pair a white glass door cabinet with a dark backsplash for high-drama contrast.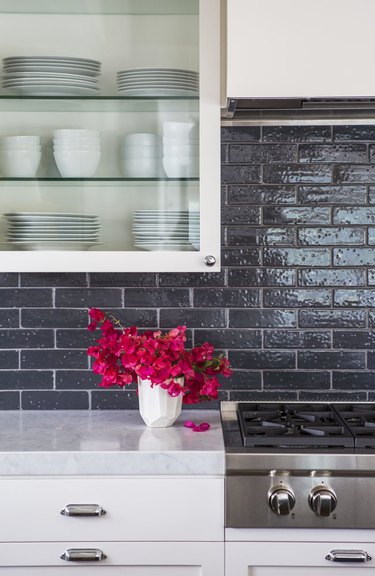 If you appreciate a sleek black-and-white look, might we suggest using it for your kitchen space? Glass doors are great for this, as you can display white and off-white dishes; to add contrast, try black or dark tile for your backsplash.
5. Anchor your cabinet space by using glass cabinets in a symmetrical way.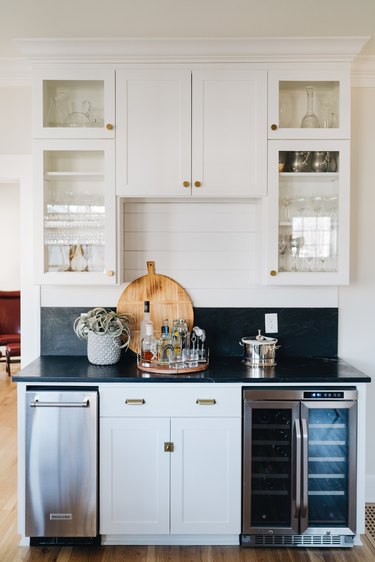 Working with a smaller kitchen space? This set-up shows you how even using glass doors on a couple of cabinets can make a big difference. The use of the doors on either side of the centered cabinets above the sink creates a symmetrical look.
6. Experiment with glass and darker paint colors.
While we see a lot of these glass kitchen cabinets used in clean, white spaces, we also love the idea of framing them in black. This space uses black accents and countertops to accent light wood for a rustic vibe.
7. Don't be afraid to get colorful.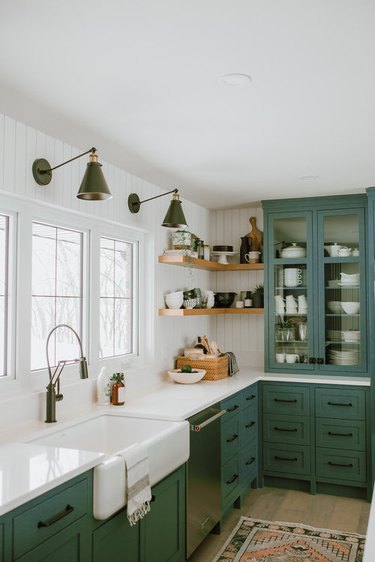 If you want to take your color explorations even further, try a shade like this deep green. We love the way this look comes together in a cohesive way with the same paint on all the cabinets. Light wood shelves and a white countertop tie it all together.
Pro tip from Baker that would apply to this space: "If you are putting cabinets with glass doors by a window, consider putting glass in the sides of the cabinet as well so that more light can pass through from the window into the shelves and the kitchen."
8. Mix and match how much glass you use in your cabinets.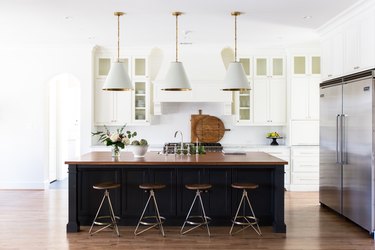 Can't decide between tall cabinet doors and glass near the top? Just try both at the same time for a cool effect.
9. Mix tall kitchen glass cabinets with open shelving.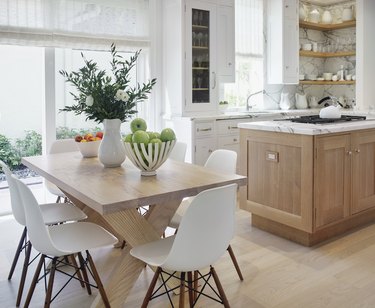 You don't have to commit to glass kitchen cabinet doors for your entire space. Opt for a variety of storage and display options; this space uses both open shelving and glass doors to show off dinnerware.