Squeaky is all about the borderline genius hacks and ideas that keep literally every inch of your space pristine.
Vinegar is one of the best all-purpose cleaners around. It's inexpensive, non-toxic, and biodegradable — plus it works as a disinfectant everywhere from countertops and floors, to sinks and toilets. It even works on windows! Vinegar's low pH and natural acidity makes it tough on bacteria and viruses lurking on surfaces in the home.
One of the major downsides to vinegar is the smell. Our solution: an easy all-purpose spray than infuses vinegar with lemongrass and lime to add a more pleasant scent. Even better, both ingredients up the disinfecting power.
Step 1
Start with a large, clean glass jar that holds at least 8 ounces of liquid. Cut two to three lemongrass stalks into smaller pieces. Use a peeler or knife to cut the peel from one to two limes, and scrape off as much of the inside white part as possible.
Step 2
Fill the jar with the lemongrass pieces and lime peels. Pour 8 ounces of vinegar into the glass jar, filling it enough to fully cover the ingredients. Seal the jar with a lid and give it a shake to make sure everything is submerged in the vinegar.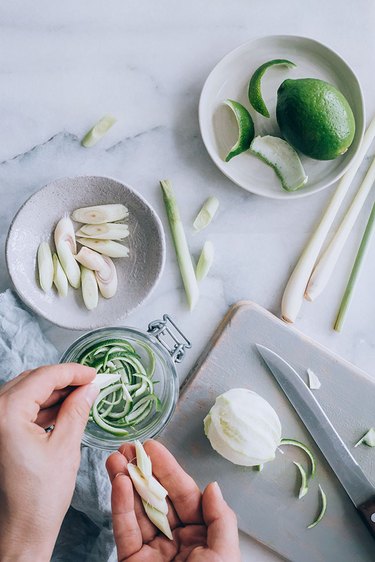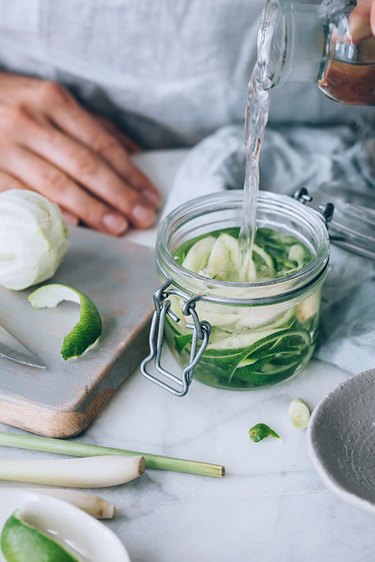 Tip: You can use a mix of fresh or dried botanicals. Citrus, herbs, and spices also make great infusions.
Step 4
Allow the vinegar to infuse for at least two weeks. Give it a shake it every few days to release the oils from the lime and lemongrass.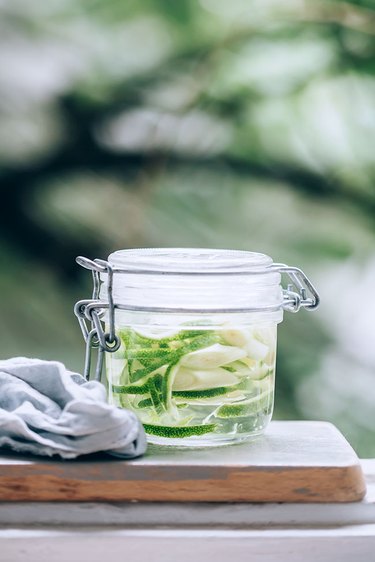 Step 5
When the infusion is complete, strain out the lime and lemongrass. Return the infused vinegar to the jar; use within six months.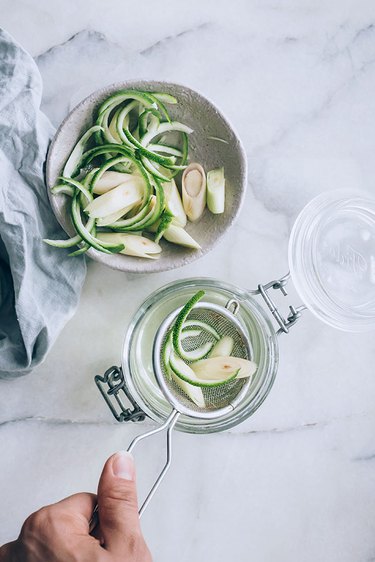 Step 6
To make the cleaning spray, pour one cup of the infused vinegar into a spray bottle. This recipe uses a 1:1 ratio of vinegar to water, which is powerful enough for most cleaning jobs. For tough jobs like cleaning mold and mildew or unclogging drains, use full-strength vinegar.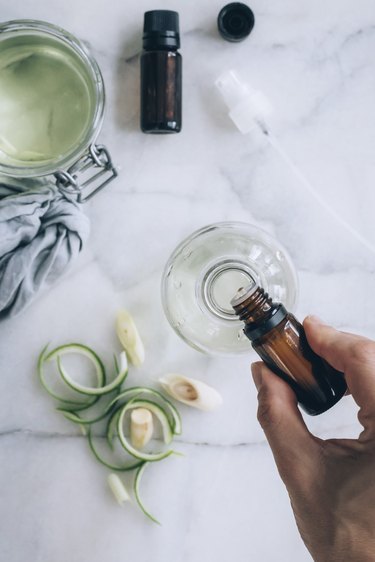 Add 15 drops each lemongrass essential oil and lime essential oil (roughly .5 percent dilution). Lemongrass essential oil can cause skin irritation so wear gloves if you're doing heavy cleaning or using the spray daily.
Tip: You have lots of choices when it comes to essential oils for cleaning: peppermint, eucalyptus, tea tree, lavender, orange, thyme, cinnamon, and clove all have antibacterial and antifungal properties.
Step 7
Add one cup of filtered water to the spray bottle. Replace the spray nozzle and swirl the ingredients together.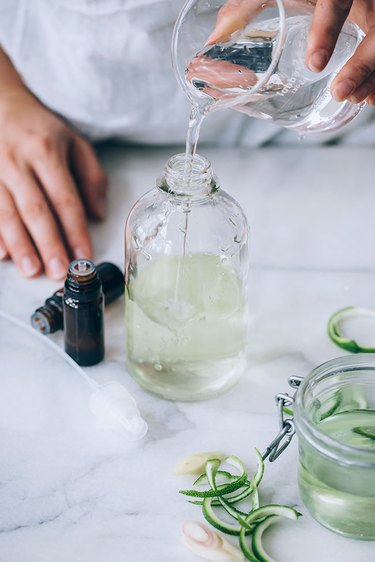 To use, spray onto countertops, sinks, and toilets, and wipe with a wet rag. If you want to disinfect, wash the area with soap and water first and then spray it with the all-purpose cleaner. Let the solution sit for at least 60 seconds and then wipe up.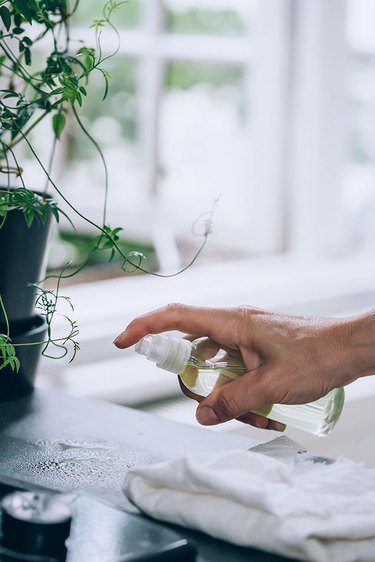 WARNING: Do not use vinegar on marble, granite, and other natural stones. Test before using on hardwood floors as it can erode some finishes.