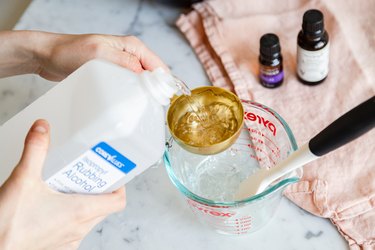 Squeaky is all about the borderline genius hacks and ideas that keep literally every inch of your space pristine.
If you prefer to use a natural disinfectant to clean your home, there are some tried-and-true ingredients that you can call upon. While we are only highlighting a few materials on our list of natural disinfectants, the way they can be used are many — although you shouldn't necessarily use the same solution on all things, so read on. These ideas will help sanitize your home from top to bottom.
Isoprophyl Alcohol
Isopropyl alcohol is an amazing natural disinfectant. It works great to kill germs on most surfaces and is also a great streak-free window cleaner. Isopropyl alcohol is used in most hand sanitizers like this DIY hand sanitizer and also can be found as a key ingredient in these homemade sanitizing wipes. The CDC recommends using isopropyl alcohol that has a strength of 70% or higher to kill germs and bacteria.
Hydrogen Peroxide
Hydrogen peroxide is an excellent natural disinfectant that can be used on its own to clean and disinfect surfaces, laundry, and even whiten whites and cut through stains. Hydrogen peroxide can be mixed with baking soda to make a great cleaning paste to use on bathtubs, sinks, and even pots and pans. It is best used in a 3% concentration.
NOTE: Never mix hydrogen peroxide with vinegar — the two cancel each other out when it comes to killing bacteria.
Vinegar