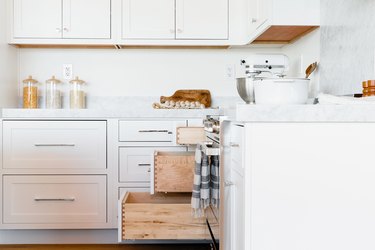 There is nothing worse than noticing a splotch of grease that has made its way onto your kitchen cabinets. Even if the rest of your kitchen is clean and tidy, that single dot of grease can completely ruin the effect. Fortunately, there are several easy ways to get grease off your cabinets (and out of your life).
The first solution is a simple one — and involves something you probably already have at home.
"Dish soap is an alkaline-based product that effectively cuts through grease, especially when mixed in hot water," Sean Perry, a cleaning expert at Neat Services, tells Hunker. "Mix a squirt or two of grease-cutting dish soap into a bucket of very hot water (as hot as you can stand) and use a nylon scouring pad to attack cabinet grease. Keep the water hot and use light pressure on the nylon pad to avoid scratching the surface. Rinse and dry the cabinets when done." For rinsing and drying, a microfiber towel is ideal.
If your grease spot is particularly stubborn, Top Cleaners London tells Hunker that you may want to buy a degreaser that is specifically formulated so it won't degrade your wood cabinets. In other words, you'll want to read the product label and carefully follow instructions.
"Ammonia or chlorine-based solvents are out of the question," a representative from Top Cleaners London tells Hunker. "Yes, they might remove the grease, but in the process, they will dissolve the coating and paint of your cabinet doors."
The company also warns against using DIY methods that include vinegar, lemon juice, and baking soda — they can cause discoloration and dissolve your cabinet's coating. Baking soda can also leave scratches behind.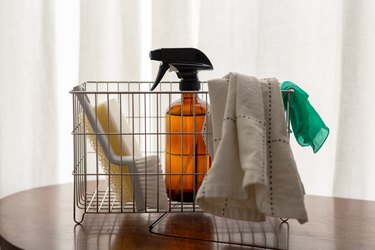 Perry adds that an all-purpose orange oil cleaner will also work to get rid of grease on kitchen cabinets. "If your cabinets are really grimy, spray multipurpose cleaner containing citrus oil onto the kitchen cabinets and let it sit for a few minutes," he says, "Next, use a sponge or microfiber cloth dampened with warm water to gently remove the grease. To finish, wipe off any lingering cleaner with a clean damp cloth and dry thoroughly."
Though orange oil is safe for cabinets, Perry adds that other oils — like olive oil — are not.
"According to woodworking experts, only drying oils, such as orange, walnut, and linseed oil should be used to clean wood," he says. "When these oils dry, they form a hard protective layer on the wood." Olive oil, on the other hand, is a non-drying oil that can remain on your cabinets, attract dust, and eventually spoil (yikes).
At the end of the day, dish soap and hot water are all you need to take care of any grease that has popped up on your cabinets. But if you do want to use a multipurpose cleaner or degreaser, just make sure it's safe for your cabinets and follow all instructions.
---
Anna is a Los Angeles-based writer and editor who covers lifestyle and design content for Hunker. She's written for Apartment Therapy, the L.A. Times, Forge, and more. She previously worked as the lifestyle editor at HelloGiggles and deputy editor at So Yummy. Her email: anna.gragert@hunker.com
View Work