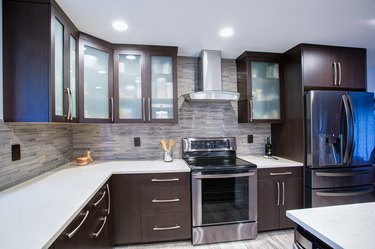 The rich, calming hue of natural cherry wood offers a homey feel to the kitchen. The hardwood material blends in well with other types of wood often used in kitchen décor, such as honey oak and deep, dark walnut. They are also just as susceptible to the smudges, spills and oily buildup that tend to collect on kitchen cabinet doors and drawers. Fortunately, cleaning cherry wood kitchen cabinets with the proper natural or commercial cleaners will keep them in good shape for generations.
Cleaners for Wood Cabinets
Whether you are cleaning cherry, oak or maple cabinets, using the right cleaner will ensure that the natural material is thoroughly cleaned and not damaged. If you have hard water, which is a common problem, then using distilled water will ensure that mineral deposits don't leave behind unsightly white spots or a haze. Always use soft cloths that are damp, not soaking. Too much water on wood when you are cleaning can seep into unprotected areas and damage the natural material.
Fingerprints, grease and minor splatters from sauces can be quickly cleaned up with a solution of one part vinegar to one part warm water. Truly greasy areas, such as those around a cooktop, can handle a wash with straight vinegar. Make sure to wipe away excess moisture from the surface of the wood so that it doesn't get damaged.
For a more serious spot cleaning, make a paste of baking soda and water. Apply it to the food or grease stain and let it sit for a few minutes before wiping away with a damp cloth. Buff the cherry wood cabinets dry.
Cleaning Cherry Wood Kitchen Cabinets
Aside from using the best cleaner for cherry wood cabinets, using the right techniques will save you time and effort. Wood cabinets should be cleaned out at least once a year, according to Merry Maids.
Begin by removing all of the items from inside of the cherry cabinet or drawer. With a clean cloth dipped in warm, sudsy water, wipe down the inside, starting at the top and working toward the base and out of the interior.
Let the inside of the cabinet dry before returning all of the items, which have been wiped down as well, to the cabinet or drawer. Follow up by cleaning the exterior of the bank of cherry cabinets. To ensure a thorough cleaning job, wipe down each cabinet and drawer individually.
Cleaning Scuffs and Making Repairs
The best way to clean wood kitchen cabinets is with oil soap, according to Better Homes & Gardens. A dry microfiber cloth can remove simple scuff marks. A good commercial cleaner, such as Murphy's Oil Soap, will quickly remove scuff marks and smudges that other cleaning solutions didn't pick up. The wood oil soap will clean and shine the cherry wood kitchen cabinets.
This thorough cleaning also allows you to check for moisture and leaks, and prevents odors from accumulating. Removing and cleaning all of the items and throwing out expired or leaking products will also keep the interior of the cherry wood cabinets in good condition. Check the cabinets for damage, scratches, loose hinges or drawer pulls. Tighten hardware and repair minor surface scuffs, scratches or chipped shelving.