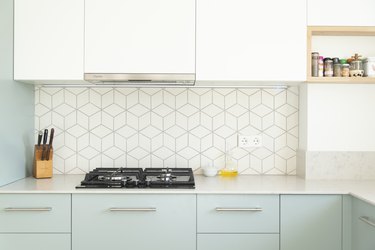 Cabinet doors, drawers and handles get the brunt of splatters, steam and sticky fingers in a busy kitchen. They need regular cleaning to keep them looking good and in working order.
An effective cabinet degreaser can easily remove sticky surfaces without leaving streaks or using a lot of elbow grease. While commercial degreasers can quickly take down standard grease and grime, they often contain chemicals you may prefer to not use around areas where fresh food is stored and prepared. Homemade cleaning solutions can do just as good a job as their chemical-based counterparts.
Cleaning Kitchen Cabinets Naturally
One of the easiest ways to start cleaning green is with common household cleaners. These include baking soda, vinegar, lemon and rubbing alcohol. Merry Maids recommends wiping down the kitchen cabinet surfaces daily with a damp rag and, once a year, give the kitchen cabinets a thorough cleaning with a natural cabinet degreaser. For cabinets around a stove top or workspace that sees a lot of action, wipe the cabinets down with warm, sudsy water about once a month.
Work from the top of the cabinet doors and drawers down to the bottom. This will loosen any dirt or bits of food to the floor and reduce the need to go back over areas you've already cleaned. Remove all of the items from inside of the cabinet and give it a good cleaning annually as well. Warm water mixed with a few drops of mild dish soap is enough to clean cabinet interiors that are in relatively good condition.
Baking Soda and Vinegar Degreaser
Cleaning kitchen cabinets with baking soda can take out the grease and grime and also act as a deodorizer. Pair baking soda with vinegar and you can remove grease as well as layers of grime on old or neglected kitchen cabinet surfaces.
Fill a spray bottle with ½ cup of white vinegar and add 2 tablespoons of baking soda. The mixture will foam at first. Once the foaming has subsided, add 1 cup of water. Spray on the cabinets and let it sit for a few minutes to work away at the layer of grime and rinse off. Dry the cabinet thoroughly to ensure that the moisture doesn't in any way damage the surface.
Wood Kitchen Cabinet Grease Remover
A slick layer of oil or splatters of acidic sauces can ruin the surface of a kitchen cabinet if left too long on the material. A good wood cabinet cleaner is abrasive and effective enough to whisk away grease and grime without leaving behind streaks, soapy residue or scratching the surface of the façade. A natural degreaser for wood is castile soap paired with baking soda. It's affordable and easy to make.
The Kitchn recommends a mixture of 1 cup of vinegar and a few drops of castile soap in a 32-ounce spray bottle. Add 1 tablespoon of vinegar and fill the bottle with warm water. You can add lemon, lavender, tea tree or another essential oil to give the castile soap degreasing solution a pleasant scent. However, the baking soda will act as a natural deodorizer.
---
Kimberley McGee is an award-winning journalist with 20+ years of experience writing for a variety of clients, including The New York Times, Las Vegas Review-Journal Home section and other national publications. As a professional writer she has researched, interviewed sources and written about home improvement, interior design and related business trends. She earned a B.A. in Journalism from the University of Nevada, Las Vegas. Her full bio and clips can be viewed at www.vegaswriter.com.
View Work