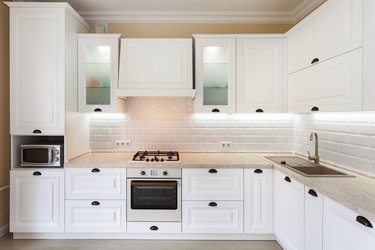 KraftMaid cabinets are designed for easy care and maintenance as long as the cabinets are cleaned regularly. As with other cabinet brands, the sooner you clean up stray food splatter, the easier it is to remove. KraftMaid recommends cleaning with mild products such as Murphy Oil Soap and a soft, lint-free cloth.
Dusting and Daily Maintenance
Keep your KraftMaid Vantage cabinets clean by frequently dusting them with a damp lint-free microfiber or cotton cloth. A white cotton cloth is the best choice; some brighter or darker colors may bleed dye onto the cabinet finish otherwise. After dusting, wipe any surfaces that appear damp with a dry lint-free cloth to prevent moisture damage.
While a little moisture won't hurt the cabinets, excessive moisture, such as water drips that run between boards on a regular basis, could damage the plywood or otherwise harm the cabinets.
KraftMaid also suggests hanging wet dishcloths or hand towels in a place where they won't come into contact with the cabinet surface. Prolonged exposure to moisture also harms some cabinet surfaces or may mar the finish.
Cleaning Up Messes
When dealing with spilled, sprayed or splattered messes, wipe them up immediately with a clean damp sponge or dishcloth. For stubborn messes, use a little mild dish soap on the sponge as well. Rinse and wring out the sponge, then wipe the area again, following up with a dry lint-free cloth. Avoid using harsh materials such as abrasive cleansers or even a nylon scrub pad as these may damage the cabinet finish.
A Thorough Cleaning
Every kitchen and bathroom needs a floor-to-ceiling cleaning once in a while. Wipe down those Kraftmaid frameless cabinets with a simple solution of warm water and oil soap. Add 1 gallon of hot tap water to a clean bucket, filling another bucket halfway with clean water. Add a few caps full of oil soap to the first bucket, swishing it around a bit with the sponge or white cotton cloth.
Dip the sponge in the soapy water, then wring out most of the moisture. Wipe down the cabinet doors, tops and frames with the sponge. Wipe them immediately afterward with a sponge dipped into the water-only bucket, wringing out the sponge first. A deep cleaning works best if you remove items from the cabinets as well; this way you can thoroughly wash the insides of cabinets and drawers. Allow all cabinetry to air dry, and use a lint-free cloth to wipe excess moisture away if any part of the cabinet seems too wet.
Cleaning KraftMaid Cabinet Doors
KraftMaid cabinet doors require a little extra care, especially those with glass inserts. Clean the glass by applying your favorite glass cleaner directly to a white lint-free cloth instead of spraying the glass because runoff could seep between the glass and door framework and damage the door.
Clean door and drawer hardware with mild soap and water, using a lint-free cloth to buff the metal dry. Don't use typical metal polishes on the cabinet hardware, as many of these contain chemicals that could harm the door and drawer pulls.