Kitchen cabinets gather more grease, moisture and food spills than any other part of the house. This is because food particles, grease and smoke circulate in the kitchen's air and stick to them. Cabinet drawer and door handles are places where grime builds up the fastest as they are often handled with sticky and greasy hands. The best wood cleaner to cut grease from kitchen cabinets is a mixture of baking soda and dish washing liquid.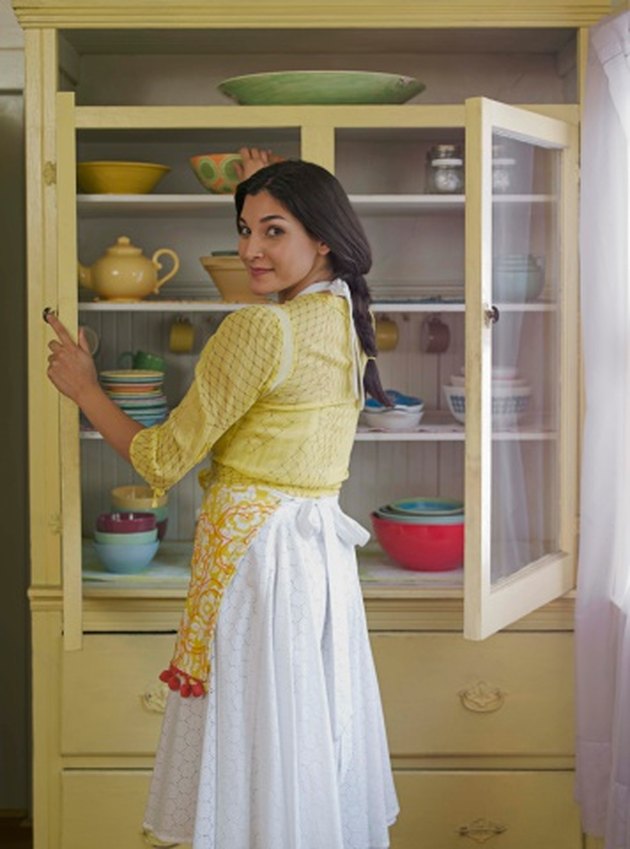 Mix enough baking soda and dish washing liquid in a bowl to form a thick paste. Dish washing liquid works wonders at cutting grease while baking soda cleans, deodorizes, scours, polishes and removes stains.
In order to remove grease from the wooden kitchen cabinet, blot the greasy parts with a cloth in order to take out as much grease as possible. It would be better to work from outside toward the center, so that the stain will not spread further. Apply the paste on the stain using an old hard-bristled tooth brush. Lightly scrub the surface and allow the paste to sit for five to 10 minutes before rinsing it with water. You will not need to scrub as much if the stains are new. That is why it is important to clean the wooden kitchen cabinet regularly.
Once all the grease has been cleaned from the wooden kitchen cabinets, apply a solution of vinegar and water to give them a shiny and glossy appearance. Apart from making it look shiny and attractive it will also remove any foul smell that may be left due to food residue
Baking soda is abrasive. Thus, it is important to apply it lightly and smoothly so that it does not damage the surface of the wooden kitchen cabinet. In addition to this, give special attention to most exposed areas of the kitchen cabinet, such as areas near drawer and door handles.