Squeaky is all about the borderline genius hacks and ideas that keep literally every inch of your space pristine.
Green cleaning doesn't need to be complicated. In rounding up some favorite green cleaning tips, we were surprised that many of our favorite recipes typically only use one or two ingredients. You can do so much with a few simple ingredients! Check out these favorite homemade cleaning tricks and recipes that are easy to make at home but still tough enough to tackle your messiest projects.
1. Infuse vinegar to make it smell better.
Distilled white vinegar is always a favorite in green cleaning recipes, but the smell can be a major turn off. Fortunately, there's an easy solution. You can offset vinegar's strong scent — and boost its cleaning power — by infusing it with far more pleasant natural scents.
Just combine white vinegar with a handful of herbs (such as sage, thyme, lavender, and lemongrass), whole spices (such as cinnamon sticks and whole cloves) or citrus peels and let the ingredients infuse together for one to two weeks.
Then strain out the solids and use the vinegar to create these simple recipes. Add a few drops of your favorite essential oil for an even stronger scent.
Cleaning spray: Combine one part vinegar to four parts water in a spray bottle and use as an all-purpose cleaning spray for kitchens and bathrooms.

Fabric softener: Add ½ cup vinegar to to the fabric softener opening in your washer.
Shower spray: Combine two cups vinegar with two teaspoons liquid dish soap for a daily shower cleaning spray.

2. Make homemade foaming hand soap with Castile soap.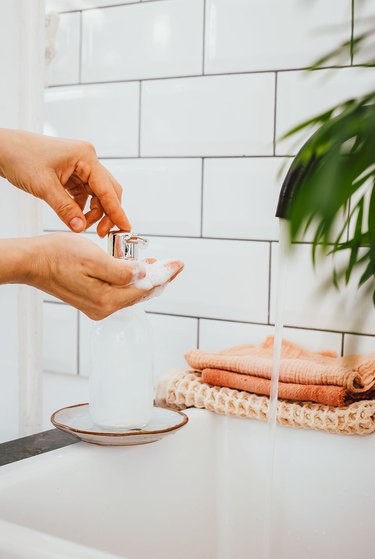 Hands down, this is the cleaning trick that has saved many of us the most money over the years. You can easily make your own foaming hand soap with gentle, yet powerful Castile soap. Combine two tablespoons of liquid Castile soap with two cups of water and you have 16 ounces of foaming hand soap!
3. Clean cutting boards with lemon and salt.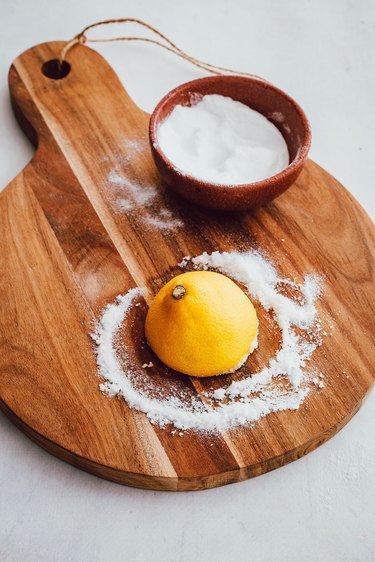 The acidic power of lemons combined with scrubbing power of salt is the perfect way to remove stuck on food, kill odors, and fade away stains. Sprinkle a little kosher salt on the cutting board and give it a thorough scrub with half of a lemon to get into all the cracks to disinfect.
This gentle cleaning along with occasional conditioning with oil or wax will make your wooden cutting board last forever.
4. Tackle grease with citrus essential oils.
Keep a bottle of lemon essential oil in the kitchen to spot treat stains and remove stubborn grease. (Ever get turmeric on a white quartz countertop? No need to freak out— just add a couple drops of lemon essential and, poof, the stain will wipe right out.)
Or, use it on any counter or tile stain that won't come out with simple soap and water. Just be sure to test on an inconspicuous spot before using on your countertop.
For stubborn tile stains, apply two to four drops of lemon or orange essential oil directly to the tile. Let sit for 30 seconds and wipe up with a soft cloth. You can also apply directly to grease spots or stuck on glue.
5. Whiten with hydrogen peroxide.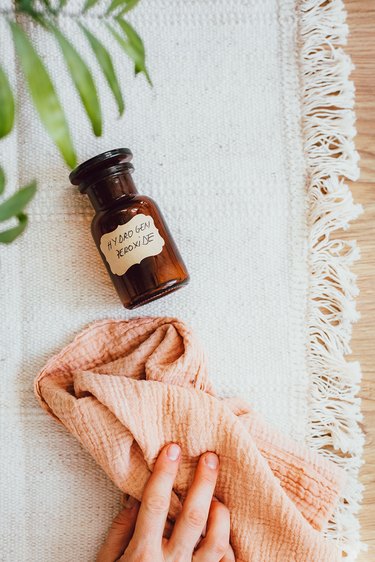 Hydrogen peroxide's whitening properties have made it a stain-fighting wonder in my house. I discovered hydrogen peroxide's magic when it lifted a pizza stain right out of my carpet. Just wet a cloth with hydrogen peroxide and blot the stain.
You can use also hydrogen peroxide in your laundry to make an effective natural bleach that will keep your whites looking bright. Just add ¼ cup of fresh lemon juice plus 1½ cups hydrogen peroxide in the wash during the soak cycle.
6. Scrub with baking soda.
Baking soda is one of the cheapest ingredients to add to your green cleaning arsenal. It makes a perfect "scrub" for kitchen sinks, ovens, pans, stovetops, bathtubs, toilets, and tile. Baking soda's gentle abrasiveness will clean without scratching and damaging delicate surfaces.
Combine baking soda with dish soap for extra cleaning power. It creates a paste-like texture (think soft scrub) that you can apply to grout or other stains. Let the formula sit for a while before scrubbing with a soft sponge.
The dish soap and baking soda paste is also an excellent way to clean the inside of your oven. With a bit of elbow grease, you'll knock out stuck on food without the toxic fumes.