Most commercial household cleaning products contain toxic chemicals that are not only bad for human health, but the planet. This has led many to convert to green cleaning practices, using homemade cleaning products over commercial products. One popular homemade cleaning product is a vinegar and borax cleaning solution. This mixture can be used to clean a variety of things in your home. Once you know how to make a vinegar and borax cleaning solution you can start making your home cleaner and greener.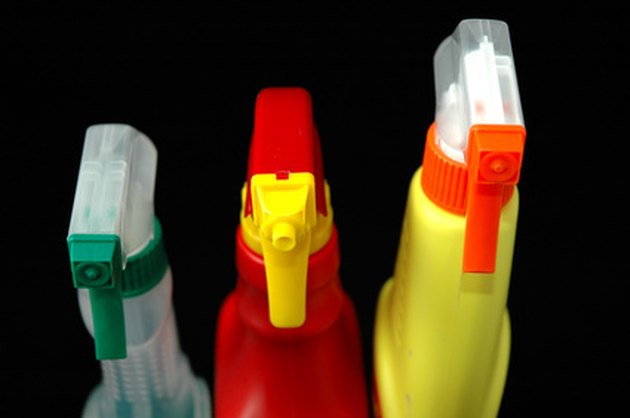 Step 1
Measure one cup of borax powder. Measure one quarter of a cup distilled vinegar. In an old bowl or mug, mix the two ingredients. When fully blended the two ingredients will make a paste. Use this vinegar and borax cleaning solution to scrub your toilets clean. Use a scrub brush to apply the paste to the dirty toilet bowl, let it sit between one to two hours. Then, scrub and flush.
Step 2
Mix one half a cup of distilled vinegar and two tsp. of borax powder in a half of a gallon of water. This makes a homemade cleaning product that can be used in place of an over-the-counter all-purpose cleaner. Clean bathroom surfaces, mirrors countertops and chrome fixtures with this mixture. This vinegar and borax cleaning solution can be stored between uses.
Step 3
Get stains off your carpet with vinegar, borax and salt. Make a paste by mixing one quarter of a cup of each ingredient. Rub the paste into the carpet stain. Let the paste sit on the carpet for a few hours, then vacuum it up when it is dry.
Step 4
Vinegar and borax can also serve a number purposes in the laundry room. You can add a half cup of vinegar to the rinse cycle and it will soften your fabric. You can also add a cup of distilled vinegar to the beginning of your wash load to get rid of strong odors like mildew and smoke. Borax is an extremely useful laundry tool, and can be found in the laundry aisle. You can add a half cup of borax to your laundry to boost your regular detergent. It helps disinfect, remove tough stains and keep clothes smelling fresh.