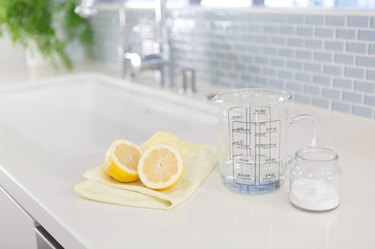 Squeaky is all about the borderline genius hacks and ideas that keep literally every inch of your space pristine.
Never ever underestimate the humble lemon — it's relatively cheap, widely accessible, and oh-so-versatile, especially when it comes to household chemical-free cleaning. Even leftover lemon peel can help brighten, whiten, or clean in almost any room in the house. The magic? Citric acid.
Here are 14 ways that lemons make your home life better, naturally.
1. Clean your wooden cutting board.
Epicurious calls the magical combo of coarse salt and lemon juice "the big guns" — the salt plays the abrasive, the lemon plays the acid and, together, they manage to erase even the toughest cutting board stains, like beet juice. (Just know that while the lemon juice and coarse salt combo cleans beautifully, it won't necessarily kill the worst kitchen germs, like salmonella and E. coli.)
2. Polish your copper.
Lemon juice and coarse salt also play a starring role when you're polishing copper. For this exercise, says Martha Stewart, dip half a lemon in coarse salt and rub away the dark spots. Works for brass and pewter, too.
3. Steam clean the microwave.
I don't own a microwave, personally, but I remember, from childhood, how it would retain the smell of whatever was last zapped, be it buttered popcorn or (heavens no!) fish. That, and the inevitable splatters. Lifehacker suggests you just give the whole thing a massive steam clean, with a halved lemon, some water, and a microwave-safe bowl. Three minutes and — voila! — good as new.
4. Get dried cheese out of the cheese grater.
Who cleans the cheese grater? Exactly. With half a lemon and some elbow grease, you actually can get that hard, old cheese to come off. "The acid in the lemon will help break down the fat in the cheese," Leslie Reichert, author of The Joy of Green Cleaning, explained to Today.
5. Get rid of that fishy smell.
Or whatever odors are lingering in your kitchen. Just boil some cut lemons on the stove. You can add other aromatics — rosemary, for instance — to create a signature scent.
6. Deodorize your fridge.
This one is so low effort, you can't not do it. Simply slice some lemon, sprinkle with salt and baking soda, and leave a plate of it in the back of your fridge. You can smell the difference in just a few hours.
7. Get rid of limescale.
A cut lemon works wonders on water spots in the bathroom, especially on chrome. (Just don't use it on marble — the lemon juice will stain it.)
8. Degrease … anything.
9. Clean your tupperware.
10. Freshen up a smelly drain.
Is there something funky coming from the kitchen drain? Just throw in half a lemon — used is fine — with some baking soda, vinegar, and some ice, and give the disposal a quick run. Or, if you're the type who plans ahead, make these lemon and vinegar ice cubes to pop in the drain when your nose tells you it's time.
11. Remove rust stains from stainless steel.
Lemon juice and baking soda is the other magical cleaning combo — and it does wonder for any kind of rust. Make a paste to use on stainless steel appliances as well as your knives, or wherever rust may find you.
12. Whiten your whites.
Laundry recipes will vary, but a ½ cup or so of lemon juice during the rinse cycle can make your whites really pop again. For tougher jobs — like yellowing linens, old socks or sweat-stained tees — Martha suggests boiling everything on the stovetop with lemon and letting it all sit for an hour or more before laundering.
13. Deodorize your dishwasher.
Before you toss that used lemon in the trash, put it in with the silverware. The next time you run the dishwasher, the whole thing will smell better and sparkle.
14. Clean your windows.
Anything vinegar can do, lemons can do, with a much better smell — including clean your glass and windows, naturally. Gardenista has a complex, yet thorough recipe, but you can also go super simple, like this recipe from Daily Squeeze.