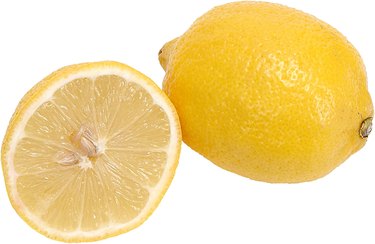 Lemons have a strong, astringent smell that clears the air of disagreeable odors while imparting a fresh citrus aroma. A lemon air freshener performs even better when mixed into a solution with baking soda. Add to a spray bottle or cotton balls to project the pleasant lemon aroma into each room of your home.
Step 1
Wash the outside of the lemon rind thoroughly under running water and cut the lemon into quarters.
Step 2
Place 2 cups of water into a pot on the stovetop and add the lemon quarters.
Step 3
Heat the pot of water and lemon quarters. Remove the pot from the stove after it reaches a roiling boil and allow it to completely cool.
Step 4
Strain the lemon solution through a fine strainer into a bowl.
Step 5
Stir ½ cup of baking soda into the strained lemon solution and mix with a kitchen wisk until it completely dissolves. Allow the solution to cool.
Step 6
Pour the cooled lemon juice and baking soda solution into a spray bottle.
Step 7
Spray the solution into the air in each room throughout the house as needed.