Between kids and pets, it's no surprise that carpets can develop some unpleasant smells. However, store-bought cleaners are not very kid- or pet-friendly solutions. Skip the chemicals and give your favorite floor covering a refresh with this homemade dry carpet cleaning powder. Baking soda is the star ingredient here; it deodorizes and absorbs unwanted odors just like it does in the refrigerator. Combine it with essential oils like lemon and tea tree to leave behind a bright, clean scent.
Hunker may earn compensation through affiliate links in this story.
Step 1
Measure and pour the baking soda, cornstarch, and soap flakes (if using) into a bowl. Adding cornstarch helps lift grease, and soap flakes tackle stains for tougher jobs like car carpets or even mattresses.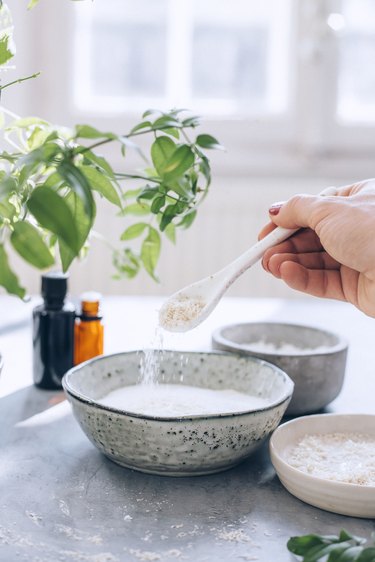 Step 2
Add 30 drops of both lemon and tea tree essential oil to the baking soda mixture. Along with their clean, energizing scents, lemons cut grease. Tea tree is a potent antibacterial addition.
Tip: Don't love those scents? Change it up! Some possible pairings: sweet orange and rosemary; peppermint and lemongrass; or lavender and juniper berry.
Step 3
Stir the baking soda mixture together until a damp powder forms and all clumps are broken up. Then allow the mixture to dry for two to four hours. This lets the oils' aroma permeate the powder and helps avoid carpet wetness.
Step 4
While the baking soda is drying, remove the cap of a mason jar and and trace the inner lid onto construction paper. Cut out the circle. Use a hole punch to create several openings in the construction paper circle.
Step 5
Transfer the baking soda mixture into the mason jar. Place the construction paper on top of the mason jar and screw on the outer lid.
Step 6
Apply liberally to carpet and rugs. Use a gentle brush to work the mixture into any stained areas. Leave the mixture on for at least one hour. The more time the better, so leave on overnight if possible.
Tip
Test in an inconspicuous area before general use.
Vacuum up thoroughly and enjoy clean, soft, and refreshed carpets.