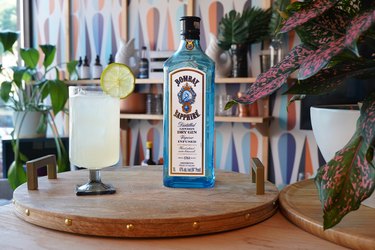 If you've ever wished you had your own personal bartender, we can't deliver that — but we can do the next best thing: we've partnered with Bombay Sapphire and some of the world's best bartenders to bring you easy, delicious cocktail recipes to make in your very own home. Here, the 2018 Most Imaginative Bartender Winner Carley Gaskin of Chicago shares her recipe for a Gin Mule.
Easy, right? Here's the full recipe:
Things You'll Need
1 part Bombay Sapphire Gin

3 parts ginger beer

Squeeze of lime

Bitters of your choice (optional)
Fill a tall glass with ice. Add 1 part gin. Squeeze lime into glass. Fill with 3 parts ginger beer. Optional: add a few dashes of your favorite bitters (Carley uses Angostura). Garnish with a slice of lime and enjoy!
BOMBAY SAPPHIRE Gin
BE BRILLIANT AND INSPIRED. DRINK RESPONSIBLY!
©2020. BOMBAY SAPPHIRE AND ITS TRADE DRESS ARE TRADEMARKS.
IMPORTED BY THE BOMBAY SPIRITS COMPANY U.S.A., CORAL GABLES, FL. GIN - 47% ALC. BY VOL.