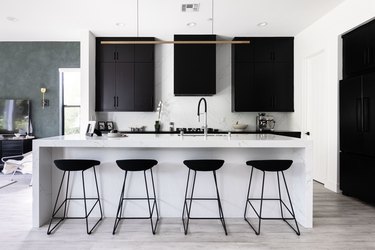 If your renovation budget allows, you should absolutely consider installing custom cabinets as part of your kitchen remodel. Semicustom cabinets get the job done and can look great doing it, but nothing says luxury quite like a space perfectly tailored to you. Custom cabinetry not only looks great but can improve the functionality of your kitchen with a setup that works the way you do when you're cooking, baking and entertaining.
What Are Custom Cabinets?
As the name implies, custom cabinets are cabinets designed and manufactured just for you and your kitchen. Because so many people opt for semicustom cabinets to keep costs down, contractors and remodelers sometimes refer to semicustom cabinets as custom. It's important to understand what you're truly getting, especially when comparing prices.
Semicustom cabinets allow you to choose from a wide variety of cabinet styles, finishes and features, but your choices will ultimately have limits. Truly custom cabinetry, however, gets made only after your kitchen is carefully measured and your unique needs assessed. It helps to think of semicustom cabinets as off-the-rack clothing taken in or hemmed by a seamstress to fit you better. Custom cabinets, on the other hand, are like clothing items cut from raw cloth and sewn just for you after a tailor takes your measurements.
When to Go Custom
Custom kitchen cabinets don't come cheap. According to HomeAdvisor, homeowners purchasing custom cabinets in 2019 can expect to pay between $500 and $1,200 per linear foot. You're probably not going to invest that kind of money in a rental unit or a home you plan on flipping, but there are times when custom kitchen cabinets make sense.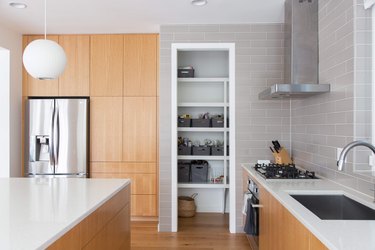 One such time is when you're working in an older home where the walls are no longer perfectly straight. Custom cabinets also work well in oddly shaped spaces with unique obstacles. Because they are made to fit your space, custom cabinets can create a perfect finish in spaces where even semicustom cabinets could leave unsightly gaps or fit poorly. Customizing your cabinets also allows you to eliminate dead space and fit the maximum amount of storage in your kitchen.
Customization also allows you the freedom to create your dream kitchen, perfectly matching your cabinets to your countertops and other elements of your kitchen design. According to HomeLight, however, you'll only recoup about 60 percent of your kitchen remodel investment when you sell your home. As such, opt for custom cabinets only when you plant to stay in your home and enjoy them for a few years.
Enjoy Limitless Options
Once you've decided to go with custom kitchen cabinets, your choices have only just begun. Because these cabinets are fully customized, your options are limited only by the laws of physics. If a craftsman can make it, you can have it.
When designing custom cabinetry, you'll decide on the material from which you want your cabinets made, how tall they should be, how the doors will look, how many shelves each cabinet will contain and what color the cabinets will be. You can choose from any available wood stain or paint color, or you can opt for glass doors. Extra features are also available if you want them, allowing you to add lighting, crown molding, wood inlays, lazy Susans, spice racks, stemware racks and any other feature your heart desires.
To make sure all of these choices are a blessing rather than a curse, it helps to work with a professional kitchen designer. You'll design perhaps one or two kitchens in your lifetime, but a professional will create hundreds. A pro can help you build a cohesive custom kitchen rather than a jumbled mess of bells and whistles that don't function well together.
Making it Happen
Like semicustom cabinets, custom cabinets must be ordered from a cabinetmaker. You can also work with a local cabinet store. No matter where you go, custom cabinet sellers will usually have you work with a design consultant.
The consultant will talk to you about your needs and desires and may show you a few of the different choices available to you. They'll'll then make an appointment to visit your home to see your space and take measurements of your kitchen. At this time, there will be further discussion about your wants and needs. The consultant will hear you out and may also make suggestions for you.
The designer will then draft a drawing or generate a computer image of what your kitchen will look like and provide you with an estimate. Together, the two of you will review this information and make any necessary adjustments or modifications. After you approve the final design, the kitchen designer will order your custom cabinets from a cabinetmaker.
Custom Cabinetry Installation
According to Altera Design Kitchen & Bath, it takes about six to eight weeks for custom cabinetmakers to build and deliver most cabinets. When they are ready, a professional installer will come to your home, assemble your cabinets and hang them for you. Installing custom cabinetry is generally not a good DIY project, so consider letting the pros tackle this one.
Your installer will first remove your old cabinets. If any electrical wiring or plumbing needs to be worked near or behind your cabinets, your kitchen remodeler will tackle these projects next. New drywall or plaster is also installed before your cabinets if applicable to your project. Once the walls are complete, your cabinet installer will measure them, checking for and repairing any rough spots or blemishes that could interfere with your cabinet installation.
When all the prep work is finished, your installer will hang your cabinets and any decorative touches you've requested, such as crown molding. Base cabinets (including kitchen island cabinets) are generally installed after the wall cabinets are hung. Once your cabinets are in place, your kitchen countertops, sink and appliances are installed and any paintwork or other finishing touches are completed.