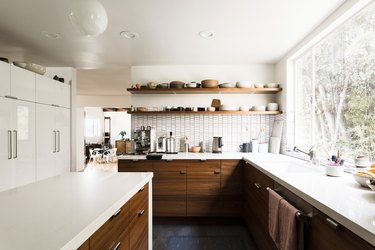 The kitchen is the place where family congregates to share food and to connect, but poor kitchen design can make it an uncomfortable, unorganized place. Old House Journal states that choosing kitchen cabinets can eat up 40 percent of a kitchen remodel budget, but careful planning that takes into consideration both the style, size and shape of the room and how you expect to use the kitchen will help you keep costs in check and make your dream kitchen a reality.
Using Software for Kitchen Design
In past years, kitchen design involved input from an architect or interior designer who produced sketches on paper. Today, you can design your dream kitchen yourself — all you need is some cabinetry knowledge and any of the easy-to-use kitchen planner software available online. Sites like Room Sketcher and Cabinets.com allow you to draw a floor plan using simple measurement tools and drag-and-drop tools.
Big-box retailers like IKEA, Home Depot and Lowe's also have proprietary software online and in stores that works in a similar way. If you have any questions while using these apps, you can consult with one of their kitchen designer professionals.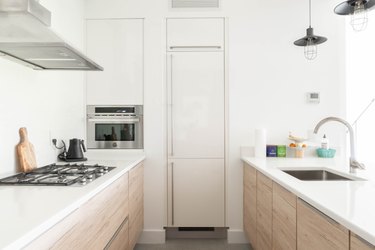 Most design apps will allow you to resize items, change cabinet finishes, save multiple designs and preview your work. Some will also give you the option of taking 3D snapshots and walk-throughs and will give you a 360-degree view of the room so you can get a feel for how your kitchen cabinets will look and function before you purchase materials or attempt installation.
Kitchen Cabinet Grades and Types
There are four grades of kitchen cabinets, and whatever you choose will depend on your budget and specific needs. For example, if you own an apartment building, your cabinet design will likely involve ready-to-assemble or stock grades.
Ready-to-assemble (RTA) Kitchen Cabinets: Big-box retailers like IKEA have cabinets you can take home and piece together yourself. RTA cabinets are cheap but can be less durable than those from a manufacturer, and you may need professional help with installation.

Stock Kitchen Cabinets : Purchased preassembled directly from the manufacturer, stock cabinets come in a wide range of materials but with fixed sizes. While inexpensive, they are of higher quality than RTA cabinets.

Semicustom Kitchen Cabinets : Semicustom cabinets offer a more extensive choice of finishes, wood types and modifications, like custom doors or shelving.

Custom Kitchen Cabinets : Made-to-order custom cabinets allow consumers to dictate their preferred style, materials and construction. This is the most expensive of the grades.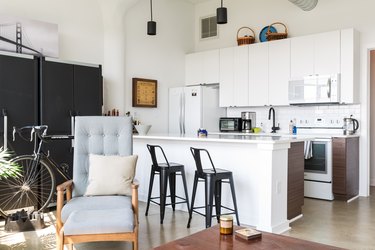 When designing your kitchen, you'll be choosing between the four main types of kitchen cabinets, which are all suitable for different areas and uses. Depending on the grade, they can come in different sizes.
Base cabinets hold countertops and are 24-inches deep and 36-inches tall. Semicustom and custom cabinets can be 27-inches deep or more. Base cabinets stand on a toe kick, a 4-inch-tall recessed riser located at the base of the cabinet.


Upper cabinets attach to the wall and are typically one foot deep in RTA or stock grades but can be 17-inches deep or more in semicustom and custom pieces.


Generally used for pantry and cleaning supplies, tall cabinets are about 83.5-inches tall and also attach to the wall.


Specialty cabinets vary in size, configuration and functionality. Some examples are corner, sink, cooktop and suspended cabinets, hutches, wine racks or appliance housings.
Kitchen Cabinet Design Considerations
When designing your kitchen cabinets, there are a few factors to take into consideration:
Your budget: Typically, a kitchen has 20 to 30 linear feet of cabinet space. Stock and RTA cabinets start at about $100 per linear foot and have limited options. Semicustom cabinets will give you more configurations and design options, fit your kitchen more precisely than stock or RTA cabinets and cost from $150 to $250 per linear foot.


Your preferred style and design ideas: Cabinets come in two styles — framed and frameless. Framed cabinets have rails and stiles that attach to the front of the cabinet box for door and drawer hinges and give cabinets added dimension. Frameless cabinets, also called full-access cabinets, have a more contemporary look but not a face frame. Instead, the hinges attach to the cabinet box itself.


Additional features: Think about your kitchen cabinet needs in terms of organization. While accessories may cost a little more, additions like a pull-out trash can or vertical dividers will add functionality to your kitchen.