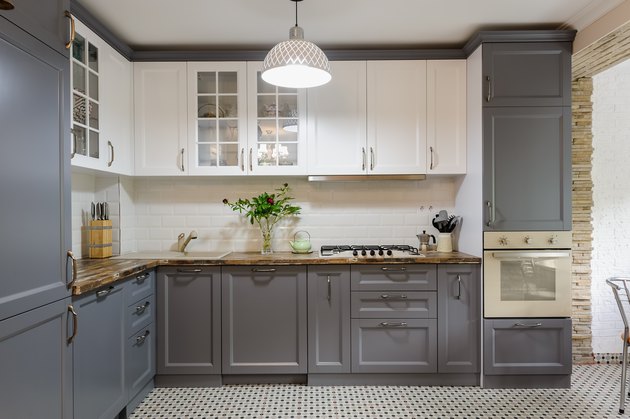 credit:
Serghei Starus/iStock/GettyImages
The cabinets often take the biggest bite out of a kitchen remodeling budget—sometimes as much as 25 to 30 percent of the overall cost of a new kitchen. Fortunately, there is a wide variety of cabinet price points based on the type of cabinets you select.
Kitchen cabinets fall into four broad categories: RTA, or ready to assemble cabinets, stock cabinets, semi-custom cabinets, and custom cabinets. Cabinets are often priced in cost per linear foot, which is the length of space the cabinets occupy. An 8-foot-long wall entirely occupied by cabinets equals 8 linear feet. Measure base cabinets and wall cabinet separately and add them together to determine the overall linear footage of cabinets.
One thing to keep in mind is that base cabinets are sold without tops. The countertop material completes the cabinets. So you must include the cost of countertops when making your calculations.
Labor for kitchen cabinet installation runs $50 to $200 per linear foot. The estimated costs listed below include the costs of installation.
Average costs: $100 to $250 per linear foot, installed.
This is usually the least expensive option. Cabinets are delivered or picked up at the store, unassembled, or knocked down, in flat boxes. You or your contractor puts them together on site before installing them. If you have to pay for shipping, freight costs for RTA boxes are usually less expensive than for fully assembled cabinets. If you are shopping at a brick and mortar store, you usually take the RTA cabinet boxes with you from in-store stock.
Average costs: $125 to $275 per linear foot, installed.
Stock cabinets are are another relatively inexpensive option because they are available in a limited number of sizes, styles and colors. Basically, what you see in the store or online is what you get. Because there are no add-ons, you can pick up the cabinets immediately or have them delivered within a few days.
Semi-Custom Kitchen Cabinets
Average cost, $300 to $800 per linear foot, installed.
This is the middle ground of kitchen cabinetry. Semi-custom kitchen cabinets provide you with the chance to customize or personalize your new kitchen. Once you settle on a cabinet line from a limited number of options, you can pick sizes, door and drawer styles, colors, finishes, hardware and materials. You can also choose options like roll-out shelves, cabinet lighting, decorative molding and other features.
In most cases, semi-custom cabinets provide a custom look without the custom prices. Your order will be assembled in the manufacturer's factory and shipped to you. Expect a lead time of six to eight weeks for your order to be filled.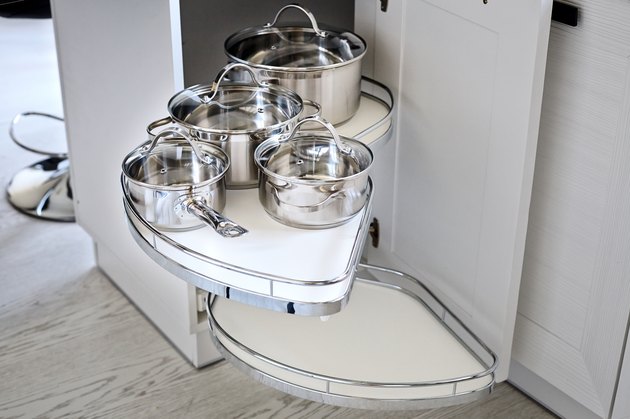 credit:
RYosha/iStock/GettyImages
Average cost, $500 to $1,400-plus per linear foot, installed.
As the name implies these cabinets are made to order for you and for the quirks of your particular kitchen space. You'll start from a blank slate and, with the cabinetmaker's help, hand-select every element, including the use of exotic woods.
Many cabinetmakers are true artisans. But not everyone who sets up a woodworking shop fits that definition. If you decide on a custom kitchen, be sure to see examples of the shop's work. And talk to previous clients to determine how the cabinetmaker is to work with.
Custom work requires time, so expect to wait eight to ten weeks before the cabinets are ready for installation.
The 10 x 10-foot Kitchen Quote
Another popular pricing method is the 10-foot by10-foot kitchen mockup. You'll see these L-shaped sets at some cabinet retailers and online. The set contains the cabinets along with the major appliances and fixtures in place. It is an accepted way for consumers to see how different cabinet doors affect the price of the cabinets. Some online sources simply show a photo of a door style and quote price for that style in a typical 10 x 10 kitchen.
The cost given is for the cabinets only, not including the other items. And once you start adding hardware, storage accessories and the like, the final cost is likely to increase over what is quoted.