Kitchen cabinets are one of the most important elements in a kitchen remodeling or new-construction project. Not only do cabinets form the bulk of the kitchen footprint real estate but they also take up a large part of your kitchen remodeling budget — sometimes as much as 25 to 30 percent of the overall cost of a new kitchen. Fortunately, there is a wide variety of cabinet price points based on the type of cabinets you select.
Tip
Kitchen cabinets generally cost $150 to $300 for stock cabinets and $300 to $650 for semicustom cabinets per linear foot, installed.
Kitchen Cabinet Types
Kitchen cabinets fall into four broad categories: RTA, or ready-to-assemble cabinets, stock cabinets, semicustom cabinets and custom cabinets. Another category, cabinet refacing, refurbishes your existing cabinets to the point where they look almost new again.
Kitchen cabinet systems are formed largely from base, wall and tall cabinets. Base cabinets are the lower cabinets on which countertops, sinks and cooktops rest. Wall cabinets are attached to the wall above the base cabinets and are shallower than the base cabinets. Tall cabinets rest on the kitchen floor but do not hold countertops. The most notable type of tall cabinet is the pantry: a narrow cabinet that often reaches as high as the ceiling.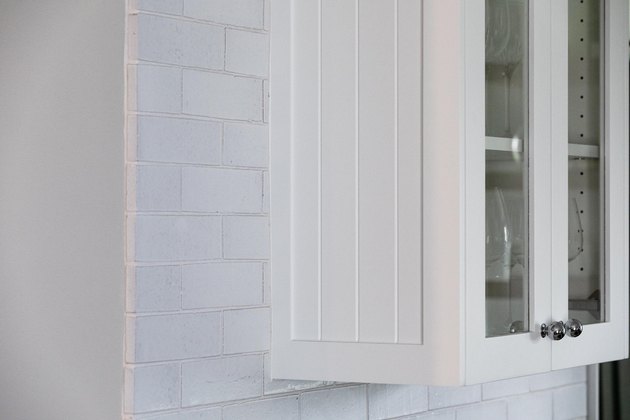 Kitchen Cabinet Pricing Methods
Cabinets are often priced per linear foot, which is the length of space the cabinets occupy. The depth of base and wall cabinets does not come into play since this is a standard measurement for most cabinets — usually 24 inches for base cabinets and 12 inches for wall cabinets.
An 8-foot-long wall entirely occupied by cabinets equals 8 linear feet. Measure base cabinets and wall cabinets separately and add them together to determine the overall linear footage of cabinets. Prices for similarly sized base and wall cabinets will differ. Base cabinets cost more than wall cabinets due to the greater quantity of materials required for manufacturing.
The countertop material completes the cabinets. You must include the cost of the countertop materials, fabrication and installation when making your total budget calculations.
Labor for kitchen cabinet installation is generally separate from the cost of the cabinet materials. Labor costs can range widely and are based on the contract that you negotiate with the contractor or installer. Labor may run between $50 and $250 per linear foot. If the installer is required to assemble the cabinets, assume that the costs will run toward the upper end. Removing existing cabinets will add to the cost of the project. Labor costs may even be free if you decide to forgo professional help and install your own cabinets instead.
Another standard pricing method is the 10 x 10-foot kitchen mockup. A popular 10 x 10 kitchen layout is the L-shaped cabinet footprint, which lends itself well to this sizing system: one stretch of base cabinets connecting to a shorter stretch of base cabinets. This L shape can contain the sink, dishwasher and a cooktop or an area for a stove. This is an accepted way for consumers to see how different cabinet doors affect the price of the cabinets.
Some online sources simply show a photo of a door style and a quoted price for that style in a typical 10 x 10 kitchen. The cost given is for the cabinets only and does not include the other items. Once you start adding hardware, storage accessories and the like, the final cost is likely to increase over the base quote.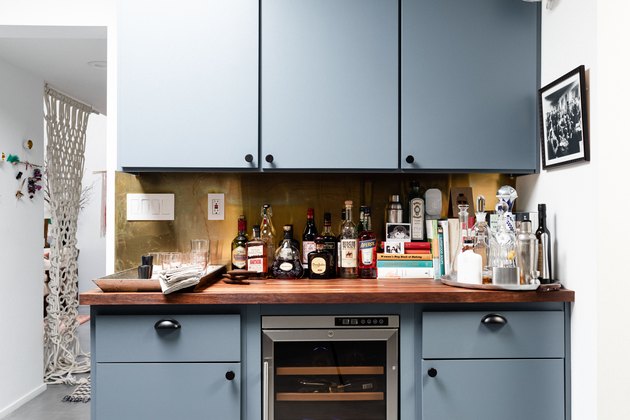 RTA Kitchen Cabinets
Average cost: $120 to $250 per linear foot, installed
RTA, or ready-to-assemble, kitchen cabinets are cabinets that are flat-packed and delivered to you, with you or a contractor putting them together and installing them.
The flat boxes are typically easy to unpack. You or your contractor put the cabinets together on-site before installing them. Cam-lock fasteners join the flat pieces to form the cabinet boxes. Special carpentry skills are not necessary, and cutting is rarely ever required. The tools are few and basic, and often, they are included as part of the cost of the cabinets.
If you have to pay for shipping, freight costs for RTA boxes are usually less expensive than for fully assembled cabinets. Some RTA companies will assemble the cabinets for you prior to shipping. Generally, add another 50 to 100 percent of the cost if you opt to have the RTA company assemble the cabinets. Expect to have your RTA cabinets delivered to you within two to four weeks. If you are shopping at a brick-and-mortar store, you usually take the RTA cabinet boxes with you from in-store stock.
Stock Kitchen Cabinets
Average cost: $150 to $300 per linear foot, installed
Stock cabinets are cabinets that are already assembled in a limited variety of standard sizes, styles and colors. Often, stock cabinets will be found in stock and on the shelves of large home centers. If not found on the shelves, stock cabinets can usually be ordered and delivered fairly quickly due to their popularity and availability.
Few add-ons, special cabinets or amenities are available with stock kitchen cabinets. Stock cabinets tend to be limited to base cabinets and wall cabinets with few if any floor cabinets, blind cabinets, pull-outs and sliders.
Stock cabinets tend to be best suited for smaller or basic kitchens in primary residences. They are also suitable for kitchens in cottages, cabins, apartments or condos or in any situation where strictly controlling the budget is important. Stock kitchen cabinets compete with RTA cabinets for being the lowest-cost type of cabinet for the kitchen.
Semicustom Kitchen Cabinets
Average cost: $300 to $650 per linear foot, installed
Semicustom kitchen cabinets represent the middle ground of kitchen cabinetry. Semicustom kitchen cabinets provide you with the chance to customize or personalize your new kitchen. Once you settle on a cabinet line from a limited number of options, you can pick sizes, door and drawer styles, colors, finishes, hardware and materials. Semicustom cabinets allow you to add extras, such as innovative storage solutions. You can also choose options like roll-out shelves, cabinet lighting, decorative molding and other features that best integrate with the overall kitchen design.
In most cases, semicustom cabinets provide a near-custom look without the higher prices associated with custom cabinets. Your order will be assembled in the manufacturer's factory and shipped to you. Expect a lead time of six to eight weeks for your order to be filled.
Materials are often a major cost driver with semicustom cabinets. As Old House Journal notes, the semicustom category is where you can expect to find cabinets constructed with 1/2-inch-thick cabinet-grade plywood, which is higher quality and has a higher cost than cabinets built of medium-density fiberboard. Thermofoil — a thin cover applied by heat — and laminate veneers are less expensive than wood veneers or solid wood. Plus, basic cabinet styles like Shaker and slab tend to be more cost efficient.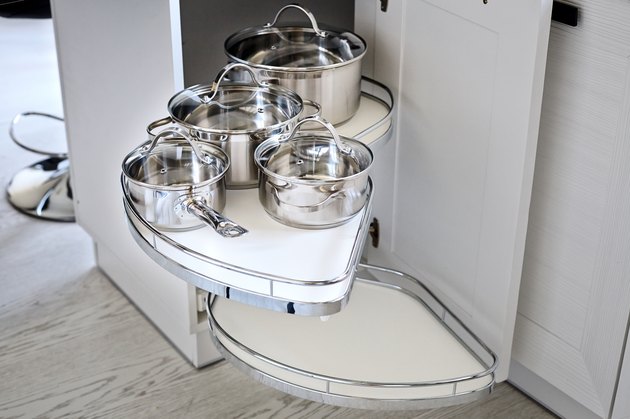 Custom Kitchen Cabinets
Average cost: $500 to $1,400+ per linear foot, installed
As the name implies, these custom cabinets are made to order for you and for the specifications of your particular kitchen space. You'll start from a blank slate and, with the cabinetmaker's help, hand-select every element, including the use of a domestic species of wood like walnut, birch or maple or exotic woods like mahogany. Domestic oak, according to the Wood Database, is one of the most popular species of wood for cabinets because of its low cost, density and easy availability.
Many cabinetmakers are true artisans, but not everyone who sets up a woodworking shop fits that definition. If you decide on a custom kitchen, be sure to see examples of the shop's work and talk to previous clients to determine what it's like to work with the cabinetmaker.
Custom work requires time, so expect to wait at least eight to 10 weeks before the cabinets are ready for installation. In many cases, expect even more time to receive your custom cabinets depending on the cabinetmaker's current workload.
Refaced Kitchen Cabinets
Average cost: $115 to $275 per linear foot, installed
Cabinet refacing is an increasingly popular alternative to outright cabinet replacement. As long as the cabinet boxes are structurally in good shape, refacing can bring the cabinets back to near-new condition. Due to the complexity of the project, cabinet refacing rarely lends itself to DIY work. Instead, cabinet-refacing technicians come to the home and do all of the work in the kitchen or in nearby work areas.
Cabinet refacing encompasses two main aspects: veneering the cabinet boxes while in place and replacing the cabinet doors and drawer fronts. An ultra-thin wood or laminate veneer is glued to the outside of the cabinet boxes on the sides and on the front. Usually, the insides of the cabinets are not included in the veneering process.
Doors are removed and replaced with new doors. Sometimes, in the case of slab cabinet doors, the doors can be veneered as well. Drawer fronts too are removed and replaced. Once veneering is complete and doors and drawer fronts have been replaced, new door and drawer pulls and other fixtures are added.
Cabinet refacing is an option only when the cabinets are already in good working order. For wall cabinets, the boxes must be solid and soundly attached to the wall, with straight, unbowed shelves. Base cabinets should be sturdy. If the cabinets have ever experienced water damage, they may not be good candidates for refacing.
Cabinet refacing is considered an eco-friendly option since fewer materials are sent to the landfill than with cabinet replacement. One way to shave costs for cabinet refacing is to use laminate veneer instead of real wood veneer and to reuse any desirable cabinet fixtures.
---
Lee Wallender is a home improvement expert with 20 years of hands-on home remodeling, fixing, and improvement experience, and over 13 years of experience at providing advice about home-related topics.
View Work