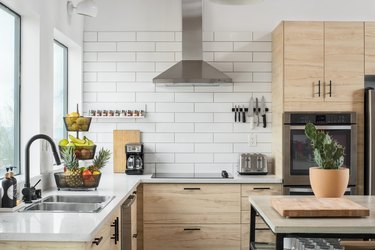 If your kitchen cabinets are due for an upgrade or if you're looking into a kitchen remodel, RTA cabinets may be a good option to explore. Also known as ready-to-assemble cabinets, these items make kitchen-cabinet assembly easy for anyone looking for a DIY project to tackle. Easy to order online and more affordable to ship than preassembled options, RTA cabinets can be a great, cost-effective way for the average homeowner to update their kitchen.
To make the process of installing RTA kitchen cabinets as easy as possible, you'll need to know the items for which to shop, where to shop, how to assemble your cabinets and whether you should reach out to a professional when it's time to install them.
RTA cabinets are cabinets that are sold as a set of unassembled parts to be put together once they arrive at their destination. These types of cabinets are sold with cabinet pieces stacked on top of each other and are shipped or sold in flat packages, which often makes them less expensive to ship than preassembled cabinet options.
The most appealing thing about RTA cabinets to most consumers is that they are, as the name suggests, ready to assemble right out of the box. Parts like cabinet doors, hinges, handles and screws are all included, so the buyer just follows the directions and puts the pieces together. Most RTA kitchen cabinets can be made using common household tools, like a screwdriver, a rubber mallet and some wood glue.
The other type of kitchen cabinets that can be purchased online and mailed to your home are called assembled cabinets or preassembled cabinets. Unlike RTA cabinets, which require assembly by the buyer, these cabinets are already assembled, which saves the buyer from extra work since they are ready to fit into place.
Because they are assembled by the manufacturer, they often come certified or with a warranty. However, because assembled cabinets are already made, they are much larger, which will make shipping more expensive on top of the already-higher price point compared to RTA cabinets.
How to Order RTA Cabinets
If you're looking to assemble and install your own RTA cabinets, you can either look to a home-improvement retailer like IKEA or The Home Depot or you can search for purchasing options online. Sites like the RTA Store, RTA Cabinet Store, Wholesale Cabinets and Best Online Cabinets are a few examples of websites that offer a variety of styles from which to choose, covering a wide range of price-point options.
These sites make shopping easy by breaking down search criteria by the cabinet style (shaker cabinets, raised panel or recessed panel, to name a few), kitchen cabinet color and budget, with every part you need. If you're looking to renovate the look and layout of your kitchen, you can also find help with design ideas, including tips for properly measuring your kitchen, which will help you find the best cabinets for your space and lifestyle.
When ordering your cabinets, you may be tempted to save money by entertaining the possibility of low-end varieties, but if you want your cabinets to last, superior materials are necessary, and these come at a higher price point. Less-expensive RTA cabinets are made from materials like particleboard, while more-expensive materials include solid woods like walnut and ash.
On average, the low end of a basic, full new kitchen setup can cost around $1,100, while the higher prices can creep up toward $3,200, with prices fluctuating based on the type of wood used, the finish applied to the cabinets and whether the doors and frames are styled with specific additions, like raised-center paneling. Additionally, a total kitchen overhaul may benefit from a professional team to help with installation, which will add to your overall costs as well.
RTA Cabinetry Pros and Cons
Like anything in life, there are good and bad things about RTA cabinets, so it's important to consider all of these factors to see if assembling your own cabinets is the best choice for you. One great thing about RTA cabinets is that they allow homeowners to design their own kitchens for a fraction of what it would cost to use preassembled cabinets or to have custom cabinets created for their own space.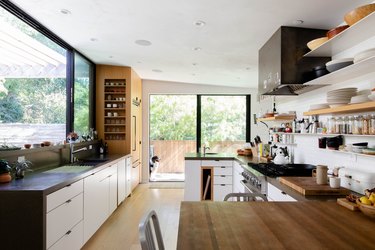 Additionally, assembly is easy for average homeowners to pull off regardless of their home-improvement skill level and requires just a handful of tools. Because RTA cabinets come with everything you need to assemble a working kitchen cabinet, like hinges and handles, many people prefer to go this route since it can save them from investing time in shopping for such things at a hardware store, as all pieces are guaranteed to fit.
On the other hand, RTA cabinets do come with their fair share of downsides, including durability. Because these cabinets are assembled at home by the consumer, they may not hold up as well as professionally assembled cabinets would over time, especially if you opt for a less-expensive model.
Additionally, because these cabinets aren't customized for your home exactly, it may be hard to find the perfect-size cabinets for your kitchen, according to Old House Journal. RTA cabinets do not come with a manufacturer's warranty, and finding replacement parts can be a hassle, especially if you purchased your cabinets from an online retailer.
RTA Cabinet Assembly and Installation
Assembling RTA cabinets is not a daunting task for most people. After all, the convenience of assembly is the point of this type of cabinet. Your specific model should come with instructions, either via a link to a video, written step-by-step instructions or both. RTA cabinets come with all the parts you need, including hinges and screws, along with holes drilled exactly where these parts should be attached. For more-expensive cabinets made from stronger materials, specialty fasteners like confirmat screws may help with the longevity of your new kitchen.
To install cabinets on your own, you will need to screw a suspension rail into your wall studs, starting with your corners and working your way out. Wall strips should be installed to support your cabinet pieces, and each piece should be caulked before cornice and molding is added.
While the assembly of ready-to-assemble kitchen cabinets can be done by most homeowners, installation may be best left for professionals in some cases, especially if you have a big project on your hands.