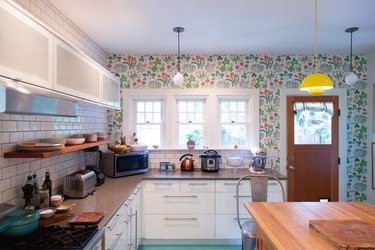 If you are looking to update your kitchen, replacing your old cabinets with semicustom cabinets can be a great option. More affordable than custom cabinets, semicustom cabinets are available in a wide range of sizes and styles with room to add the additional details that make a kitchen special. Semicustom cabinets that are on the mid to high end of the pricing and quality spectrum can not only make living and cooking easier for you but can also add value to your home.
What Are Semicustom Cabinets?
Semicustom cabinets are prefabricated stock cabinets that allow for additional detail options by the buyer. These cabinet types are popular because they offer a wider selection and more variety in terms of size, finish and style than stock and ready-to-assemble cabinets.
While they don't afford the same level of specific customization as custom-built cabinets, which are designed and fitted for your exact needs, semicustom cabinets will save you some money when compared to custom designs. According to Home Advisor, semicustom options cost $150 to $650 per linear foot compared to the $500 to $1,200 price tag that comes with custom cabinets. Semicustom cabinets are a great option for those who are looking to reface their existing cabinets, those who are building on a budget or those who are looking to only add cabinets and not redesign their kitchen layout.
Semicustom cabinets do come with their own set of drawbacks, including the amount of time that it takes to receive them from the time you place your order. On average, semicustom cabinets take somewhere between four and eight weeks to arrive. Stock and ready-to-assemble cabinets may be available the same day or could be ready in as little as one to two weeks, but semicustom cabinets can still be finished before full-custom varieties, which can take six to 10 weeks or more to be delivered.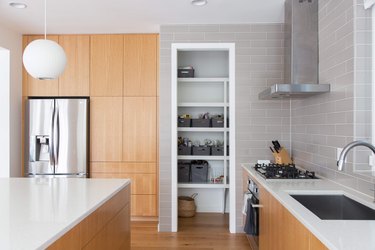 Additionally, despite being semicustom, you may still need to compromise on your vision a little because these cabinets are still stock cabinets, which means certain sizes, materials and finishes may not be available unless you go fully custom.
Types of Semicustom Cabinets
According to Old House Journal, semicustom cabinets can be lumped into two categories: semicustom for the mass market and semicustom for a premium market. Mass-market-type cabinets are more affordable than premium cabinets, although the sizes in which they come are more limited, measuring between 9 and 48 inches in increments of 3 inches (meaning 9 inches, 12 inches, 15 inches and so on). Premium cabinets do cost more since they are made from higher-quality materials (plywood over particleboard) and will not require the possibility of fillers like market cabinets will, as they are offered in increments as low as 1/4 inch, which means less space in between.
Before you buy semicustom cabinets, it is important to understand the various style and size options as well as the types of materials used to create different cabinets. The low end of the cost spectrum will use a material called medium-density fiberboard, or MDF, which is simply particleboard with a veneer applied on top and is also from what many stock cabinets are made. High-end semicustom cabinets are often comprised of a combination of solid wood and plywood, with most structural supports and sometimes cabinet faces made from solid wood, while boxes, doors and drawers are often made from plywood with wood veneers.
Finishes for semicustom cabinets include wood veneer, laminate and acrylic. Wood veneer is composed of thin strips of wood adhered to particleboard or plywood, and it makes a great low-cost alternative to real-wood cabinets, costing only $2,000 to $15,000 depending on the size of the job compared to the $5,000 to $25,000 price of solid wood.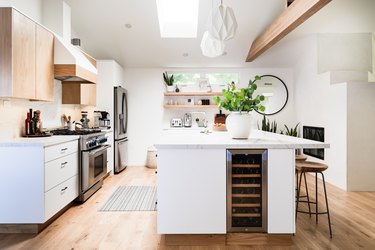 Laminate is a synthetic material that is applied over particleboard and then finished with either a low- or high-pressure treatment. It costs between $4,000 and $15,000. Acrylic finishes are high-gloss and hard to the touch and can be applied to very inexpensive materials like MDF. It costs $5,000 to $20,000 to finish, although many people opt to finish high-end materials like solid wood with acrylic.
How to Shop
The first thing you will need to consider is the type of cabinets you wish to install in your kitchen. Cabinets are designed as two types, framed or frameless, the latter of which will cost you on average about 15 percent more than the former.
Then, think about the elements of your cabinets that you wish to have customized, like adding roll-out inset drawers, adding or reducing the depth or resizing the door fronts. From there, finding your semicustom cabinet retailer will be your final step. Semicustom cabinets can be purchased from home-improvement chain stores, local designers or online.
Working with a brick-and-mortar retailer will allow you to speak with a professional in person and to look at various cabinet options you may be considering. Big-box chain retailers like Lowe's and Home Depot offer a hands-on shopping experience at a cost that is lower than working with an independent retailer.
Choosing to enlist the help of a local retailer, however, will often offer you a more personal experience and may make the kitchen-design process a bit easier than if you were to work with a national chain or opt to look online. Shopping for semicustom cabinets online can, however, be done with a simple search, and with several online retailers from which to choose, you will have far more pricing options to consider and will likely find the most-affordable cabinets of all the retail types.