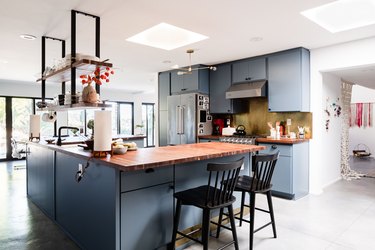 When it comes to kitchen design and remodeling, the elements of style and color are essential, but they are not nearly as critical as kitchen cabinet size. If you don't get cabinet dimensions right, you'll end up with pieces that will not only be nonfunctional but also look overwhelming or too small in the room. Knowing your size and grade options can make your kitchen remodeling project a successful one.
Tip
When picking out ready-to-assemble, stock or semicustom cabinets, you'll choose from a list of standard dimensions for the three basic types.
Types of Kitchen Cabinet Grades
There are four cabinet grades available: ready to assemble, stock, semicustom and custom. Three of the four grades come in standard sizes, while custom cabinets have no size limits since homeowners can have them built to their specifications. The grade of the cabinets you choose will ultimately depend on your budget and how you will use the kitchen itself.
Ready-to-assemble (RTA) kitchen cabinets: Big-box retailers sell cabinets that you can take home and assemble yourself. RTA cabinets come in fixed sizes and can be purchased in easy-to-carry, flat packaging. They are inexpensive but can also be less durable and less long-lasting than those bought from a manufacturer.

Stock cabinets: This type of cabinet comes in a wide range of materials but with fixed sizes. Stock cabinets allow for no customization, as they are premade and come ready to ship from the manufacturer. They are a step up in price from RTA cabinets but are still relatively inexpensive and can come in modular units.

Semicustom kitchen cabinets: This grade of cabinetry offers a more extensive choice of finishes and wood types and offers modifications, like custom doors or shelving. They are the best of all worlds when it comes to cabinetry. While standard sizes still apply, homeowners can change some dimensions in cabinet drawers, door fronts and overall cabinet depth.

Custom cabinets: Made-to-order custom cabinets allow consumers to dictate their preferred styles, sizes, materials and construction based on their needs and budget. Custom cabinets are the most expensive of the grades.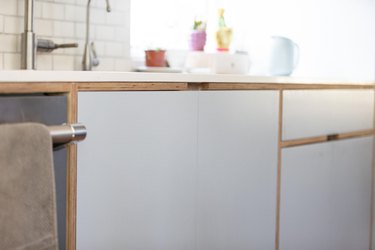 You can do without any other cabinets, but base kitchen cabinets are a necessity in the kitchen. Affixed to the kitchen floor, they hold countertops, cooktops and have sinks installed over them. They can have single or double doors and can store larger kitchen items like pots and pans, mixers and food processors. Base cabinets stand on a recessed riser, also known as a toe kick, located at the bottom of the cabinet box.
Base cabinets don't vary much in height — they are 34.5 inches without countertops. With the counter added, they are 35 to 36 inches. Some custom cabinets can be as low as 32 inches or as high as 38 inches. Base cabinet sizes vary in width; their width can span anywhere from 9 to 46 inches, often in increments of 3 inches, according to use.
For baking pans, spices, rolling racks and pull-outs: 9 to 24 inches

For sinks with a single basin: 30 inches

For sinks with a double basin and offset sinks: 33 inches. Double-basin cabinets can also be 36 inches.

For a lazy Susan or extra-large cabinet: 42 inches
Their depth without a countertop is 24 inches from the outer edge of the cabinets to the wall. With an affixed counter hanging slightly over the cabinet, its depth is 25 to 26 inches.
Used for storing food and small kitchenware such as dishes, cups and glasses, these cabinets attach to the wall at eye level and fit between the counter and the ceiling. Wall cabinets come in standard heights of 12, 15, 18, 24, 30, 36 and 42 inches. Cabinets that are only 12 inches high fit above a refrigerator.
The width of a wall cabinet varies from 12 to 36 inches and comes in increments of 3 inches. Upper cabinets can also have single or double doors. The standard depth for kitchen wall cabinets is 12 inches, but they can be as deep as 24 inches to match appliance depths, such as with over-the-fridge cabinets or units with built-in ovens. In any case, the depth of wall cabinets does not exceed that of the base cabinets.
Used to store pantry and cleaning supplies, tall cabinets or pantry cabinets extend from the floor to the ceiling (or near the ceiling) and typically come in heights of 84, 90 and 96 inches. An 84-inch-tall cabinet will allow for a foot of space between the top of the cabinet and the ceiling, assuming a standard 8-foot ceiling.
You can use this space for displaying decorative accents or for storing large kitchen items like roasting pans and lobster pots. Tall cabinets come in 18-, 24- and 30-inch widths, with 24 inches the most popular size. Their depth is usually 24 inches, but they can also come with a depth of 12 inches for tighter spaces.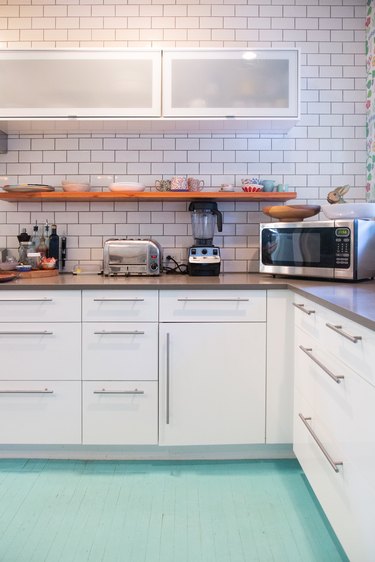 How to Choose Kitchen-Cabinet Sizes
According to Old House Journal, Consumer Reports estimates that 40 percent of a kitchen-remodeling budget will go toward new cabinets. Careful planning according to your preferred style, the size and shape of the room and how you use your kitchen will help keep costs in check and prevent mistakes when purchasing cabinets. They are the centerpiece of the kitchen and set the ambiance of the room, so you'll want to make sure you pick cabinets that aren't too small or, conversely, too overwhelming.
You can design your new kitchen yourself with some knowledge of cabinetry and easy-to-use planning software available online. The software you use to lay out your kitchen will allow you to resize items, change cabinet finishes, save multiple designs and preview your work. It will also give you the option of taking 3D snapshots and walkthroughs or give you a 360-degree view of your kitchen so you can get a feel for how your cabinets will look and function before you purchase materials or attempt installation.
Retailers like IKEA, Home Depot and Lowe's also have proprietary software online and in stores that works in a similar way. If you have any questions while using these apps, you can consult with one of their design professionals to make sure that your kitchen cabinets are the right size.