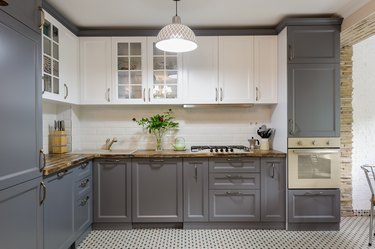 Tired of looking at your old kitchen cabinets but rather not completely replace them? Consider refacing. When you reface kitchen cabinets, you replace the exterior, but the cabinets remain intact. The result is cabinets that look brand new.
Refacing your kitchen cabinets involves covering the exterior with a thin veneer of plastic laminate or real wood. During the procedure, it's also common to add to the new look by replacing hinges, pulls and knobs. Compared to the cost of kitchen cabinets installed, refacing can be an economical solution.
Benefits of Refacing Kitchen Cabinets
From the economical to the aesthetics, a wide variety of benefits exist for refacing kitchen cabinets. And there are a few top reasons to consider when choosing between refacing and replacing.
First, refacing allows you to quickly and easily update the look of your cabinets and kitchen. You are able to choose from a wide variety of refacing options that can boost the aesthetic of the room without requiring a lot of back-breaking work.
Second, refacing can save you a ton of money, as the cost to reface is one-third to one-half the cost of replacement. It also takes much less time to complete refacing than a cabinet renovation. Generally, the process takes three to five days, depending on the number of kitchen cabinets.
There is much less mess and hassle when you don't have to remove the entire cabinets. And your kitchen will be accessible and useable during the refacing process.
Plus, the process fixes damage to the old cabinets, such as peeling, nicks, dents and stains. This means refacing is also an eco-friendly way to remodel your kitchen that results in less materials going to the landfill.
The options are nearly limitless when it comes to refacing your kitchen cabinets. You'll find veneers available in wood and plastic laminate in a wide variety of styles that can make your kitchen appear up-to-date.
In wood veneer, you can choose from many standard wood species, including oak, maple and cherry. They also come in a different stain colors, from dark tones to white washes.
Wood veneer is the most expensive option when it comes to cabinet facing costs, as the veneer and materials are more costly. The wood must also be properly sealed to protect it from moisture.
Plastic laminate is less expensive than wood. It is also naturally water resistant and doesn't require sealing like wood.
The options for plastic laminates also come in hundreds of colors and patterns. The wide variety of patterns and colors in plastic laminates allow you to mix and match, and create just about any kind of design scheme you desire for your kitchen.
When you have your cabinets refaced or do it yourself, there are various steps to the process.
First, the doors are removed from the cabinets. If the surface of the doors are in fairly good shape, they are cleaned and sanded. This includes thoroughly washing them to remove debris, including grease and dirt, and then lightly sanding the surface. This step is essential, as dirty doors will not effectively hold the new veneer. Cleaning and sanding help the veneer attach securely.
Flaws are corrected during this first step. Any nicks or dents in the cabinets are fixed at this time. If they are small, they are sanded out. Larger imperfections are fixed with wood filler.
If the finish of the doors is in really bad shape, plywood must be attached to the surface before the veneer can be effectively attached. To do this, the cabinet fronts must be measured, then the plywood cut to fit. The plywood is glued onto the surface of the cabinets. Once that is dry, laminate or wood veneer is then attached to the plywood.
The final step to the refacing process is installing new hinges, latches and knobs and reattaching the doors.
Are Your Cabinets Good Candidates for Refacing?
Most cabinets can be refaced, but not all cabinets are good candidates for refacing. Cabinets that do well with refacing are structurally sound, as well as in good condition and working order. If the cabinets have water damage, are warped or have broken frames, it may be a better option to replace them, rather than reface them. If the doors are the only part of the cabinets that are in bad condition, you might want to replace kitchen cabinet doors only.
If you hire a kitchen cabinet refacing company to reface your cabinets, they will also generally reinforce your kitchen cabinets during the work and ensure that the doors open and close properly. So, if there are minor problems with some of your cabinets not opening and closing well, this is an issue that can be resolved during refacing process.
When considering if your kitchen cabinets are good candidates for refacing, also think about whether you are happy with the layout of your kitchen. If not, replacing the cabinets may be a better option, so that you can reconfigure the kitchen design.
Determining Cabinet Refacing Costs
According to HomeAdvisor, most homeowners spend approximately $4,000 to $9,000 on kitchen cabinet refacing, which is 30 percent to 50 percent less than replacing kitchen cabinets. In comparison, replacing kitchen cabinets costs as much as $18,000, on average. Custom installations on the high-end can reach $24,000 or more.
Refinishing kitchen cabinets is the least expensive option, running $1,500 to $4,000. This process involves simply sanding and painting the exterior of the cabinets.
If you decide to install new hardware on the kitchen cabinets during refacing, doing so will add another $2 to $4 per each knob, pull and hinge on the low end, and $20 to $50 each for high-end hardware.
To discover how much kitchen cabinet refacing might cost you, consult a custom cabinet cost estimator on a site like HomeAdvisor.
Factors Affecting Cabinet Refacing Costs
The price can vary widely for kitchen cabinet refacing because there are so many potential options in terms of materials, colors and workmanship. For example, if you choose wood veneer, you can expect to pay substantially more than if you choose to use laminate. The costliest woods are cherry, maple and oak. Before choosing a wood type, check to see that it is the ideal type for your desired design and color scheme.
The size and number of your cabinets will affect the price of your cabinet refacing. The larger the cabinets or the more unusual their dimensions, the higher the cabinet refacing cost per cabinet.
How much hardware you choose to add to the cabinets and the cost per unit will also dictate cabinet refacing costs. The more drawer pulls, knobs and hinges that are attached, the longer the project will also take. Any last-minute changes and the resulting labor will also affect the average cost of replacing kitchen cabinets.