Changing out your kitchen cabinets can dramatically alter the look of your kitchen, breathing new life into a drab or outdated space. Unfortunately, new kitchen cabinets also come at a high cost, putting them out of reach for homeowners on a budget. When you're ready to update your kitchen, consider refacing cabinets instead of replacing them. Refacing not only takes less time, but also costs about half as much as buying new cabinets, according to the National Kitchen and Bath Association.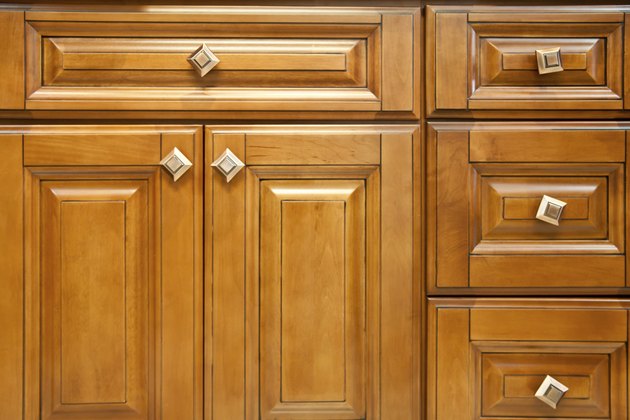 credit:
JaysonPhotography/iStock/Getty Images
Refacing involves removing and replacing the thin veneer, or skin, on the outside of the cabinet. Don't confuse this process with refinishing, where wood is stripped, sanded and repainted or stained. Refacing actually removes the entire outer layer of the cabinet in its entirety, so the replacement material is actually brand new. Most refacing jobs also include new doors and drawer fronts, though it may be possible to simply reface these elements too, depending on their design. A typical refacing project also includes new pulls and handles to finish the job.
While the average refacing job costs between $4,000 and $5,000, according to a 2012 report by Cabinet Inventions, the price of cabinet refacing varies significantly based on the type of material you choose. Expect to pay between $1,000 and $3,000 to reface cabinets with laminate in a standard 10 by 12 kitchen as of 2014, according to the National Association of Realtors. The same kitchen costs between $2,500 and $6,000 to reface with real wood veneer, while larger projects or those using exotic wood can easily run from $7,000 to $9,000.
Homeowners have three basic options to choose from when replacing cabinets. Thermofoil, which consists of a hard plastic coating over a layer of fiberboard, generally costs the least of the three, but this material is vulnerable to heat damage from ovens and other sources. Laminate represents a mid-range option, with plenty of color and finish options, while real wood veneer is the most expensive of the three. When nothing but wood will do, you can cut costs by choosing more affordable species of wood such as oak or ash instead of expensive ones such as maple or cherry, according to Cabinet Inventions.
If your cabinets are made of solid wood, you can save money by refinishing rather than replacing. This process involves removing old finishes, sanding the wood smooth, then adding new stain or paint, and costs about half as much as refacing, according to the Oskar Painting Company. If your cabinets are simply not in good condition, your only option may be a total replacement, which starts at around $4,000 for stock cabinets and runs to $20,000 or higher for custom units, according to the National Association of Realtors.