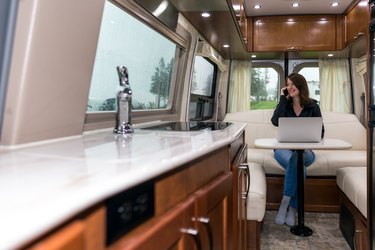 If you live in a mobile home, your kitchen cabinets are likely made of medium-density fiberboard. Depending on the coating used for these cabinets, you may be able to refinish them in a variety of ways. Some prefer the look of colorful, painted cabinets, while others like dark wooden looks. There are a number of possibilities with fiberboard cabinets, so the sky truly is the limit.
What Is Medium-Density Fiberboard?
Medium-density fiberboard is created when you press the scrap from real wood together with binding agents, according to Mobile Home Living. Typically, this material is then coated to make it look more like wood. In addition, this coating helps with protecting the cabinets from water. In your kitchen, such protection is necessary.
The coating on your mobile home kitchen cabinets can be made of textured paper, laminate, thermofoil made of vinyl or a true wood veneer. Once you determine the precise type of coating on your cabinets, you can decide how best to refinish them.
Note, however, that medium-density fiberboard can be damaged if you sand too much. If the cabinets have a coating that is shiny and smooth, light sanding can help to create a rough grit on the surface that will help the primer, paint or finish stick. Don't do much more than rough it up a bit, however, to avoid getting too far down below the fiberboard's coating.
Start With Prep Work
No matter how you plan to refinish your cabinets, you should begin the process by removing them from the wall, if possible, to keep your kitchen neat, clean and usable. Remove any hardware, like handles and hinges, to keep them unmarked.
Lay down newspaper or a drop cloth in your workspace. Be sure to wear clothes that can get messy. If you will be sanding, protective eyewear is a good idea. Be sure your area is well-ventilated, as well.
Sanding Fiberboard Cabinets
The next step in mobile home kitchen cabinet refacing is to use sandpaper or a power sander to remove any rough spots from the doors. Over time, minor damage might have occurred that left blemishes on your cabinets. You can try to repair these with patch kits or spackle.
When you have finished sanding the cabinet doors, you will want to wash them to remove any residue. Use a warm, damp cloth to wipe the doors. Once they have dried, run a microfiber cloth like you'd use for dusting over the surfaces one more time to ensure they are dust-free.
It's important that cabinet doors be fully clean and dry before you begin refinishing them. Any type of finish or paint will stick best to freshly sanded wood and fiberboard, and it will also pick up specks of dirt or dust that have been left behind. This could leave behind an imperfect or bumpy surface.
Priming Mobile Home Cabinet Doors
Since fiberboard is a bit rougher than most veneered wood, it's best to prime the doors before you add a final coat of paint or varnish. An oil-based primer might work best, particularly if you are working with a fiberboard that has a shiny coating. Oil-based primers cling to surfaces like this exceptionally well. Note, however, that they have a very strong smell and include many harsh chemicals, so good ventilation is a must.
Painting and Varnishing Cabinets
The final step is painting or varnishing your double-wide kitchen cabinets. Stand cabinets up against a wall, if possible, but make sure all surfaces that might come into contact with paint or varnish are covered by newspapers or drop cloths. Use a medium-sized paintbrush to apply your choice of paint or varnish to the cabinets.
Once the cabinets have been given adequate time to dry, decide whether you think another coat of paint or varnish will be needed. Examine the doors in daylight and at night under artificial lighting so you can be sure the coverage is as you'd like it before reattaching the doors in your kitchen.