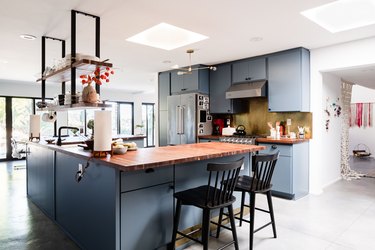 Kitchen makeovers can get expensive in a hurry, but they don't have to. One way you can keep renovation costs down is to opt for stock cabinets. Long gone are the days when "stock" was a synonym for cheap or poorly made — today's high-quality stock cabinets are readily available, reasonably priced and quite attractive.
Another benefit of stock cabinets is that you can see them and touch them before you buy so you know exactly what you're going to get. With custom or semicustom cabinetry, a designer can show you a virtual rendering of your custom cabinets and give you samples of the material, but you won't know exactly what you're getting until your cabinets arrive. Even if you ultimately pick another direction, it's always smart to consider stock cabinets and the savings they can provide.
What Are Stock Cabinets?
When choosing new kitchen cabinets, you'll have stock, semicustom and custom cabinets from which to choose. The term "stock cabinet" simply refers to a kitchen cabinet that is mass produced and readily available. You can buy stock cabinets at any chain hardware store, including Lowe's or Home Depot. You can also purchase them on Costco's website. If you order these cabinets, you'll get the exact same cabinets you saw in the store's showroom or on the website, and they are the same cabinets that hang in countless other kitchens across the country.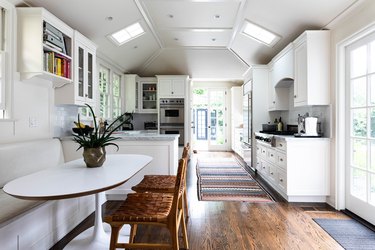 Custom cabinets, on the other hand, are exactly what they sound like. After taking careful measurements of your kitchen and discussing your needs with you, a custom cabinet maker will design and build cabinets that perfectly fit your space, style and desired specifications. You'll choose the cabinet material, finish, size, shelf height — literally every property of the cabinets is yours to choose. Custom cabinets look beautiful when done well but are the most expensive cabinet choice. You'll never find them in someone else's kitchen, however, as they're completely unique.
Those looking for a middle-of-the-road solution sometimes choose semicustom cabinets. These cabinets are essentially stock cabinets with a handful of options. You may, for example, get to choose between two different cabinet depths or decide whether you want a light stain or a dark one. These cabinets aren't fully customizable, but they do offer more choices than stock kitchen cabinets.
Price Versus Quality
When it comes to cost, stock cabinets are the least-expensive choice and can help keep your renovation budget from ballooning out of control. According to Home Advisor, the cost of stock cabinets in 2019 ranges from $60 to $100 per linear foot. Semicustom and custom cabinets cost $100 to $650 per linear foot and $500 to $1,200 per linear foot, respectively. Given this price difference, many homeowners think of stock, semicustom and custom cabinets in terms of low, medium and high quality. This isn't the case, however.
Although mass-produced stock cabinets will never match the quality of those that are hand built by a dedicated craftsman, there are lots of nicely made stock kitchen cabinets to be had. To find them, look for cabinets that bear a certification from the Kitchen Cabinet Manufacturers Association (KCMA). The KCMA tests cabinets to see how well they tolerate high humidity, extreme temperature changes and exposure to common kitchen substances like coffee, vinegar and ketchup. They certify only those cabinets that pass their durability tests.
You can also gauge cabinet quality by looking at the cabinet itself. High-quality cabinetry is made from thicker wood than low-quality cabinets and has much thicker and longer corner supports. Quality cabinets are made from real wood rather than particleboard or medium-density fiberboard and often feature dovetail joints. Look for multiple adjustable shelves held in place by substantial hardware built to last and check to see that the cabinet doors close smoothly and stay closed rather than gapping.
What to Expect
According to Home Art Tile Kitchen & Bath, stock cabinets come in predetermined sizes ranging from 12- to 60-inches wide and 30- to 36-inches high. You can mix and match different sizes to find the combination of cabinets that fits your kitchen best, but you will likely have to deal with some dead space and may need to modify your plans slightly. Custom cabinets are made to fit around windows, appliances and other obstacles, but stock cabinets are not. Placing stock cabinets is similar to playing a game of Tetris.
Before purchasing stock cabinets, find out if they come preassembled (ready to install) or are ready to assemble (RTA). RTA cabinets are shipped flat in a box (or you pick them up at the store) with all of the pieces and hardware you need to assemble them yourself. (Think IKEA.) RTA cabinets are the least-expensive option. If you're handy, putting the cabinets together yourself can save you quite a bit of money on your kitchen remodel. It does add time to the project, however.
When shopping for stock cabinets, understand that you may need to prioritize your wish list. What you see in the showroom is what you get. A cabinet store may, for instance, may have a cabinet with the Shaker-style cabinet door you love but not in the stain color you want. You'll need to decide which characteristic is more important to you. You may have to make some compromises along the way.
To Finish or Not to Finish
If you're remodeling on a tight budget, opting for stock cabinets will save you money. You can save even more by opting for unfinished stock cabinets. Shipped as raw wood without paint or wood stain, unfinished stock cabinets cost 20 to 30 percent less than finished cabinets, according to the Cabinet Joint. In addition to saving you money, unfinished cabinets allow you to choose a paint or stain that closely matches your desired backsplash, countertops or other elements of your kitchen design.
This can help you personalize the space and get the look you want, but it adds time and labor to your project. You'll have to sand all of your cabinets and then wipe them down to remove the sanding dust before you paint or stain them. Once you've finished staining or painting your cabinets, remember that you may have to do it all again if the product you use requires more than one coat. You may also need to apply a protective clear coat to your finished project.
Before buying unfinished cabinets, have an honest conversation with yourself about whether or not you have the time and motivation to finish every cabinet door and drawer front in your new kitchen. Consider too whether living with an unfinished kitchen until you're done will drive you crazy.