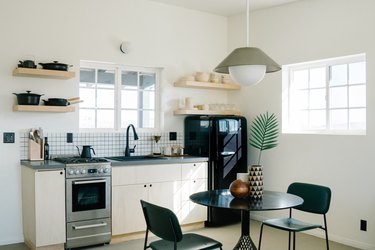 When it comes to kitchen spaces, the prices can add up quickly. One of the major costs: your kitchen cabinets, aka the most essential part of your layout when it comes to storing dishes, cleaning supplies, kitchen towels ... you name it. If the idea of investing in kitchen cabinets scares you, we're here to tell you that there are some options for cheap kitchen cabinets.
Stock (or in stock) cabinets come fully assembled and are the most affordable options. However, they only come in certain styles and sizes. If you want something more tailored to your space, you'll have to go for semi-custom or custom cabinets, which will increase the price.
The materials that go into your cabinets also make a difference when it comes to cost. Particle board, plywood, and medium density fiberboard, for example, tend to be used for models on the more affordable side. Wood veneers and laminates mimic the look of real wood.
Here's a quick look at some cheap kitchen cabinet ideas and what you need to know before you starting shopping.
Pros of Cheap Kitchen Cabinets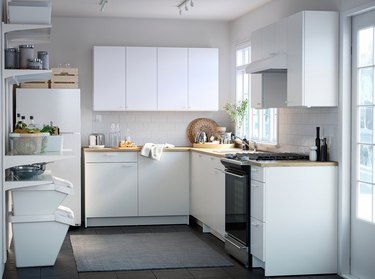 While stock kitchen cabinets only come in a few styles, you can actually find a pretty good range considering the price. You can even choose from different door styles, to make sure that it fits into your home's overall aesthetic. You can also find unfinished stock cabinets, which you can then paint at home. Stock cabinets are also usually available for you to take home that same day.
You can find kitchen cabinets at major retailers like Home Depot, Lowe's, and IKEA. Prices range depending on which cabinets you are looking for (wall cabinets, base cabinets, etc). But generally speaking, pieces from retailers like these range from around $63-$233 for a base cabinet depending on whether you want finished or unfinished, and how many doors you choose. Wall kitchen cabinets can range from $99-$164. These prices can of course differ based on inventory and sales. IKEA cabinets aren't already pre-assembled but they're similar to stock cabinets in that they are ready to take home that same day and they use similar materials.
Cons of Cheap Kitchen Cabinets
Because of the materials used in more affordable kitchen cabinets, you'll need to be careful with wear and tear. Dents and scratches can happen more easily in these models than others. You'll also need to get creative with storage, since not all stock cabinet come with amenities like pull-out drawers and baskets. The same goes for hardware, which might not come included. Stock cabinets also come in standard sizes, as we mentioned, so you'll need to be absolutely sure they're a good fit for your home.
Cheap Kitchen Cabinet Ideas
1. Pair white cabinets with natural materials and minimal decor.
Use white hardware and a minimal color palette for a chic look. We love the idea of using a base cabinet with doors and one drawer for more storage possibilities. You can choose what to use inside to keep your space clutter-free, such as flatware trays and baskets. This type of base cabinet goes for around $130 and is good for smaller kitchens.
2. Mix and match cabinet and appliance colors.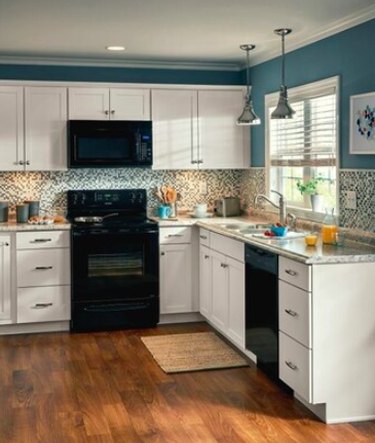 Don't like the uniform look so much? This space mixes white kitchen cabinets with black appliances to add some variation. The white sink base cabinet pictured here retails for around $140.
3. Combine neutral cabinets with open shelving and natural materials.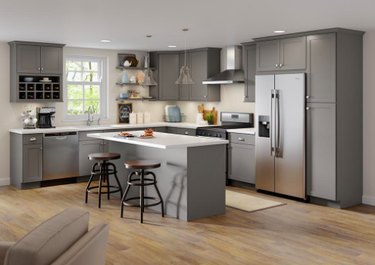 If you're a fan of darker neutrals, opt for a gray hue when it comes to cabinets. Pair with open shelving to show off your best dinnerware and natural materials to round out the look. This gray blind wall corner cabinet retails for $150.
4. Add your own cabinet fronts and experiment with organization.
Kelin of Hydrangea Treehouse decided to go with IKEA Sektion cabinet kitchen system and add a few customizations. If it's in your budget, you can go with another option for your cabinet fronts; Kelin decided to go the DIY route. You can also switch up the organization by adding features like this Maximera drawer or pull-out fixture. Sektion cabinet parts start around $30 and get up to $464 for a high cabinet, with three-drawer base cabinets at $100.