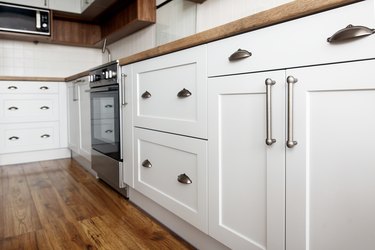 Installing a lazy Susan cabinet in your kitchen will provide easy access to some hard-to-reach items by optimizing corner base cabinet space. If you're not skilled in cabinetmaking or assembling precut pieces of cabinetry, choose a lazy Susan cabinet from Home Depot that comes preassembled, such as the Hampton Bay brand. And you don't have to worry about staining or painting this cabinet, because you can choose among prefinished colors, including classic white and cognac, and prestained finishes, including oak and hickory.
Installing a Lazy Susan Cabinet
Different brands of lazy Susan base cabinets will have slightly different instructions for installation. Refer to the lazy Susan installation manual that corresponds to the specific brand and model that you choose for your kitchen to make sure you properly install it. There are, however, some general installation steps and tips that can help you with your project.
Adjusting the Door
Before actually installing corner base cabinets, it's important to adjust the doors. Start by removing the shipping pin that holds the revolving mechanism of a lazy Susan in place. Using a pair of pliers, rotate the door until you can reach into the cabinet and snip off the pin, which is located near the top of the center pole.
Rotate the Lazy Susan attached to the cabinet door to see if it easily clears the cabinet base. If it doesn't, turn the height adjustment screw that's located near the bottom of the center pole. By turning the screw to the right, you can raise the door; by turning the screw to the left, you can lower the door.
Selecting the Proper Hardware
Before mounting any cabinets, make sure that you have the correct hardware based on your wall type. Locate all wall studs so that you know where to use certain types of hardware. Use round-head or pan-head screws and seat washers and firmly affix screws to the back wall.
When securing cabinets to wall studs, use 3-inch #10 screws; when securing to drywall, use toggle bolts; and when securing to concrete, first drill 1/4-inch holes and then insert #10 wall anchors, which you secure to the wall with 3-inch #10 screws.
Beginning at the Corner
Begin by installing a lazy Susan cabinet at the corner where two base cabinet runs come together. After placing the cabinet into the corner, use a level to make sure the cabinet is not askew. If it's not sitting level, use shims to correct the tilt. It's important to place shims so that there's no space between the back of the cabinet and the wall where you mount the cabinet.
Drill a 3/16-inch pilot hole through the back panel and the stud, and mount the cabinet using the correct hardware. You may find it easier and safer to recruit someone to help you mount the cabinet instead of trying to take on this task by yourself.
Attaching Cabinets Together
After installing a lazy Susan cabinet, you'll attach the next cabinet on a wall run to the lazy Susan. Use c-clamps to hold the cabinets together and a level to make sure each cabinet is flush and level with the one beside it. If each subsequent cabinet you install in addition to the lazy Susan is not level, use shims to correct the angle.
It's important to drill pilot holes before attaching cabinets together. Attach each additional cabinet using a 2.5-inch #8 screw that you drill through a 1/8-inch pilot hole above or below each door hinge into the face frame.
---
Victoria Lee Blackstone is a horticulturist and a professional writer who has authored research-based scientific/technical papers, horticultural articles, and magazine and newspaper columns. Her writing expertise covers diverse industries, including horticulture, home maintenance and DIY projects, banking, finance, law and tax. Blackstone has written more than 2,000 published works for newspapers, magazines, online publications and individual clients.