Not only will selecting the colors of your kitchen give your space a well-appointed edge, but it will also change the mood almost instantaneously. Problem is, there are simply too many hues — and a laundry list of nuanced shades within each color family — to choose from. To help, we're narrowing down the search to eight chic kitchen cabinet colors. Whether you want to keep it classic with an au courant greige or dare to be bold with a bright red, there's bound to be something here for you.
Kitchen Cabinet Color to Try: Green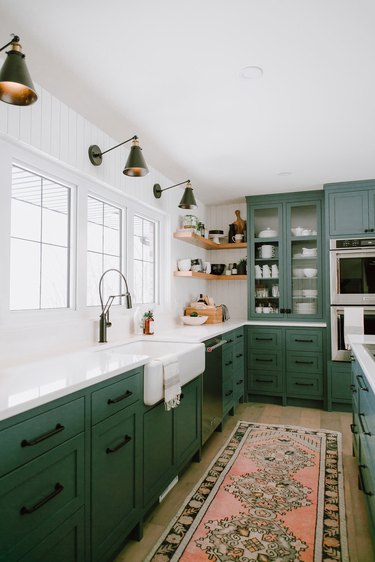 When it comes to your cabinets, it turns out that it's very easy being green. The hunter green set in this kitchen designed by Jaclyn Peters is an easy way to bring the great outdoors inside. Plus, your cabinets will pair nicely with your fave kale salad or a heaping bowl of guacamole. For a modern edge, pair your cabinetry with matte black hardware.
Kitchen Cabinet Color to Try: White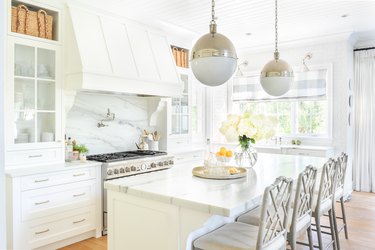 As Monika Hibbs's kitchen proves, white can be anything but boring. Sure, white cabinets may be the standard in most cooking spaces, but a fresh coat of paint will keep them feeling pristine. Add some depth to your space, like Hibbs did, with metallic pendants and a marble countertop.
Kitchen Cabinet Color to Try: Blue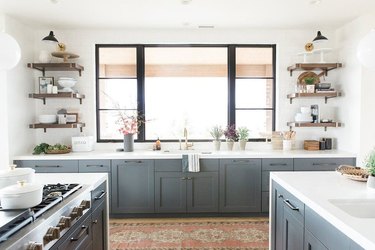 Let's be honest: Creating a multi-course meal for your annual dinner party is stressful enough, which is why it's more important than ever to keep calm and carry on in the kitchen. The sky blue hue that Shea from Studio McGee chose for this bright space acts as a serene backdrop for all the chaos you'll be whipping up to create your culinary masterpiece.
Kitchen Cabinet Color to Try: Gray
Kitchen Cabinet Color to Try: Greige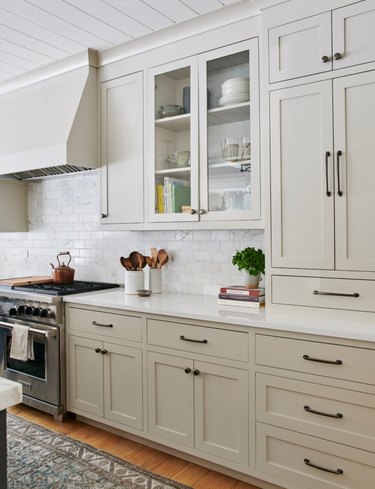 Not quite gray, but not quite beige, greige is an easy, versatile hue that can be paired with virtually anything. This warm shade can act as a neutral when paired with a bright color or stand out on its own next to a crisp white. Let designer Amber Lewis show you how it's done.
Kitchen Cabinet Color to Try: Yellow
Let the sunshine in with some yellow kitchen cabinets. The vibrant, cheerful hue employed by Alys of Alys Design packs a punch without feeling too bright — especially when paired with white walls and countertops.
Kitchen Cabinet Color to Try: Black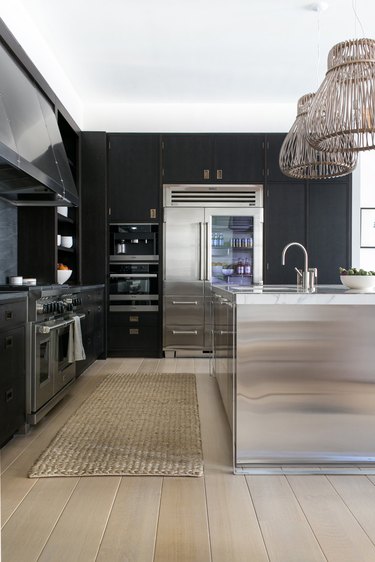 Just because the color black often exudes a moody vibe doesn't mean your kitchen has to look and feel dreary. Brooklyn-based design studio Chango & Co. brightened up this space with wood pendant lights and a woven rug. The result? California cool with a hint of industrial chic.
Kitchen Cabinet Color to Try: Red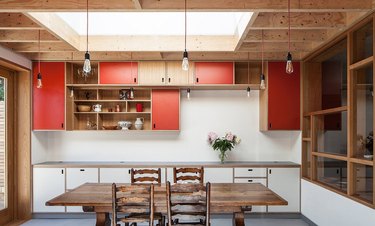 Love to experiment with new, mouthwatering recipes? Convey your fiery passion with the color of your cabinets. Often associated with passion and emotion, the color red is also used by fast food chains because it's known to kickstart your appetite. However, the bold hue can also run the risk of overwhelming a small space. So follow the lead of Catriona Burns Architects and strike a balance between subtle and statement by pairing the bold shade with warm wood and simple fixtures.
---
Kelsey Mulvey is a freelance lifestyle writer and editor. Her work has been featured in Lonny, Apartment Therapy, and Wallpaper*, among others.
View Work