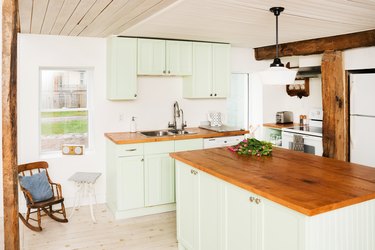 Well, look at that: The seemingly unending year that was 2020 has turned into 2021 in the blink of an eye, and it's safe to say that design and color trends are reflecting where we're at right now. A year of stress is now manifesting as paint colors that can only be described as tranquil — think light ocean blues and nature-inspired greens. Additionally, we've noticed a return to tried-and-true traditional hues that feel simple and unfussy, like classic-as-it-gets gray.
Alternatively, we've also seen an increase in trendy shades that feel like the total opposites of those quiet colors — colors that promote high energy and positivity like bright yellow and light pink. And while homeowners will use these colors in bedrooms, dining rooms, and living rooms (you'll even see some used on exteriors), we predict that they will be the most prevalent in kitchen designs.
If you're jonesing for a new kitchen, and looking for fresh ideas to incorporate into your remodel, pay special consideration to the color palette. If you want to go big or go home, change the color of your kitchen cabinets. Or, if you prefer something a little more subtle, paint a single accent wall in a trending shade. But keep in mind that paint isn't the only tool in your toolbox when it comes to injecting a pop of color into your space — consider a colorful backsplash, dynamic floor tile, patterned wallpaper, or even contrasting countertops.
Ready to get started? Scroll on for the 2021 kitchen color trends that should be at the top of your list.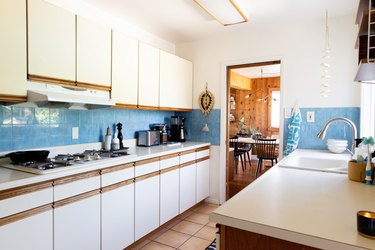 Who doesn't love a white kitchen? We certainly do, but if you need a change and you're ready to part with the ivory hue, we suggest trying another equally traditional, yet unexpected, neutral: light blue. There's a reason why Aegean Teal is the 2021 Benjamin Moore Color of the Year — it's incredibly calming. Here, a pacifying shade of blue makes an appearance on the backsplash of this small kitchen.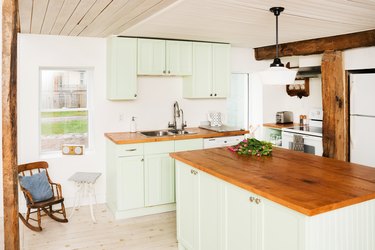 Another shade that harkens back to nature, soft, refreshing green is currently the paint color du jour among interior designers. If you need a break from a dark kitchen, a sage, mint, or sea-green tone is a surefire way to freshen up your cook space. You can't go wrong with a light green kitchen cabinet, especially when paired with natural wood, as proven here.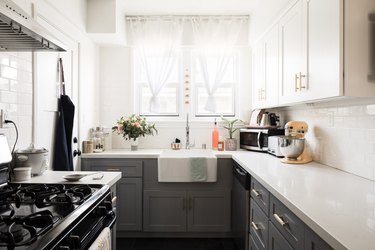 Interior design often wraps in the latest kitchen trends, but maybe you'd prefer something a little more timeless. Gray paint comes in a wide range of hues and if you want to take a page from Pantone's Color of the Year, Ultimate Gray, choose a standard shade that won't go out of style anytime soon.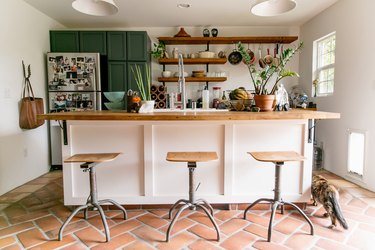 Another 2021 kitchen color trend that's tied to the great outdoors is forest green, and we're more than happy to see it making a home indoors, especially in a modern kitchen. The rich hue will lend depth and drama to any culinary space without overpowering it, as proven by the cabinets seen in this inviting kitchen. Pair with warm design elements such as open shelving, wood countertops, and terra cotta flooring to complete the look.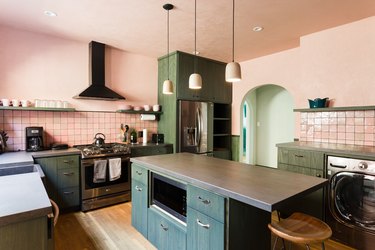 Yes, pastels can live in a kitchen, too. Pale, whispery pinks look fantastic on the walls, backsplash, or even the upper cabinets. It's not as intense as love-it-or-hate-it millennial pink — it's definitely a more sophisticated, ageless take on the hue. And you can always temper it with another color, like dark green, à la this dreamy minimalist kitchen design.
When Pantone released its gray-hued Color of the Year, the company shared an additional pick: Illuminating, the brightest shade of canary yellow we've ever seen. Yes, it was a surprise, but it seems to be the perfect response to a year filled with less-than-happy moments. You can either go all-in with this hue or include it as part of a broader color scheme. For example, this maximalist kitchen has perfected the look with yellow cabinets, warm accents, stainless steel appliances, and lush greenery.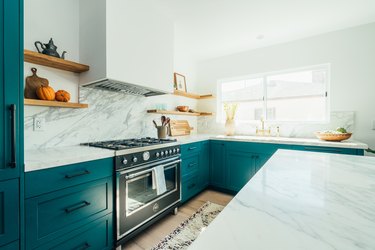 With people longing for travel, it's no wonder that so many of these colors seem to signify far-flung places. For instance, vivid teals, reminiscent of the ocean, are popping up in so many current kitchens. The shade looks particularly eye-catching on cabinets, especially when paired with marble countertops.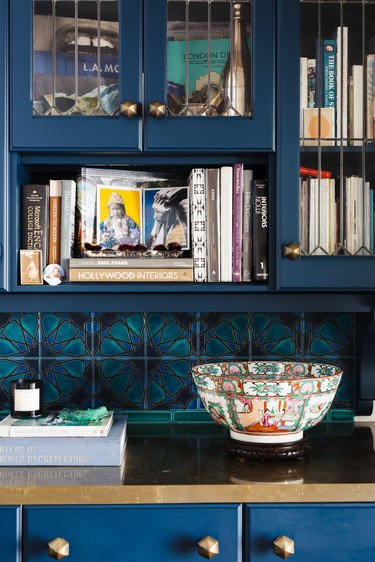 Navy blue has been a popular accent color in kitchen design for the past couple of years, and it's continuing to go strong in 2021. Even though it's counted among current trends, there's something about the hue that feels so ageless and charming.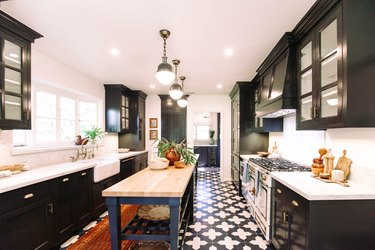 While 2021 is certainly leaning toward nature-inspired color schemes, there's one hue that continues to reign supreme in modern kitchens: and that's matte black. It's the contemporary response to the ever-popular white cook space, eschewing white cabinets for inky black. That being said, the hue happens to look its best when matched with white accents, like the walls and countertops.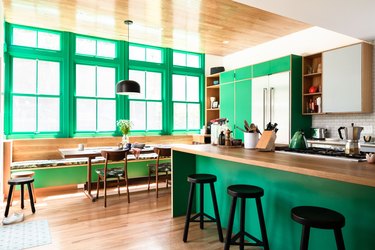 Continuing with the theme of optimistic kitchen colors — like pink and yellow — bright green is another happy hue that can really take your kitchen design to the next level. Looking like fresh grass in springtime, you can go all-in and give your culinary space a top-to-bottom makeover, coating everything from the window trim to the cabinets to the kitchen island.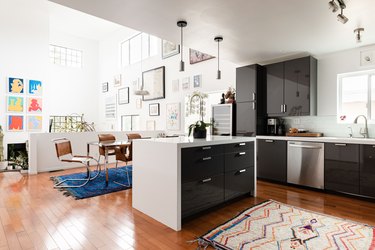 Slate gray nods to Sherwin-Williams' 2021 Color of the Year, Urban Bronze. Again, although the industrial hue is undoubtedly an on-trend color right now, it's one that you can stick with for years to come since it's fairly neutral. And you can make the shade look even more current with the help of a glossy cabinet finish partnered with stainless steel appliances.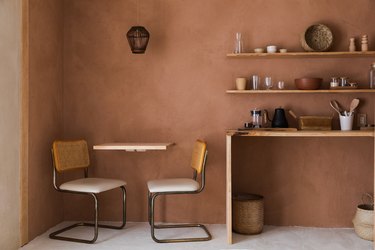 Bohemian decor devotees are currently loving terra cotta everything in their homes, and the kitchen is no exception. In fact, warm colors in general are having a moment, as evidenced by Behr's terra cotta-like Color of the Year, Canyon Dusk. Take to your walls or even your light fixtures with this natural-looking shade.