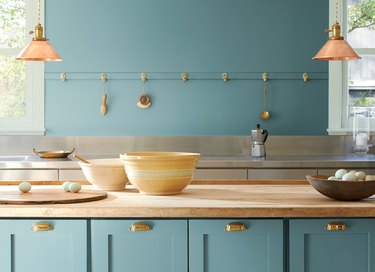 With the year quickly drawing to an end, we're starting to look forward to 2021. And so are many paint companies, as they release predictions and recommendations for the hues that can bring us some calm in the new year.
Benjamin Moore just announced its 2021 Color of the Year along with a palette of color trends. Drum roll, please: The COTY is none other than Aegean Teal. In a virtual press event, Andrea Magno, Benjamin Moore Director of Color Marketing & Development, called the pick an "exceptionally balanced color" that blends blue, green, and a little bit of gray. Its "softened, casual elegance" works well with any space, but looks especially great on millwork and cabinetry, Magno explained.
In addition, the brand shared its color trends — 12 hues total, including the COTY. They all sit on the warmer side of the color spectrum, in line with a focus on organic, nature-inspired tones. Hannah Yeo, Manager of Color Marketing & Development, added that the hues were also chosen for their flexibility in multiple spaces, as people have been using rooms for more than one purpose in recent times.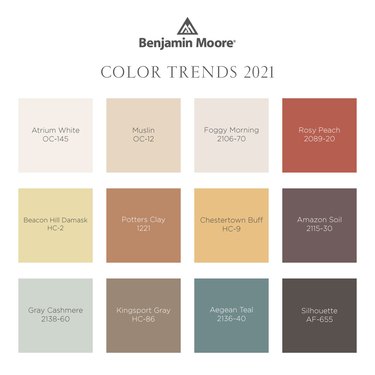 Teal definitely brings to mind a relaxed vibe, something the brand emphasizes.
"Aegean Teal 2136-40 and the corresponding Colour Trends 2021 palette express a welcoming, lived-in quality that celebrates the connections and real moments that take place within the home," Magno stated in a press release.
We're going to keep an eye on whether these hues make their mark next year as people continue to re-examine the spaces in their home.