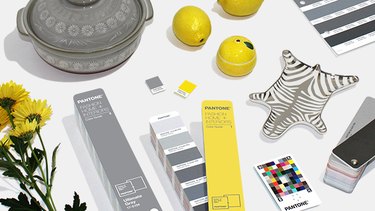 It's time to make your best guess again, because the Pantone Color of the Year is officially here.
"The union of an enduring Ultimate Gray with the vibrant yellow Illuminating expresses a message of positivity supported by fortitude," Leatrice Eiseman, Executive Director of the Pantone Color Institute, said in a press release. "Practical and rock solid but at the same time warming and optimistic, this is a color combination that gives us resilience and hope."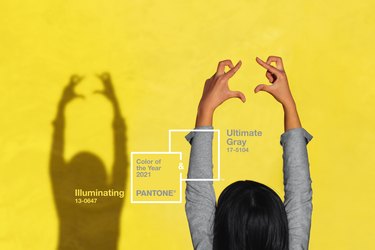 This isn't the first time Pantone has announced two picks. In 2016, Rose Quartz & Serenity were both named Color of the Year — the first time the company decided on a pair instead of a single hue.
How does this translate to home interiors? Pantone suggests "painting a front door in bright yellow Illuminating" while juxtaposing it with "solid and dependable Ultimate Gray in the exterior finishes." Or bringing the shades into your work-from-home space with gray "providing the firm foundation," while yellow will be "lighting the way to the intellectual curiosity, originality, and resourcefulness of an open mind." It's definitely a combination for lovers of contrast, and not something to try at home if you're a traditionalist or minimalist.
Are you a fan of the combination? We know color enthusiasts on social media will have lots to say.
---
Eva is a Los Angeles-based writer who covers trends, news, and makers for Hunker. Her writing has been featured in the Los Angeles Times, The Guardian, Bustle, KCET and more. She is a proud bookworm and organizes her books by color.