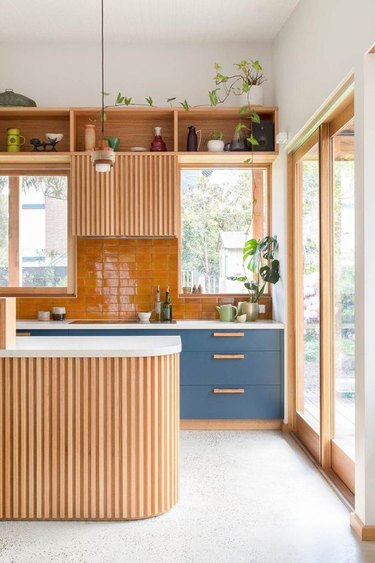 It's fair to say that we like a trend here at Hunker HQ, especially when it comes to color (see our forecast of the biggest color trends of 2019). But what about 2020? Folks, there's nothing wrong with being ahead of the curve. Will we whip up culinary masterpieces in all-white or dramatic blue hues? While we're not advocates of continually changing up your kitchen, it doesn't hurt to know what's hot in case you get the urge to do a small refresh. We're calling it: These are the kitchen color trends for 2020 that will surely bring the "wow-factor" for years to come.
1. Keep it cool with Neo Mint.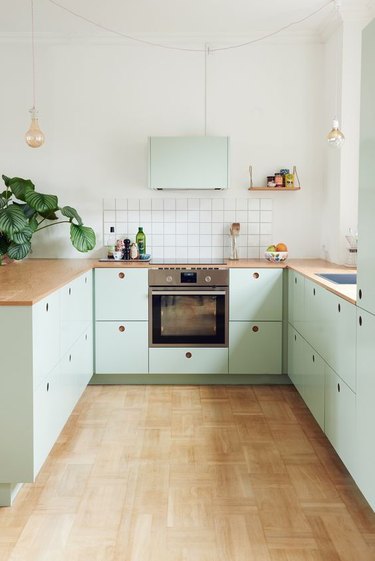 Building on the pastel groundwork of Millennial Pink, Neo Mint is the new ice cream-colored hue in town. Embodying a forward-thinking mood and utopian optimism, according to trend forecasters WGSN, this shade is a gender-neutral color with "an oxygenating, fresh tone that aligns science and technology with nature." Use it for your kitchen cabinets and pair with warm, natural wood flooring and countertops a la Reform CPH for a fresh and airy feeling.
2. Stay grounded with Mellow Yellow.
You've seen it in fashion and it's heading straight for the world of interiors: Mellow Yellow is taking the reins from the brighter and bolder Gen Z Yellow. (That's the generation born from the mid-1990s to early 2000s for all of you unassuming chaps.) This deeper and more grounded hue is still perfect for adding a fix of color but can look classic and fits in with a more versatile range of styles. Hitting the nail right on the head is this muted yellow cook space that has incorporated the color into a simple scheme with white brick walls, wood countertops, and hanging plants.
3. Add a pop of Cantaloupe.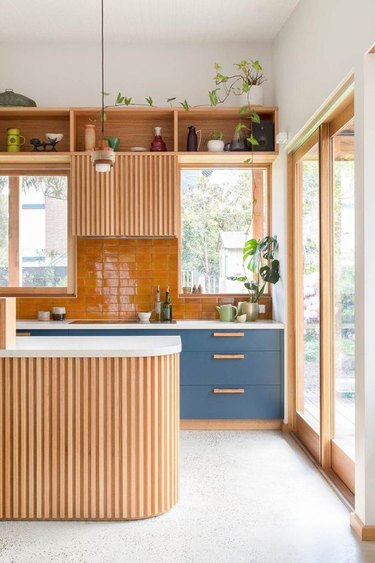 Tapping into the ongoing popularity of baked and earthy tones, we've been waiting for a more subdued orange to make an appearance in kitchen color trends. Cantaloupe is a feel-good color, a watered-down version of the burnt oranges that have dominated interiors in 2019 and can easily be combined with blues and greens. See it in action, ahead of the game in this effortlessly cool kitchen. The team over at Brave New Eco combined the handmade, almost manuka honey-colored tile with a blue and light wood color scheme resulting in a touch of warmth and a cheery burst of color.
4. Go timeless with Mushroom.
Any neutral lover would appreciate this timeless kitchen color trend and we're here to tell you that "greige" is going to continue to be all the rage. According to paint specialists at Behr, this creamy mushroom shade will be the perfect atmospheric addition and can either be paired with similar laid-back colors or freshened up with a vibrant pop of lilac. UK-based kitchen designers deVOL have created this classic culinary look with an understated appeal. Mixed with cool muted walls and accessories, the ambience is warm and cozy without the need for lots of ornamentation.
5. Be avant-garde with Purist Blue.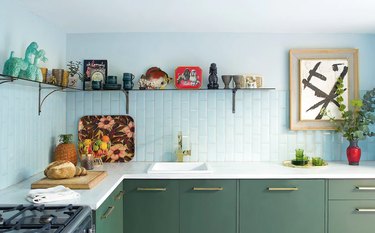 Looking for something soft and vibrant but also crisp and contemporary? Say hello to Purist Blue. This kitchen color trend will take your space from dull as dishwater to culinary cool in an instant. We think it looks especially great on the walls. Make like Whinnie Williams of Poodle and Blonde and pair it with forest green cabinets for a nod to both the retro and modern.
6. Never go out of fashion with Powder Pink.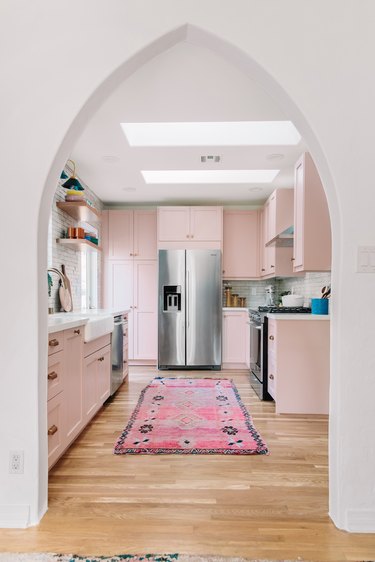 This trend survey might say millennial pink is over, but we're taking a punt here that 2020 is going to be the year of the pink kitchen. Did anyone SEE the latest season of Queer Eye? Bobby Berk got it spot on. The guys at Studio DIY recently renovated their kitchen, too, and we're loving the pink Semihandmade DIY shaker doors and custom oak floating shelves. The dusty blush complements the oak details and looks like it will last a lifetime. It's a YES from us.